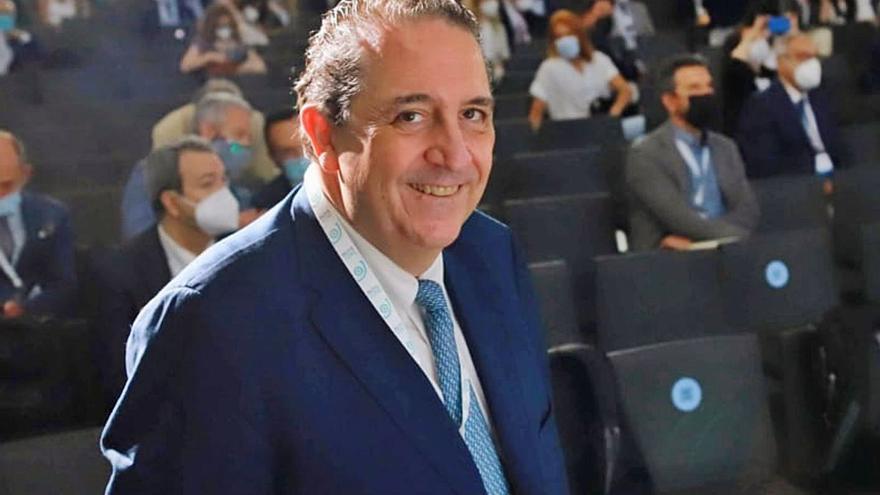 Days after the congress, what was the first thing you felt when you saw that more than 600 professionals had not failed you?
It is a huge satisfaction because we have achieved it after so many months of uncertainty whether it could be achieved or not. It was the first national congress of ophthalmology with a very good call of people, at a time of reduced mobility of fears and uncertainties despite vaccination. You value the support of so many people and the industry, with tremendous support from over 40 firms.
In which line will the next meeting go?
The next program is almost half done, we are going a year in advance. There are always different things. Commercial firms now with the arrival of presence are going to start making clearer launches of news that could now be retained a bit, but as soon as this presence is disseminated and there are more events in this format, we will see many things. The virtual format has greatly reduced the presentation of these novelties.
Does he endanger the congress model?
The virtual meetings are going to be there, we are going to use them a lot. Faco Elche plans to hold a specific webinar throughout the year, but the face-to-face congress is very difficult for it to disappear because it has three legs. The exhibition and transmission of knowledge, the commercial exhibition with the latest devices. It is important that people see them, touch them, like a shoe fair. And then the contacts you make face to face, whether commercial, scientific or employment. All this makes the disappearance of face-to-face congresses complex.
Do you agree with Dr. Juan Batlle on the importance of corridors for learning?
The key to Faco Elche's success is that he put the hallways and the cafeteria on the stand, took those tables, that is why debate, talking, participating, commenting are essential.
I imagine it will be relevant to contrast with other specialists from different parts of the world …
Of course, but what happens is that the transmission of knowledge has become so unitary that in the end you do not find as many differences as there were many years ago between the French, Argentine or Mexican colleague … or even with a higher level than the American , which has many restrictions. Right now level ophthalmology is very unified and Spain is a clear example.
At what point are we?
We are world leaders but as good Spaniards we publicize it little abroad. In contrast, American ophthalmology has dropped a lot due to legal restrictions on the incorporation of new lenses and materials.
What has this congress taught you?
There are no dramatic changes in knowledge but things were expected that have occurred after a year and a half and it was the first time that news could be transmitted. A detailed analysis was made with presentation of drugs, devices … and then the debate and representation of the new intraocular lenses that come to change habits with a considerable improvement for our patients. In Spain, around 500,000 cataracts are operated on a year and they will benefit from these new lenses that improve the functioning of the eyes.
In practice, how will the improvement in vision be noticed?
They will improve in much better independence from glasses, something as simple as seeing better food. They will continue to have very good far views but the user will see their screens and tablets better, will count the coins better and will climb the stairs better. There is a functional improvement.
The advancement of this intervention makes it less aggressive …
There is a trend for smaller incisions with minimally invasive surgery and this applies in ophthalmology, which is a technology leader in medicine.
Has the average age of those who have cataract surgery been reduced?
Younger people are operated on than before, not because the incidence in younger people increases, but because many people value the functional advantages of having surgery and do it earlier because they obtain a very great visual improvement without glasses. Although there are still cataracts in all age ranges, it is possible that we are operating somewhat younger for functional vision improvements. The highest incidence is from 60 to 80, and from there a lot.
It also influences that the postoperative is lighter …
The only problem is that our colleagues have contributed to the trivialization that the intervention is done in five minutes. Indeed, but there are some cases, very few, likely to have some kind of problem in their intervention. Cataracts is a quick surgery but they realize that this is nothing. The process is very well developed and usually occurs without complications, but it is a highly complex surgery that requires dedicated personnel so that the complication rate is very low.
What progress are pharmaceutical companies showing?
There are different fields such as glaucoma for which new devices and molecules are being created. Then there is the field of dry eyes, which is receiving more and more attention because it generates more problems in patients or the field of anti-inflammatory drugs. One of the things that we have presented is that after many years some eye drops with an association of inflammatory and antibiotics come out again. It is a field that does not stop moving.
Does the population know that reviews should be done?
People check their eyesight very little and there are key ages such as in childhood with two or three years old because sometimes there are graduation defects and they generate what is known as lazy eye. Then, in adolescence, myopia appear and studies should be done to see the visual state because many myopia go unnoticed. Then between 40 and 60 it is very important because before there is a near vision problem, eye strain problems begin to appear. From 55-60 years, cataracts and retinal problems begin to appear.

www.informacion.es
Eddie is an Australian news reporter with over 9 years in the industry and has published on Forbes and tech crunch.