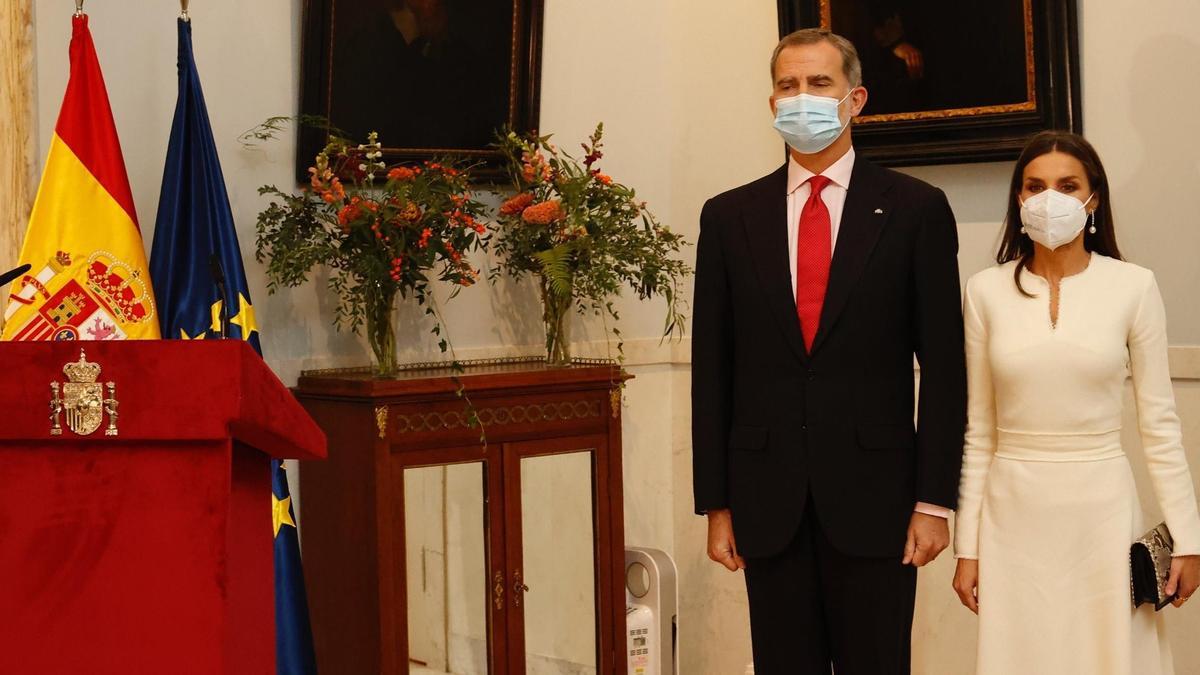 King Felipe VI has encouraged this Tuesday to strengthen relations between Spain and Sweden, especially in the economic and commercial fields, in the first state trip they have made to the Scandinavian country after the outbreak of the pandemic.
"Although Spain and Sweden maintain good relations in this field, the size of our countries and respective economies should encourage us to further strengthen our ties," said the Head of State during his speech at the reception that took place. at the residence of the Spanish embassy in Stockholm.
The King has claimed that this trip also has an "important economic component". "We want it to contribute to promoting a greater Spanish business presence in Sweden and an increase in our exchanges, following the path set by the many Spanish companies already established in this beloved country", he detailed.
In this line, he has indicated about this official visit that they hope that "it will serve to reaffirm the close friendship that unites the two kingdoms" and, after referring to the consequences of Covid-19, has asked "look to the future and do so with hope, with confidence, reaffirming the commitment to science, international cooperation and solidarity to face the big problems, especially in these times of pandemic. "
Precisely, he has clarified that this is firm commitment to science it is the one that has "inspired" from the beginning the preparation of this trip. And, as he has stated, "Sweden is a world benchmark in innovation and research" that should serve as inspiration for Spain. In this context, he conveyed to the researchers present his admiration for their "work and commitment."
Finally, it has been addressed to those who have been there for many years, both in Sweden and in Spain, dedicating himself to "strengthening" ties through language and through the translation of numerous works, "which has served to establish a relationship between two literary worlds," he argued.
"This hard and dedicated work has decisively contributed to broadening mutual knowledge and laying the foundations of friendship between our two peoples. We are very grateful to the translation and interpreting professionals", defended Felipe VI, who has recalled "the strength of Spanish in Sweden, already become the second most studied foreign language in the country, only behind English." "I am sure that tourism will have had a very positive influence on this evolution," added the monarch, while also asking "to be able to take advantage of this force to promote knowledge of culture and heritage."
Thanks to the Spanish
The King has recalled previous visits to Stockholm, in 2005 and 2010, "but this has undoubtedly greater relevance and is loaded with special meaning and symbolism," he assured. In this key, he has addressed the representation of Spaniards and the Spanish community in Sweden which, since those visits, "has grown both in number and diversity".
"To all of you, those of you who have been here longer and those who are still looking for your place in this new host country, we would like to send you a message of support, as you represent, outside our borders, much of the best of our country", has added.
Felipe VI has stressed that, both personally and professionally and whatever the field in which they carry out their activity, they are sure that they demonstrate not only their capacity for work and commitment, but also their tenacity and ingenuity, in addition to their excellent training.
What's more, has transferred his special spirit to those who have embarked on this path with family and children, "aware of the challenge of adapting to a new life in an environment that is not always easy and far from our loved ones and everything that Spain represents".
"Dear compatriots, I would like to end these words by transmitting to you with the Queen, the support of the Crown and the admiration we feel for everything you represent: Spaniards in distant lands, in sometimes demanding circumstances and with great sacrifices, sometimes alone and sometimes with family, but always showing the strengths and values ​​of our country ", has thus settled his words.

www.informacion.es
Eddie is an Australian news reporter with over 9 years in the industry and has published on Forbes and tech crunch.