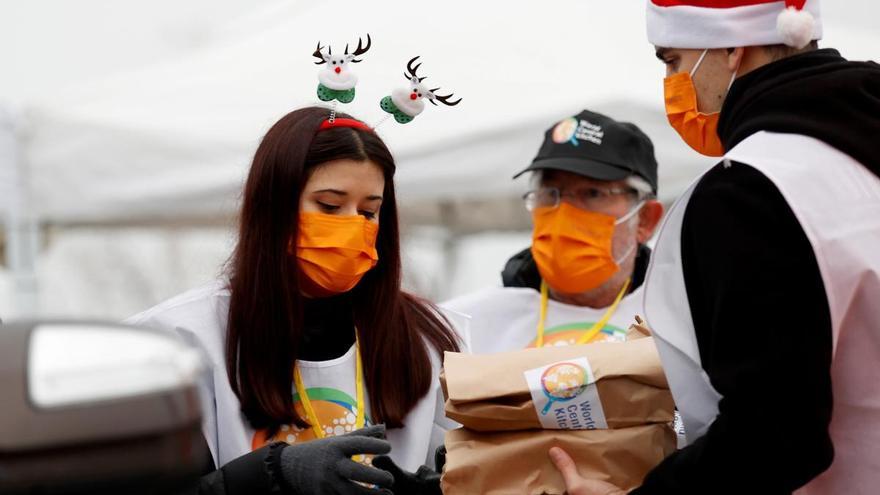 Roast turkey with pickled winter fruits, truffled potato puree or blanqueta braised Galician beef They are part of the menu of the 40,000 Christmas meals that World Central Kitchen (WCK), the NGO of the chef José Andrés, has distributed in Madrid, Valencia and Galicia to vulnerable families.
"Feeding at times like Christmas is the least that can be done. Christmas would have to be the other 364 days of the year ", José Andrés has pointed out to Efe, for whom when talking about food and water "the urgency of the present is yesterday, you have to start now. It is not a month or a year from now, but you have to act and that does WCK ".
World Central Kitchen started its solidarity gastronomic movement #ChefsForSpain in March, when the health crisis caused by covid-19 began, and now almost a year of work in Spain culminates with the distribution, at various points, of these meals Christmas, and after having involved in all these months 18 kitchens in 24 cities, in addition to 50,000 volunteers.
A work and collaboration that have made possible the preparation and distribution of 2.5 million meals in the Spanish territory.
From the United States, by videoconference, José Andrés has highlighted to Efe the response of a Spanish society that has behaved wonderfully: "At this moment you realize that it is not important which political party you are from (…), but the important thing is that you want to collaborate and help to others".
It is this union, with the participation of thousands of anonymous volunteers, as well as dozens of social entities, which has made it possible for a special menu to reach thousands of homes today.
In total, the Asturian chef explained, 40,000 meals, 30,000 of them have been distributed in Madrid and the rest in points of Galicia and Valencia, where the NGO already had infrastructure.
In Madrid, for example, WCK has had the support for this action from the Mapfre Foundation, which has helped in the preparation and distribution of these menus, for which they worked in the central kitchen of Santa Eugenia on the 21st, 22nd and December 23, and the delivery was made this morning from the Wanda Metropolitano stadium.
The menu consists of roast turkey with pickled winter fruits, red cabbage a la Segoviana and truffled potato puree, with Christmas candy for dessert. To prepare the 30,000 meals, 3.6 tons of polvorones and mantecados from Antequera, 7 tons of turkey, 6 tons of red cabbage and 6 tons of mashed potatoes were used, according to data provided by the NGO.
The menus have been distributed to 60 aid entities, which in turn have been in charge of delivering them to the families; the distribution to people with restricted mobility or limitations due to covid has been made through the Madrid Fire Department and the Post Office.
For this action, the WCK kitchen in Madrid has been led by Pepa Muñoz, who has collaborated with the NGO since the beginning of its activity in Spain, together with Carles Tejedor and Olivier de Berroche.
In Galicia, the dishes have been prepared in the premises of the Centro Superior de Hostelería, and have been made with local and Galician agricultural livestock products: Galician beef blanqueta stew, pickled beans, stewed turnip greens and yogurt with honey have been found in these menus.
In Valencia, the Food Bank has distributed the 3,000 WCK menus from the Camp de Mestalla – with the same dishes as in Madrid – to 22 associations in the city, the club itself reports on its website. "Our NGO is strong when we strategically know how to contact local organizations", for which it has asked for more support.
WCK, what It is financed with funds and private donations, has responded to the threat of COVID in more than 40 cities in the US and many others around the world. Japan was one of the first scenarios in which it helped in the face of a crisis caused by the coronavirus with thousands of people trapped on a cruise ship.
But also has intervened to respond to food shortages after natural disasters such as hurricanes, earthquakes, volcanoes or tsunamis. In fact, its promoter has shown concern about the consequences of climate change. "I am very afraid that the next great crisis will be the lack of food on planet Earth" due to droughts, plagues or torrential rains, summarized the cook.
José Andrés, who has recognized that it is not easy to be a leader at this time, has missing more coordination in dealing with this crisis in institutions such as the United Nations or the European Union, and he has said that all governments and political parties would have to learn to work much more together. "In the end, what people want is consensus, unity, each one respecting the ideas of others but trying to see that there must be an intermediate point where they more or less agree."
José Andrés, who hopes to learn from mistakes, has also referred to the vaccine, a "great milestone in science." "I know that there are going to be many world leaders who are going to hang medals", but those who have to wear these medals are the scientists, who have shown that "all the money we invest in science is little. I hope we learn from this. "

www.informacion.es
Digsmak is a news publisher with over 12 years of reporting experiance; and have published in many industry leading publications and news sites.