The number 320 in the world has left the crutches. A compression mesh covers his right leg, which was destroyed in a traffic accident on February 23rd. Wear sportswear. Walk smoothly. Sometimes he leans on a golf club as he watches his 12-year-old son Charlie practice. Tiger Woods has returned … to be seen. It was last weekend, at a junior tournament in Florida where he was a father. His image again in a field, even if it was not playing or training, has returned the great question: will the myth return to competition? Nobody knows, probably not even him.
It was with his son Charlie that Tiger Woods last played a championship. A family tournament, in December, which for the winner of 15 grand was "a memory for a lifetime." Two months later, outside of Los Angeles, El Tigre lost control of his vehicle on a downhill highway. He was driving at 140 kilometers per hour. The limit was 72. The car was wrecked. Tiger saved his life but his right leg cracked: fractures of the tibia and fibula and serious injuries to the bones of the foot and ankle. The career of one of the great athletes in history was reeling once more, at age 45 and with a medical history behind that would have removed anyone: five back operations, five knee operations.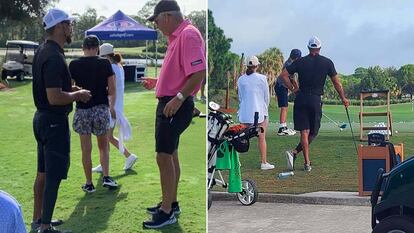 "This is the most painful thing I have ever suffered. My number one goal is to walk. Take a step, "Woods confessed before the summer, leaning on two crutches. He had returned from the underworld with an incredible victory at the 2019 Augusta Masters, a triumph that now takes on even more grandeur because it could have been the last great chapter in a unique career. Ahead today is another miracle, extending a career that has just completed 25 years of his professional debut (August 29, 1996).
If he manages to compete again, for him there are two capital events in 2022. In April the Augusta Masters, his garden, where he could have a chance to challenge the best players in the world, stronger and more prepared than ever, masters of a hitter golf. In July, the 150th edition of the British Open in the cradle of Saint Andrews. "Hopefully you can have the retirement you dream of, the one we all dream of, crossing the 18 St. Andrews Bridge and saying goodbye in the right way," said world number one Jon Rahm recently; "I'd love to see him win again, but realistically, I just hope he has a healthy life as a parent. He has given so much to this sport that every day we will remember Tiger Woods. He is the reason why at my age, 26 years old, my children are sure, and also my children's children will not have any financial problem ".
Despite the good wishes of the golf world, the doubts are still many. Added to the difficulty of rehabilitation are his old problems with pain medications, which in the past already created a dependency on him to alleviate cramps in his back that barely allowed him to move normally. An attendee at one of the Augusta Masters champions dinners recalls that the Tiger came down the stairs "as if he were an old man" due to his physical problems. In 2017, he was arrested in Florida at three in the morning for driving under the influence of these opiates. In the analysis they found a wild mix of various products to withstand the pains.
For a right-handed golfer like Tiger, the right leg is the least important, because it is the left that holds the most pressure in the explosive movement of the ball. swing. With that slight advantage, and after walking without help again, the legend faces the great question: return or retreat. After so many resurrections, Tiger plays a game few believe he can win.
You can follow EL PAÍS DEPORTES in Facebook and Twitter, or sign up here to receive our weekly newsletter.



elpais.com
Eddie is an Australian news reporter with over 9 years in the industry and has published on Forbes and tech crunch.