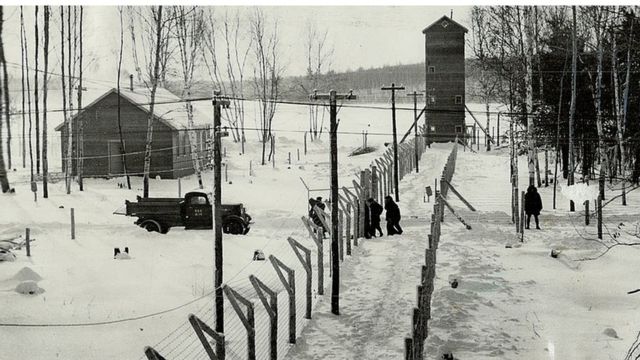 On the night of October 2, 1943, Salvatore Vistarchi, a young Italian immigrant living in Montreal, thought it would be one of the happiest of his life.
He had proposed to his girlfriend, Jean Reddy, and she had accepted.
The marriage, however, would be forcibly postponed.
After dropping off his fiancée at his apartment, Vistarchi returned home and was already sleeping when there was a knock on the door.
"The RCMP arrested him without ever giving a reason," recalls his daughter Joan in statements to the Canadian Broadcasting Corporation.
Salvatore Vistarchi would not see his fiancée again, or the outside world, for the next 33 months.
He was sent with another group of almost 700 people to one of the internment camps for Italians that Canada created during World War II.
The Canadian government had declared "enemy aliens" to more than 31,000 Italians who had emigrated to the country and who were accused of having links with fascism and with Benito Mussolini.
A group of them, the most "dangerous", according to the authorities, were held until after the end of the Second World War.
Many of the internees, like Salvatore, claimed until their death that they had never had ties to fascism and that they were victims of a political conspiracy.
The internment camps have for years been an open wound in the historical memory of Canada and especially of its Italian community, whose population is more than 1.5 million.
Now, however, Prime Minister Justin Trudeau apologizes on behalf of the government.
"To the men and women who were taken to prisoner of war camps or jail without charge and who are no longer with us to hear this apology, to the tens of thousands of innocent Italian Canadians who were labeled 'enemies', to the children and grandchildren who have borne the shame and pain of a past generation and their community … we say I'm sorry, "Trudeau said Thursday.
Although it was not the first time that the Canadian government apologized for what happened (an Italian prime minister did so earlier during a dinner, which was seen as an "informal apology"), the Canadian Italian community welcomed the news for considering that it was the "first heartfelt and complete apology" in Parliament.
According to local media, the issue of a potential apology in Parliament has generated controversy and has been passed as "a hot potato" from one government to another.
And it is that although many of the "interned" in the camps were innocent, others were confessed fascists and followers of Mussolini, reason why some considered that an official apology could also be understood as an "apology of fascism".
The years of internment
Canada, as did the United States and the United Kingdom, sent citizens of countries with which it faced during World War II to internment camps.
After entering the conflict in 1939, the nation approved the so-called War Measures Law, which gave the government broad powers, including the authority to suspend civil liberties.
It was in this context that he began to "intern" people from other nations with whom he was now fighting.
On June 10, 1940, Mussolini declared war on Britain and France, prompting Canada, as part of the British Empire, to declare war on Italy on the same day.
Within hours, then-Prime Minister William Lyon Mackenzie King invoked the Law and ordered authorities to initiate protocols for arrests of Italians.
According to historians, the criteria for the arrest were lists of alleged fascist sympathizers, provided by informants.
"Not a single person was convicted and they did not have due process either. They had nothing but the fact that their name may have appeared on a list," he said in an interview with The Canada Press the current Minister of Justice, David Lametti, of Italian descent.
Although only a group of 600 to 700 people were sent to the internment camps, the more than 31,000 Italians who were declared "foreign enemies" had to report to the authorities each month "as if they were on parole."
In his book Fascism and the Italians of Montreal, the historian Filippo Salvatore tells that in those years there was a kind of "hysteria" in which it was feared that the Italians in Canada would create a "fifth front" and carry out acts of sabotage.
"Canadians of Italian origin were not really a threat to Canada. The people who were arrested never committed acts of terrorism," the author told the newspaper. National Post.
According to Salvatore, many were charged for reasons ranging from having ties or business with the Italian consulate to having made donations to the Italian Red Cross.
Historian Arianna Davies told Global News Canada that while "there were certainly hardcore fascists" in the country, the idea promoted by the authorities that they would "kill" Canada "was really nonsense."
Davies says that this situation created a kind of "stigma" that has dogged the Italian community in Canada over the years.
Other internees and other apologies
Italians weren't the only ones to be sent to internment camps in Canada.
A large group of Germans and, above all, Japanese, also suffered the same fate (as happened in the United States).
According to historians, more than 22,000 Japanese were taken from their homes and sent to internment camps and to work on beet plantations, after the Canadian government confiscated their properties and auctioned or sold them at low prices.
In 1988, Prime Minister Brian Mulroney formally apologized for the internment of Japanese and offered the survivors almost US$250 millones In compensation.
Two years later, he also apologized to Canadians of Italian descent who had invited him to an event, but was criticized for doing so without much publicity and in the context of a dinner party.
The Royal Canadian Mounted Police, which was responsible for the arrests, offered an "expression of regret" for their role in 2018.
Remember that you can receive notifications from BBC News Mundo. Download the new version of our app and activate them so you don't miss out on our best content.

www.bbc.com
Eddie is an Australian news reporter with over 9 years in the industry and has published on Forbes and tech crunch.