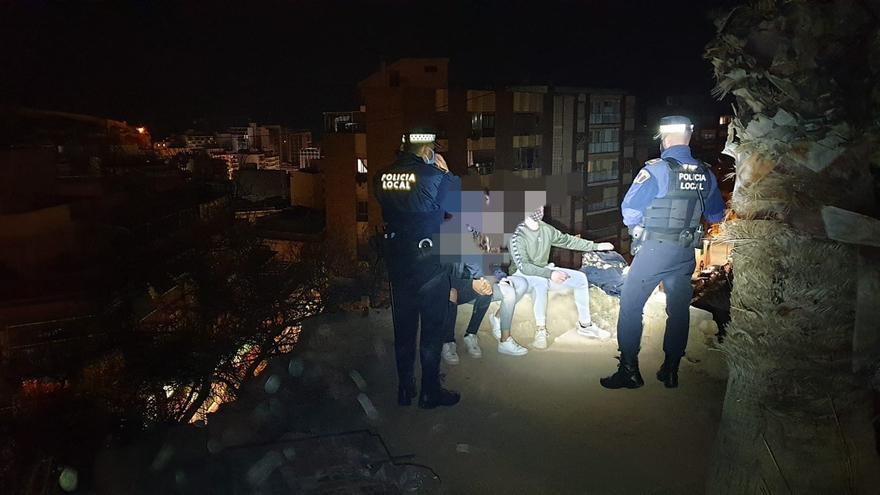 Twenty-two complaints has imposed the Local Police of Alicante during the night operation for failing to comply with the state of alarm, has dissolved a bottle in the castle of San Fernando and has sanctioned five establishments in the surveillance device to guarantee compliance with health and security measures against covid.
Thus, the Fox police unit intervened around two in the morning to dissolve a bottle, locating groups of young people consuming alcohol on the slopes of the castle of San Fernando, who have been denounced for breaching the curfew, two for possession of weapons on public roads, three for alcohol consumption on public roads, and raising a Act for drug use-possession.
In addition, the Local Police has organized monitoring devices for compliance with gauging, safety distances and excess occupancy of the terraces in leisure venues, rising five complaints: two for lacking authorization to occupy the public thoroughfare, two for exceeding the capacity with more tables and chairs than authorized, and one for not complying with the safety distance between tables.
The Councilor for Security, José Ramón González, has valued "the great protection work that our Alicante Local Police is doing day after day to stop the pandemic and avoid contagion." For this reason, he has again made an appeal, "it is very important that on these dates we do not relax, we continue to avoid meetings and parties, and continue to assume each one the individual responsibility of maximizing prevention in compliance with security measures, such as and how the majority of citizens are doing with exemplary behavior ".
Likewise, the agents in the itinerant devices organized tonight and the traffic controls have intercepted and sanctioned six people for breach of curfew, moving around the city without just cause, in the streets Pinoso, Jaime Segarra, Doctor Vergez and avenida de Denia, among others.
Surveillance, breathalyzer controls and traffic discipline
The Local Police has deployed a wide traffic surveillance and discipline device, carrying out various alcohol tests, in which eight drivers have been reported in various entrances, city streets for traffic violations, accidents and driving under the influence of alcoholic beverages.
The Night Service and Accident Reports and Investigation Unit has intervened in San Fernando Street, with a vehicle that circulated at high speed, being intercepted in Plaza del Mar. The car was driven by a man who was under the influence of alcohol, who has been prosecuted for a crime against road safety.
In this sense, the agents have located at 11:30 p.m., at the intersection of Goleta and Tridente streets, a vehicle that was circulating with excess speed, which struck a sidewalk guard bollardStarting from its base and entering the pedestrian zone with the vehicle, the driver immediately started in reverse, lowering the vehicle from the sidewalk and driving away quickly. The troops have organized a search device, the driver being located when he was driving along Avenida de Caja de Ahorros. After being subjected to breathalyzer tests, he has given a result that quadrupled the maximum rate established by regulation, instructing proceedings for crime against road safety.
During this day, the Local Police have located three other drivers with positive alcohol disorders, at 11:25 p.m. in Boyero street, a van is intercepted, with an administrative complaint and vehicle withdrawal. While at 1:10 am in Conde Luminares, at the request of the National Police Leather, the driver of a car is reported for driving under the influence of alcohol.
In addition, the agents have intervened at around one in the morning on Denia avenue, locating a vehicle that circulated zigzagging, is intercepted and after being required to carry out the tests, he refused to do so. Due to these facts, he was transferred to Headquarters, proceedings were instructed for driving under the influence of alcoholic beverages and refusal to submit to the breathalyzer tests.
Finally at 01.28 am, on Villajoyosa avenue, in another control carried out by the National Police they stopped a vehicle driven by a male, subjected to the tests gives a positive rate and moves to Headquarters. There he has been instructed to carry out proceedings for driving with a higher level of alcohol than allowed.
In addition, tonight, a Local Police patrol has located on Maisonnave Avenue, a minor driving a light quadricycle, lacking a driving license. This has been transferred to the headquarters to instruct proceedings to the Prosecutor's Office for Minors, and picked up by his mother, the vehicle has been withdrawn to municipal deposit.
Finally, during the night, the Local Police has intervened to backing up a heavy duty articulated truck, which has entered Virgen de la Paloma street after hitting a lamppost, which has been torn off, and causing friction in a parked car.

www.informacion.es
Digsmak is a news publisher with over 12 years of reporting experiance; and have published in many industry leading publications and news sites.