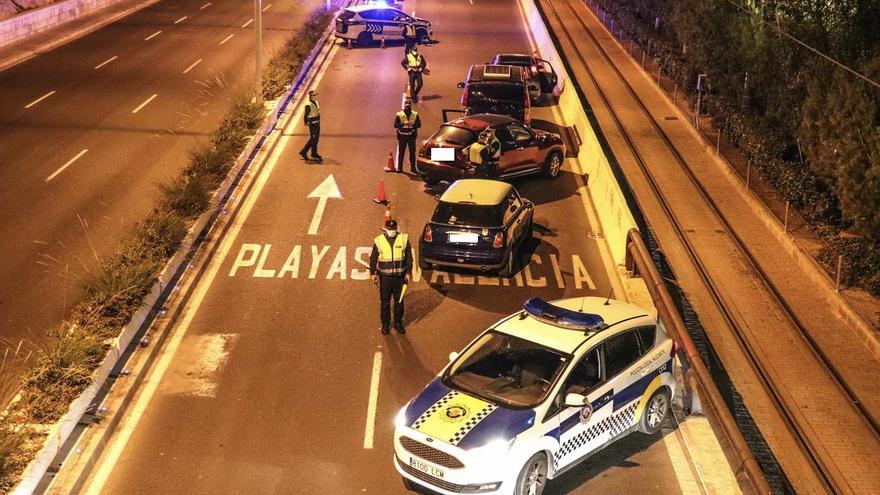 A total of 29 complaints, four dissolved bottles, four parties in homes and a sanctioned premises have focused the extensive surveillance device organized by the Alicante Local Police to deal with the covid with inspections and controls.
The agents of the Fox units and of the Police Night service have had to intervene to evict two groups of young people who were making a bottle in Dafne Street and in La Ereta Park, a total of 9 people for consuming alcohol on public roads and places.
In this sense, the Local Police have set up a traffic control on Avenida de Juan Bautista Lafora, between 00:00 and 01:30, in which a total of 20 vehicles have been inspected and lifted 15 minutes for non-compliance with the curfew, by not justifying the drivers and occupants, the reasons for their movements. In this control, three drivers have been denounced for driving with an alcohol level higher than the established regulations, being instructed in one case proceedings for a crime against road safety and two administrative complaints.
During this day they have been denounced and dissolved four parties in houses with noise and disturbances, altering the rest of the neighbors, who have been sanctioned. In the device deployed in the city, five more complaints have been filed against people for breach of the curfew, and one for not wearing the mask on public roads, the events have taken place in Baronía de Polop and Pintor Xavier Soler street.
The Councilor for Security, José Ramón González, thanked "the behavior of the majority of citizens and asked to limit meetings in closed places as much as possible to avoid contagion this Christmas", while again making an appeal to the "conscience and individual responsibility for the good of the health of all, we have the obligation to take extreme preventive security measures, maintain social distances, use masks and sanitary hygiene ".
For his part the troops have denounced an establishment, on Avenida de Pintor Xavier Soler, for keep music after the local closes.
Accidents and traffic controls
The Local Police has deployed a wide traffic surveillance and discipline device, carrying out various alcohol tests, and at around 11 p.m., on Diputado Joaquín Galán Ruiz street, a Local Police patrol located a vehicle traveling at high speed, being intercepted.
The agents have identified the driver, a 42-year-old male, and have verified that he lacked a driving license, for which the mandatory judicial proceedings have been instructed by driving without administrative authorization, verifying that he had several antecedents for these same events. Official sources have reported that article 384 of the penal code, which typifies this conduct, can carry a prison sentence of three to six months.
The Night Service Unit and Accident Reports and Investigation have intervened in two traffic accidents, the first took place on Casiopea Street, in which a taxi was involved. The second has occurred in Rambla Méndez Núñez, the latter being a scope, in which a driver has tested positive in breathalyzer tests, being administratively denounced.
Likewise, on Avenida San Sebastián with Benidorm, at 00.05 hours the Police have intercepted a driver of a passenger car, who has undergone a drug test, yielding a positive result, for which the vehicle has been withdrawn to the municipal deposit.
Citizen relief and a motorcycle fire
The Police have also gone at 00.50 hours, to a field area in La Cañada de Fenollar, where there has been a fire at burn a motorcycle. The firefighters of the Alicante Prevention, Fire Extinction and Rescue Service have traveled together with another staff of the Provincial Consortium and have proceeded to their extinction, without having to regret any injuries, the motorcycle has been damaged.
Finally, tonight a citizen was assisted on Lorenzo Carbonell street, the man was assisted at first by the Local Police and later by the health services, after suffering an epileptic seizure in the middle of the street, being necessary its transfer by ambulance to a hospital.

www.informacion.es
Digsmak is a news publisher with over 12 years of reporting experiance; and have published in many industry leading publications and news sites.