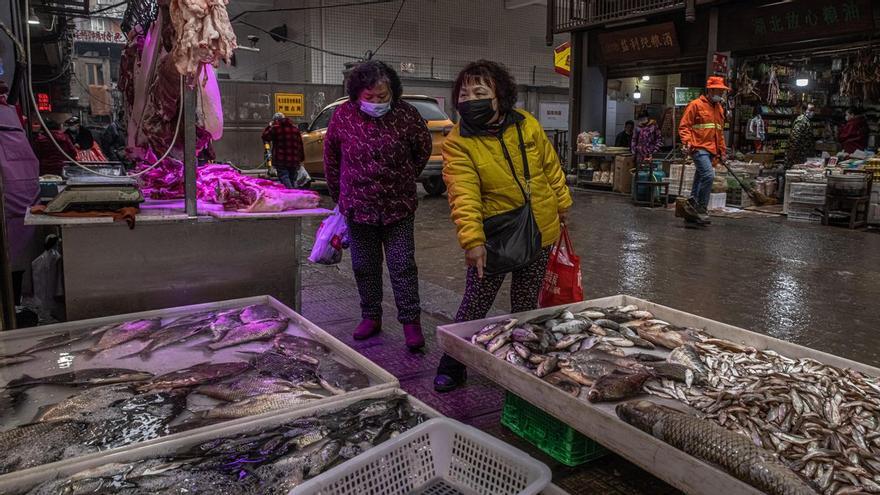 The Maoist ruling that holds women responsible for "holding up half the sky" resounded when astronaut Wang Yaping became the first Chinese to take a spacewalk earlier this month. It is not for the Chinese women today to conquer their half, but to defend it after decades that have ironed out the equality proclaimed by the Great Helmsman.
A country with a fifth of the world's population and diverse realities prevents outright headlines about the situation of its women. They are the majority in the university and invisible in high politics, they have founded the majority of internet startups and are discriminated against in rural areas, the macho business ecosystem has disappeared and they are asked in job interviews if they will have children, they enjoy exemplary laws that are not always complied with … China is well above India and the developing world or neighbors such as South Korea or Japan, which have not accompanied their development of egalitarian policies. It is worse off if we compare it with a good part of the West and with previous China. It also gives off disturbing signals. The percentage of working women is falling, and China has slipped from 57th to 107th in the Global Economic Forum's gender equality rankings in just over a decade.
Mao understood that he could not raise a devastated country with half its population at home and passed revolutionary laws that blew up the Confucian creed. He prohibited concubinage and forced marriages, invited them to work without pay discrimination and built schools and kindergartens. Female employment in 1990 reached 73%, with hardly any rivals in the world, and 61% in 2019 forces us to wonder what happened. It is the transit of a planned state economy that stimulated equality to the market that punishes it. Chinese women, with the Maoist exception extinguished, now suffer the same ills as those of the globalized world.
Aging problems
Their decline in the workplace goes against the grain in a global context that gives them more space, but an examination of the starting points reveals some mitigating factors. The euro zone, with 42% of women employed in 1990, started from far behind. Contrary trends have not yet converged. The current 61% of China exceeds 52% of Spain, 51% of the euro zone and 57% of the United States, according to the World Bank. China is urged to reverse the dynamics when faced with unsolvable aging problems. A 3% rise in women's participation in the labor market would add nearly $ 500 billion to its economy. They are equivalent to 2% of its GDP.
Women make up the labor landscape of large cities. The dozen that this newspaper has interviewed in Beijing, employed in the cinema, public and private television, the legal profession, finance or architecture, do not remember any discriminatory episode or sexual harassment, nor do they think that their gender has penalized them. Nor do those who have worked in the West or Taiwan record differences. Only the thirty-year-old Wang Jing highlights questions about her singleness or intention to have children in job interviews. "It is a constant. Now they ask you in a subtle way to evade the prohibition. You can refuse to answer but you know you won't get the job, "he laments.
A 2019 law prohibits the selection processes from inquiring about marital status or maternity, requiring pregnancy tests or setting gender as a preference or requirement, but compliance with it can be improved. "The punishment for maternity is not necessarily reflected in the interview. It is often less explicit. The employer assumes that a woman is likely to have children. Age is important: it worries less in women in their twenties but it becomes a problem in their thirties, "says Ruixue Jia, an expert in Chinese Economic Development at the University of California-San Diego.
Two weeks for paternity
The fear of motherhood squeaks with generous legislation. The national minimum for days off is 98 but most provinces offer between 128 and 158 m (112 in Spain). Companies pay insurance so that women receive their salary from state funds, but the system has two flaws that explain the preference for men. On the one hand, the payments have a limit, so the employer will have to complete them. And on the other, lto paternity leave of just two weeks reduces the absences of man.
Neither does their early retirement, between 50 and 55 years, for the 60 of men. They were approved seven decades ago, with a life expectancy of 35 years, and they are still there when it reaches 77. That distinction that then protected women forces them today to leave the job at functional age and slows their promotions. A recent survey from a job platform offered opposite signs: earn 12% less than men But the pay gap had narrowed 5% in one year.
The sudoku that the Government handles reveals the complexity of the challenges. You need both women in the labor market and encourage the birth rate. The speeches of its president, Xi Jinping, highlight the problem: he has underlined the need to achieve complete gender equality and also the traditional responsibility of women in the home and family.
The Ministry of Human Resources and Social Security admitted discrimination in January and the State Council approved a plan in September to end it in ten years. It foresees 200 measures and objectives that include the increased presence in the labor market, strict compliance with equal pay laws and higher penalties for sexual harassmentl. Shenzhen, the tech capital, approved a guide on sexual harassment at work, university and schools in March that clarifies its meaning and streamlines reporting. Large companies have adopted codes of conduct that hinder excesses and put an end to the custom of oiling agreements with dinners, alcohol, karaoke and ladies. That toxic socialization that expelled women has been wiped out by Xi Jinping's anti-corruption campaign. "Customers no longer ask you to go to dinner with them. And, if someone suggests it, you can politely claim that you prioritize family life without fear of losing your business, "says Jia, founder of an intellectual property law firm.
It serves that which is so common in China with a lot of done and a lot to do. With women, however, evolution passes through involution: recovering that exemplary Maoist equality that liberalism eroded.

www.informacion.es
Eddie is an Australian news reporter with over 9 years in the industry and has published on Forbes and tech crunch.