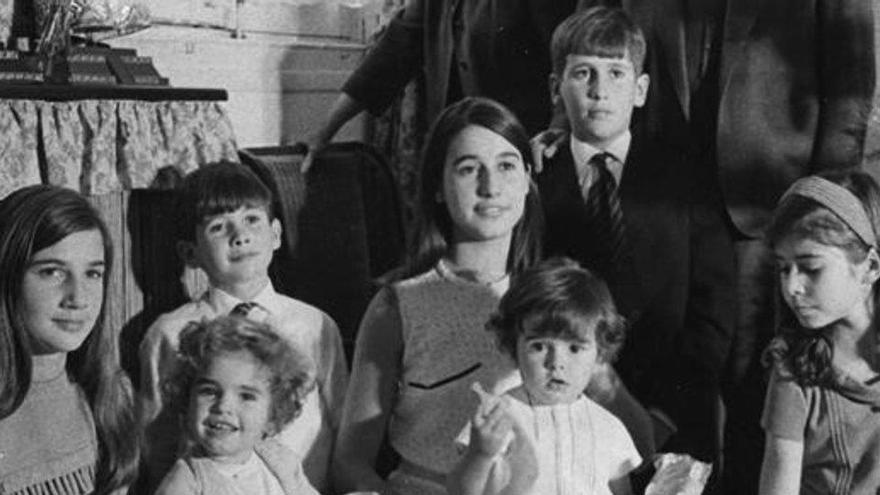 According to the will he drew up on February 20, 1968, almost eight years before his death, the dictator left his inheritance for his wife, Carmen Polo, and his only daughter, Carmen, 28,500,315.38 pesetas (171,290 euros), which by updating the income Following the CPI today they would be equivalent to 1,778,165 euros. The widow kept half of her participation in the joint property (14,250,157.69 pesetas) and the third freely available (4,750,052.56 pesetas), while the daughter received 9,500,105.13 pesetas.
In different accounts, three in Oviedo and one in Madrid, Franco and his wife had a total balance of 1,004,890.38 pesetas (6,039.51 euros) in 1975, which in updated rent would be 62,693.04 euros. And in shares of different companies, they held 1,457,425 pesetas (8,759.30 euros), which would now be equivalent to 90,930.29 euros.
That's what black on white consisted of that 20-N 45 years ago. Another thing is the wealth amassed by the family during the dictatorship and the high profitability that the heirs have managed to get out of it in a democracy. The most solid calculation was made by the journalist Mariano Sánchez Soler, author of the book 'La familia Franco SA' (Roca Editorial) and the largest researcher on the clan's assets, which estimated at 600 million euros, 100,000 million pesetas, the fortune current of the grandchildren of the coup general.
From the data of the commercial and property registries, the author lists up to 22 real estate properties inherited by Carmen Polo and her descendants. Only the 110,000 square meters (80,000 buildable) of the Pazo de Meirás were then valued at 150 million pesetas. But the Canto del Pico palace, in Torrelodones (Madrid), Franco's summer residence obtained a year before the Coruña pazo, was registered for 300 million pesetas. And Valdefuentes, a 9,845,088 square meter estate in Arroyomolinos (Madrid), could then be worth more than 700 million pesetas. According to Sánchez Soler, the requalification of a third of that farm multiplied its value by one hundred.
The real estate park, which the clan has been selling over the years, was completed with possessions in A Coruña – Casa Cornide, Franco's birthplace in Ferrol and a farm in Oleiros -; Madrid –three villas in Puerta de Hierro, La Moraleja and La Florida–; Córdoba –a hunting palace–; Malaga – a villa and two farms in Marbella and a farm and a villa in Torremolinos–; Guadalajara –three farms and a chalet–; and Asturias – Carmen Polo's family estate. The death of Franco's only daughter also uncovered new properties in Madrid, Cádiz, Estepona, Guadalajara, Segovia, Oviedo…
The icing on the cake is number 8 Calle Hermanos Bécquer in Madrid, the family's headquarters and the base of its corporate operations. In the business skein Sargo Consulting's threads stand out (18 million in assets), which manages a large part of the group's real estate assets and is the parent company of Fiolasa -more than 20 million in assets-; Montecopel (16 million in assets) and Pristina (15 million). But the trail of brands with a family presence reaches 41: Urme Parking (just over a million), Caspe 99, Bejar 2001, Arroyo de la Moraleja, Ursaria … More than half of these companies are dedicated to the promotion, rental, purchase and sale or management of real estate, but the tentacles spread to sectors such as advertising, medicine, parking, transport or computing.

www.informacion.es
Digsmak is a news publisher with over 12 years of reporting experiance; and have published in many industry leading publications and news sites.