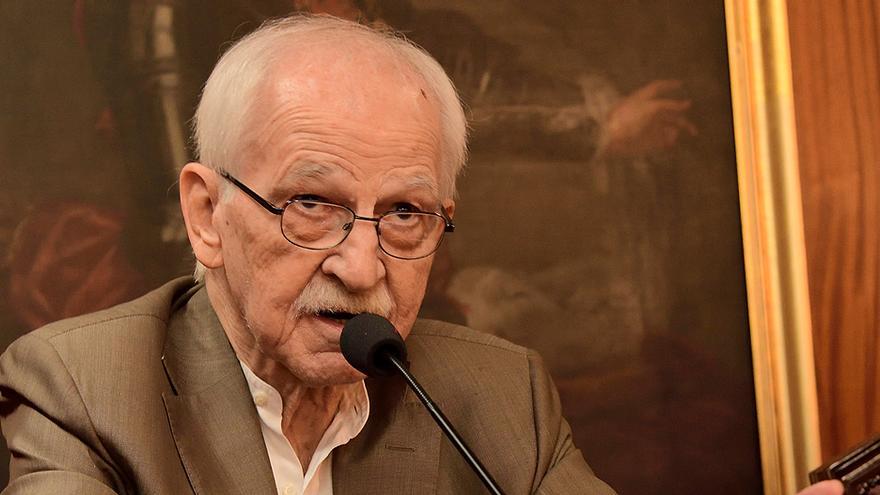 The philosopher, jurist, essayist and university professor had a long relationship with the island that began in the year 70, when he arrived with a civil service position, which he agreed to in a previous flight, to get out of the gray of the capital in full time Francoist. He did it in search of freedom and he settled in a house without electricity or running water, in the company of his young son, waiting for his wife to arrive.
He himself summarized that first experience in the book 'My private Ibiza', about his love and hate story with the island: "I migrated to the island in 1970 and barely moved from there until 1984, when an alliance of thugs and policemen suggested putting land in the middle. Overcome that bad drink, I have spent years spending a good part of September in a nice hostel in Salinas, something that allows not to walk too much in the fig tree about the today of my once adopted homeland ".
"I take it for granted that writing on oneself irons the subject with the object, and if it does not border on indiscretion it courts the void. However, the metamorphoses of Ibiza perhaps allow us to pass from the autobiographical genre to profiles of a reality proper, diffuse in another case, and with that as a compass I need some memories and data … ", he wrote.
During this last year on the island there are many who have approached him, some young people only with the intention, as he himself confessed, to smoke a joint in his company and in the shelter of his talk. That experience has been reflected in two works that are now the ultimate testimony about Escohotado's Ibiza, the documentary 'Antonio Escohotado' by Samaj Moreno, and the book 'Los penultimate days of Escohotado', by the journalist Ricardo F. Colmenero. Both are the result of interviews with the writer at his home in Sant Carles.
In them he recounts his days in Ibiza, the opening of the Amnesia nightclub, of which he was a founding partner, and his departure from the island, in 1984, after being involved in a dark plot of drug trafficking with the Corsican-Marseille mafia, of which he always denied his involvement, to end up locked up in jail of Albacete. At that time he was already a professor at the UNED and his arrest and conviction was a great scandal.
He did not appeal the sentence, he reached an agreement with the Prosecutor's Office and accepted that one-year confinement during which the encyclopedic 'General History of Drugs' was born, his best-known book and the one that continues to be a reference for many.
But before he lived some extraordinary years: "We were free," he claimed in Moreno's documentary: "At that time, sex occupied everything in my mind; in our mind," he explained in reference to those first days in which he was mimicked in the hippie movement and in which sex, encounters with friends and drugs they were his day to day. The music led him to play the guitar fluently and they used to meet at the La Tierra bar in the port of Vila – through which characters of all kinds passed, from Orson Welles to Roman Polanski, Pink Floyd or Elmyr de Hory, among others – a once a week. There they talked, shared and discovered new horizons.
The Earth closed and 'the tribe' lost their meeting place. And that's how Amnesia was born, which was originally to be called The Oblivion Workshop. Together with several partners and after receiving the inheritance from his mother, now a widow, Escohotado founded in 1976 one of the most famous clubs on the island today; for him, a simple country house where they met to listen to live music.
"Now I do not recognize that," he assured in the interview. After living in the premises for several months during the works, the opening was so tremendous that the Sant Antoni road collapsed.
Years after leaving the island, he decided to return to spend a month each summer at the hostel Mar y sal de ses Salines, where he cultivated friendship with its owner, Vicente, and with different characters from the island, who came there to meet him in those days off.
In the middle He has served as a university professorHe is a talk show on different televisions and has published more than twenty books on the most diverse topics, from drugs to Greek philosophy, anthropology, sociology and law, the latest 'Milestones of sense', published last year.
A story full of lights and shadows for a man who during the interviews that Ricardo F. Colmenero made for his last biography came to confess to him: "Boy, I'm a nut, don't forget. I'm very aware that I'm a bum ".

www.informacion.es
Eddie is an Australian news reporter with over 9 years in the industry and has published on Forbes and tech crunch.