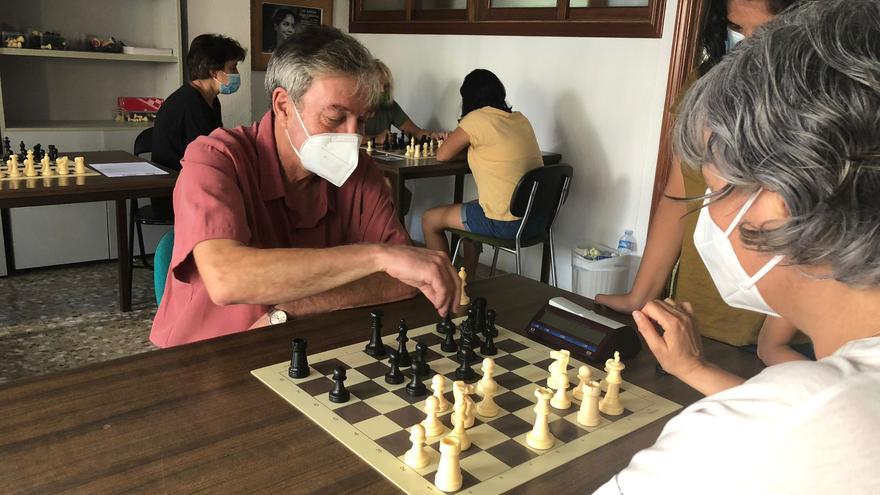 Today, July 20, chess celebrates its international holiday. Ricardo Mascarell, director of the Alicante Chess Club for just over a year, tells "the satisfaction that sport generates in the little ones". Likewise, it assumes that "despite being a fun sport", the television following is scarce.
The Alicante Chess Club has been open under this name for approximately 19 years. Currently there are around 90 players, of very varied ages, but there is no particular band that predominates; from young people who participate in school to older people who have been playing all their lives, passing through parents who start taking their children and end up linked to sports.
Has your love for chess grown, have you noticed the 'Queen's Gambit' effect?
We are currently in a fairly stable time, which is a lot for the times that we have passed. There have been some casualties but I really believe that there have been more discharges. We have noticed a slight increase in the number of partners but I would not say that it came from the effect of the series.
How many tournaments can be organized throughout the year?
It depends on the rhythms of the games, but there are many. Slow game tournaments, lasting four to five hours, are held four a year. Then there are many unofficial quick game tournaments that everyone can sign up for, you don't need to be federated, just pay the registration. In addition, some of the tournaments organized by the Valencian Community Chess Federation (FACV) have been played at the Club.
How do you prepare children for their chess training?
"The children are offered games with qualified people, as they improve in the tournaments they go up in category"
In principle, they are offered chess classes with games with qualified people so that they learn and raise the level until they can participate in competitions. As they improve in the tournaments they go up in category. But it depends a lot on them, on the expectations they have with chess and if it is what they really want. There are those who prosper and want to continue their academic training linked to chess and those who prefer to abandon it.
In some communities such as Murcia, chess is beginning to be implemented in classrooms as an optional subject in primary school years. In what aspects can it favor their development?
I think it is a measure that should be implemented throughout Spain. The problem I see is finding a teacher, with teaching, with qualified training in chess to be able to teach. In terms of development, chess has very specific virtues; It gives them a great discipline, also a great development of logic and calculation. In addition, foresight and control of the opponent which causes the chess player to have great empathy. And above all, the predominant quality is competitiveness; a direct confrontation between two minds in which victory prevails.
Has the pandemic affected much in the realization of tournaments and training of chess players?
During the two months of confinement in 2020 the club was closed. The formation of the club was null because we did not have the capacity to give the classes online, but some tournaments were organized online. Still, it is not the same for people who are used to 'playing the board'.
For the rest of the year, classes and tournaments have been limited by restrictions. We have had to adapt due to capacity issues, social distancing and in rooms where we put 80 tables for games, now we only enable 20.
Is the thought that chess is a sport for smart people true or is it a false belief?
"It is a sport for everyone, all you need is discipline and determination. You don't need superior intelligence, it's just a myth"

No not at all. It is a sport for everyone, all you need is discipline and determination. Above all, it is having interest, obviously it develops intelligence but it does not require it to know how to play and learn, it is just a myth.
What comes first in this discipline, to train the kids and educate them from a mental exercise or to be competitive and prepare them to be champions?
The most important thing, and what we watch the most for, is that children have fun. Then everyone dreams of being a chess champion, but they never see it as a direct goal. They know about the difficulties of progress in this sport but they are happy to play and they feel a great development in their reasoning.
Can you live off chess?
It is not a very rich sport, but some are. From a certain level you can live as a middle class and then the elite can live very well. It requires having a middle class level and you can live, not so much from the prizes you win but from the contracts you get: From organizing classes, from commenting in specialized chess magazines … You can move around the chess field and get a living from your hobby.
Youtubers and influencers are also appearing on chess that are getting performance, even so it does not have the diffusion that another sport such as tennis or football can have.
What do you think are the reasons why chess is not so widely covered on television?
"Chess and TV marry badly, someone who is not used to playing and who watches it on the screen is not capable of feeling that rivalry"
Mainly, because they marry badly. It is very difficult to find a direct action that can be broadcast on a television network. Those of us who play chess watch the game in person and realize that they are crushed and that there is a lot of aggressiveness in the game. However, for someone who is not used to playing and who watches it on television, he is not able to feel that rivalry on the screen.
How is the follow-up for chess in the province?
The fans are intense. There are not a large number of chess fans in Alicante, but people who love chess go a long way. Above all, comparing it with the people of Valencia, which is where I come from, here they have a lot of feeling of being rooted in sport, they take it with greater intensity.

www.informacion.es
Eddie is an Australian news reporter with over 9 years in the industry and has published on Forbes and tech crunch.