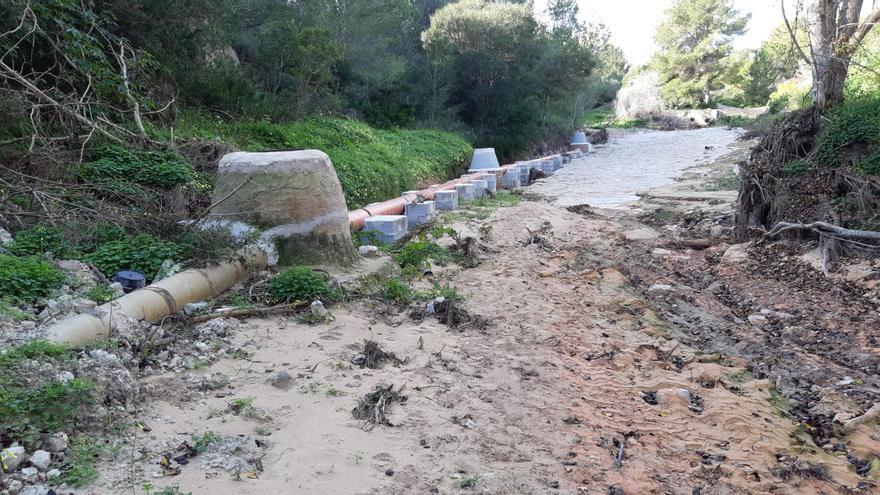 The Orihuela City Council has announced the project to solve an environmental problem that it had not disclosed before having a solution: the main sewage collector of the Villamartín urbanization occupies the hydraulic public domain of the Cañada de las Estacas as a route. Something that has caused, according to the council itself, many problems due to breakages in periods of torrential rains with spills into the ravine itself and into the sea at the height of the Playa Flamenca urbanization.
EThe last one during DANA 2019. Now the municipality has announced an investment of 681,000 euros to improve the infrastructure. The collector will stop running along the promenade and will be buried in the public road like the rest of this type of infrastructure.
Angel Noguera, Councilor for Infrastructures of the Orihuela City Council, has reported that through the "Sewer Renewal Funds" the Villamartín collector in Orihuela Costa will be renewed. A collector that runs along the Cañada de las Estacas ravine with the problems thatIt is caused by breakages every time there are floods of water giving rise to discharges to the riverbed of the promenade with the environmental damage that it entails. The sewerage renovation funds are financed with the payment of the supply and sanitation of drinking water paid by the subscribers of the concessionaire company for the management of the water cycle.
"Finally, and after several years of negotiation, we have obtained the necessary permits from the Segura Hydrographic Confederation (sic) to shut down the current Rambla collector so that the new one can run underground through public roads and not through natural spaces as it should have done since its construction ", said the councilor. The main data of the work are the execution of two new wastewater pumping stations, the installation of 400 linear meters of HDPE pipe DN 280 mm of wastewater discharge, the installation of 50 ml. HDPE conduction DN110 mm. of wastewater impulsion and the crossing under the post-transfer channel and the Villamartín road by means of a drive of 105 linear meters.
For its part, José Aix, Deputy Mayor of Orihuela and Town Planning Councilor has indicated that "after the DANA episode, this problem worsened further due to the significant damage caused to the collector. Now, once the work is carried out for an amount of 681,581 euros, we are going to eliminate wastewater discharges into the environment and ensure that 100% of the wastewater is treated and reused, thus improving the quality of life of the residents of Orihuela Costa every time there are episodes of rain ".
It is not clear who or how the current collector was authorized, although its execution was much cheaper than that carried out in any municipality in Spain: burying the pipes under public roads.

www.informacion.es
Eddie is an Australian news reporter with over 9 years in the industry and has published on Forbes and tech crunch.