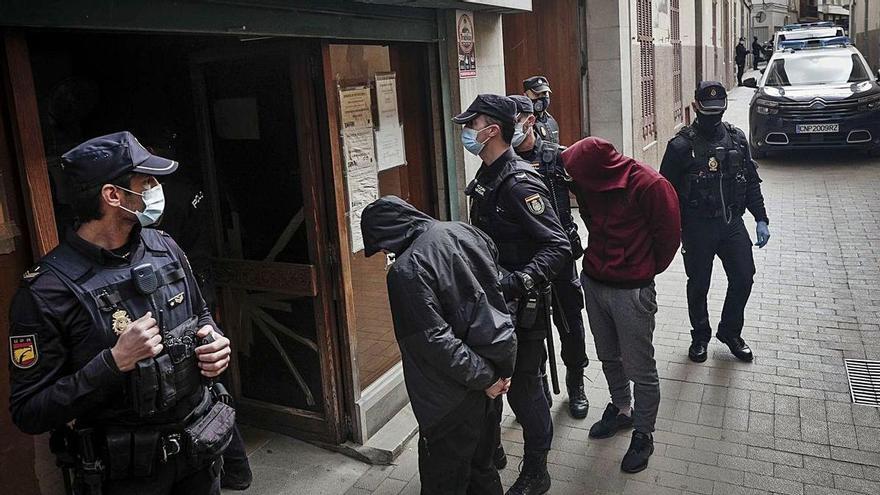 The 34-year-old man with an intellectual disability who last weekend He was tortured for two days by a group of young people in the Mallorcan town of Manacor admitted to having performed similar practices on three other occasions between 2018 and 2020. It is one of the data provided by the Police investigation, who arrested the seven allegedly implicated, four women and three men, between 20 and 30 years old. The youth had responded to a summons the victim to participate in a kind of contest, in which he had to perform a series of tests and be punished if he failed. During this time, they tattooed penises on her face and a bra on her chest, glued her lips together and sewed her toes together.
After reporting what happened, last Sunday, the man admitted that he likes "sado light" and risky situations, for what he had contacted through social networks with different people, offering them the possibility of participating in a contest that he called Change my look or destroy it, in which they could win prizes of up to 3,000 euros.
The idea was to record the scenes of the harassment and torture to post them on the channel that the victim has on YouTube.
On February 24, he held a kind of casting in the Plaza del Tubo in Palma, in which his clothes were torn and he was tied to a lamppost.
On Friday of last week he met with the seven young people who agreed to participate in the contest, in a kind of sado session. "I thought it would be like a game, but I didn't know how to stop. He left mother and they did not stop either. I allowed it out of fear of retaliation. Two of them looked violent and I was afraid they would hit me", he manifested.
The man admitted that he went with them voluntarily and that he accepted the practices they did for him between Friday and Sunday, but that day he wanted to go. He considered that they had exceeded the limits of what was agreed, so he did not want to pay them. Then one of them threatened to report him. Finally they let him go and he notified the police.
The complainant stated that he had a recognized intellectual disability of 38%, and that the participants in the supposed contest knew it.
On Friday afternoon of last week two of the contestants They picked him up in Palma and took him to Manacor, to the address of another of the participants. During the trip He was disguised as a woman and gave them his mobile and his wallet. Once on the floor, he agreed with the seven young people gathered on the type of tests and the punishments he would suffer if he did not pass them.
The tests consisted of questions of general culture, freeing himself after being tied up with a bridle, staying up all night tied to a chair or dancing and singing dressed as a woman in a supermarket. Failing to pass the tests, he was subjected to punishments such as being tattooed on his face and body, being sprayed with cold water on the terrace, having his toes sewn, ear piercing or lip smacking. with tail.
A witness questioned by the Police, a relative of two of the detainees, stated that he had participated in the selection process of the "contestants", although in the end he did not participate in the practices. This woman contributed messages from the victim in the WhatsApp group in which they specified the punishments, in which the man commented that they were too soft, and insisted that they could get tattoos on his face. The man insists on suffering "Some bitch that I can stay forever, so you get more points."
"At the age of fifteen he paid us 200 euros to tie him up"
The victim starred in a similar case in 2012. May, another Mallorcan young woman, remembers perfectly how she met the Manacor torture victim in the summer of that year. "I was fifteen years old and I was one afternoon with my friends in the Plaza de España in Palma. This man approached us and told us that he had lost a bet with some friends, and offered us 200 euros if we would pluck his eyebrows and put on makeup. ".
The young woman remembers that he was much older than his friends, all of whom were about fifteen years old. "We were kids. They gave me ten euros to pay, so when he said he would give us 200 euros I didn't think about anything else. What should we do? He told us we had to dress him as a woman, pluck his eyebrows with wax and make up ".
The group, of about five minors, accompanied him to a store, where they bought leggings and a sequined T-shirt. Then they bought waxing and makeup. But what seemed like a joke became increasingly uncomfortable. "He looked at me all the time, and every time he got more red and sweaty, and he took pictures of us. In the end he asked us to tie him to a column in the Olivar market. We did it, we took the 200 euros from his pocket and gave him we left. You could tell he was an unbalanced person ".

www.informacion.es
Eddie is an Australian news reporter with over 9 years in the industry and has published on Forbes and tech crunch.