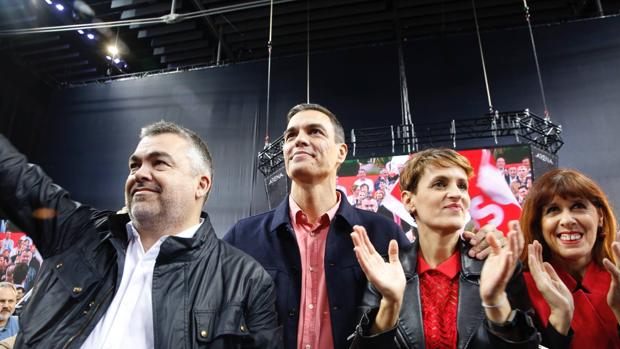 Santos Cerdán León (Milagro. Navarra. 1969) has acted as a silent master of ceremonies in the political communion of the PSOE with Bildu. It was this rocky plumber of Navarrese socialism, today responsible for Territorial de Ferraz, who forced the strategic turn of his party, overnight, to accept Bildu's votes and get his friend María Chivite to govern Navarra. He sowed the relationship with the old Batasuna through Adolfo Araiz, MP from Bildu in Pamplona, ​​former ETA lawyer and supporter of the "hard line" in the past. And, as pointed out in the "abertzale" environment, maintains telephone contact with Arnaldo Otegui himself.
Ferraz categorically denies it. "No colleague of the executive talks to Otegui." As there is also a pact with Bildu hidden. "We are not negotiating, they are supporting us"They add, although they do admit a "normalized relationship" between the two groups. "It is one more democratic force."
The PSE is on the sidelines
Those of Otegui have their own diagnosis. "Of course we are talking, there are ways with Iglesias, with the Government and with the PSOE." The PSE, which maintains a temperate relationship with Sánchez, is left out of the triangulation.
To understand the synergy of the PSOE with Bildu, you have to look at Navarra, where Cerdán, Sanchez's loyal squire, he struggled as a politician. "Santos had an escort for twelve years," repeat his. Today he pilots the party while José Luis Ábalos, Secretary of Organization, focuses on the Ministry. Y it is he who handles the spinning wheel with Bildu.
Yours was a high voltage political operation. They say that not even Iván Redondo dared to move a piece on the Navarrese board. The "red line" was set by Zapatero and maintained by Rubalcaba: the PSOE would never depend on Batasuna's "mortgage". Sánchez also promised to do so. He defended it "five and twenty times", in public and in private. "Nothing is agreed with Bildu," the president solemnized in June 2019. Chivite was sworn in that August. His "agostazo."
But while the leader and other socialist leaders like Carmen Calvo they scorched his wordCerdán was finishing his move: "With Bildu, yes." You just had to wait for the rest of the autonomic puzzle to fit. And boy did he do it: Baptism in Navarra and confirmation in Madrid. Everything goes in the "pack."
Cerdán's move comes from afar. He was in the PSN negotiation to try to Fernando Puras Navarrese president was invested in 2007, with Carlos Chivite as general secretary. Pepe Blanco prohibited it when it was already closed. That led to the resignation of Puras and, according to the Navarrese socialists, the premature death of Chivite shortly after: a heart attack at age 51. "He was killed by disgust," they assert. Neither did the federal authority authorize a motion of censure, adding with Bildu, to oust the president Yolanda Barcina (UPN) in 2014.
Rubalcaba said "no." Cerdán was always one of the most belligerent in the Navarrese federation against the impositions of Madrid. Because of that historical veto the PSOE threw down a chair in the office on the fourth floor of Ferraz that he now occupies, it reminded him of a colleague a year ago. From there, today he has managed to untie the knot with Bildu.
«They have pasted well with Santos»
Officially, the PSOE insist that the only open channel is in Congress. But socialist and nationalist sources agree to give a relevant role to Cerdán: «Through Santos they have pasted well», they emphasize. It is Sánchez who entrusted him to maintain a direct dialogue with Bildu: that Iglesias is not the only one who entangles. Although the PSOE has always denied all contact with Batasuna. The photos of meetings with Otegui have been scarce. And so it will continue for now. Leader Bildu assumes that still toxic.
Anger to the right
To understand the influence of our protagonist, we must return to the ousted Sánchez. Cerdán is a first-rate sanchista. He was at the launch of the candidacy for the 2017 primaries. He welcomed him in a rural house in his town, Milagro, a town in the Ribera of Navarra famous for its sweet cherry. In an interview he even said: "I have seen militants cry at Pedro's step." He executed the secret collection of guarantees, the «57,369», almost as many as Susana Díaz. It was the deadly blow to victory as he likes to repeat.
Cerdán regrets not having been mayor of his town. He appeared twice and both times UPN beat him. His rivals assure that his anger moves him to the right. He called Iñaki Iriarte a "fascist", from Navarra Suma, for having food with some requetés. «In the towns of the Ribera there is still a fratricidal fight between UPN and the PSOE, Basque nationalism does not exist here ", they point out in the coalition. And in this civil warfare scheme, Bildu is perceived as one more ally of the left against the Spanish right. This way it is better understood why and where the pact was born.

www.abc.es
Digsmak is a news publisher with over 12 years of reporting experiance; and have published in many industry leading publications and news sites.