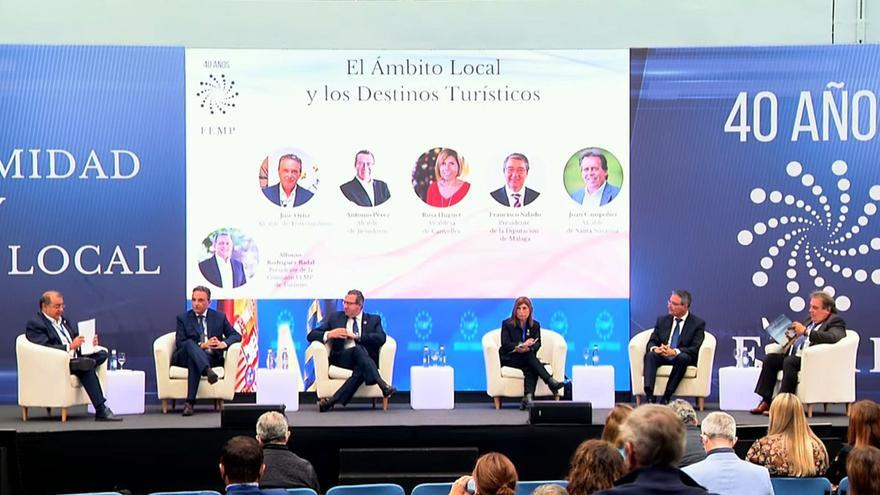 This Friday, at table 5, the mayor of Calviá, Alfonso Rodríguez, as president of the Tourism Commission, moderated a table in which, together with the mayor of Benidorm and vice president of the commission, the mayors of Torremolinos, Santa Susanna, Canyelles and Rincón de la Victoria, who is president of the Malaga Provincial Council, has revealed the optimism of tourist municipalities for 2022 and hope in EU Next Generation funds; not so in the resolution of the extra financing of the pioneer and mature tourist municipalities that, as Toni Pérez indicated, "many of them do not have that condition recognized by the Local Tax Law", despite being leaders in their sector.
Recalling the premise put forward yesterday –There is no local autonomy without adequate funding- the mayor of Benidorm stressed that a city-tourist destination like Benidorm "serves three communities: the local community, residents, tourists and residents of other municipalities who find that ideal of happiness in Benidorm, stay with us and demand the same services from us ", which implies maintaining" with the best quality the services to a population five or six times higher than the registered", Which is why it receives funding.
This was a common claim to the speakers representing other tourist municipalities on which the mayor of Benidorm pointed out that "we provide services without distinction of where they are from or where they come from." This lack of funding, Pérez stressed, has come to require during the pandemic to redefine many concepts and even assume new competencies "such as beach management, which we did not have before."
To solve this deficit, the mayor of Benidorm claimed "a percentage of the tourist VAT "and pointed out that" decentralizing a part of the VAT towards the local administration is much faster and more efficient ", which links perfectly with that third decentralization of the Administration that in yesterday's session centered a good part of the debates. And in this line of demand, Pérez insisted on enhancing the reputation of tourism and "achieving the consideration of the tourism industry as a strategic sector", "because it is the one that redistributes the most wealth", "so it must be part of the Country-Strategy" .
The mayor ended his participation in the debate by highlighting the strengths of Benidorm, its commitment to the SDGs and the 2030 Agenda as well as the monitoring of the Benidorm DTI + Seguro Roadmap and the strengthening of the axes of sustainability, innovation, accessibility and technology for develop better governance. The mayors of Table 5 of Tourist Municipalities agreed that the keys to the future are to ensure the water supply, where the effective management and leadership of Benidorm was highlighted, improving connectivity and promoting sustainability, as Benidorm does, to win the future .

www.informacion.es
Eddie is an Australian news reporter with over 9 years in the industry and has published on Forbes and tech crunch.