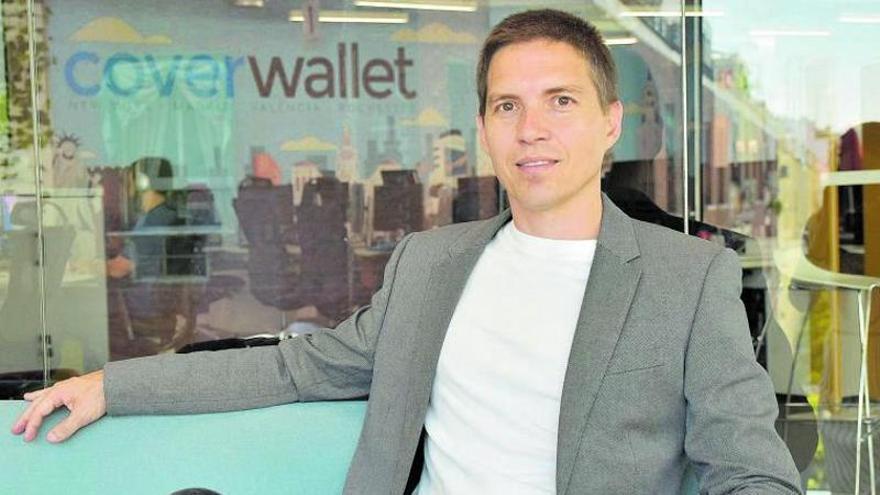 Not bad at all for a telecommunications engineer who, in reality, what he wanted was to dedicate himself to university research and who was chaining various masters and doctorates at universities such as Cambridge, Columbia, MIT in Boston or Princeton until his thirties thanks to various scholarships, such as La Caixa or the prestigious Fulbright. "In my town the one who started a company was because he had money, he came from a rich family, but I come from a very humble family," says the current CEO of Cover Wallet, a firm dedicated to the online sale of personalized insurance for SMEs thanks to Artificial Intelligence, which already has more than 500 employees spread over several countries.
The entrepreneurial bug came to him during his stay in the United States, when he realized, on the one hand, that thanks to venture capital funds it was no longer necessary to be wealthy to get the necessary resources, that the important thing was to have a idea. And, on the other hand, "you don't need to know everything to start a business. What you have to do is surround yourself with people who know and have the necessary leadership to get them to follow you, to attract that talent, "he adds.
It was in 2008 when he decided to start his first company, together with a colleague from MIT, and settled in New York. By then Apple had just launched its first iPhone and suddenly, everyone was seen with a camera in hand. Berenguer and his partner thought that it would be a good idea for Internet users to be able to search among the thousands of photos that were uploaded every day by subject or place, in the same way that general search engines already did with press articles or websites. It was the birth of Pixable, an application that had 12 million users and that ended up selling in 2012 for 30 million dollars (about 25 million euros) to Singtel, one of the largest telecommunications companies in the world, based in Singapore.
This same company was the one that helped him shortly after to start his second project, Contactive, an application that allows us to identify telephone numbers that we do not have registered. "When I was in charge of a company, I realized that every day you receive a lot of calls that you don't know where they come from, if it is a commercial or if they call you from the hospital. However, if you put a number in Google, you will most likely find who it belongs to and I wondered why the mobile could not do the same, take advantage of all the public information that there is to help you know who is calling, "he explains. Again, his idea triumphed and he also ended up selling the company within a few years for several tens of millions to Boston-based technology company Thinkingphones, now called Fuze.
He could have retired, but the poison of entrepreneurship had already stung him. And again, it was his experience that led him to set up Cover Wallet. Specifically, the bad experience when it comes to purchasing insurance for your previous companies. "I thought it would be like with the car, that it would be enough to put a few details and that it would be hired online, but in the case of companies it was not like that. It was a very cumbersome process, "he recalls.
No sooner said than done. Again he used Artificial Intelligence and the millions of existing data to offer policies for SMEs in a simplified way through the Internet. "If you have millions of data from similar businesses around the world, you can know if a restaurant is going to need certain coverage or when, and you can offer a personalized price that until now only the big ones had. Technology democratizes many aspects ", points out Iñaki Berenguer.
The initiative raised $ 60 million in financing in various rounds, until the British insurer AON noticed it and bought the company at the end of 2019 for an amount that has not been disclosed. On this occasion, the Alicante has decided to continue in the company as CEO and the firm is in full expansion. From the beginning it had offices in New York and Madrid, which was also joined by València and, recently, another in Seville (in Spain they only develop, they do not sell their insurance). In addition, this year they have expanded to Singapore, Australia, France and Argentina. In addition, Berenguer is already thinking about applying his model to health insurance or those related to the risks of climate change. Emphasize that your goal is not moneyThat what you want is to "use technology to make a positive impact and solve problems for people." At the moment, it seems that it is not an objective incompatible with profitability.
From Cabify to viruses that cure cancer. In addition to his own companies, Iñaki Berenguer also invests in other startups, to which he offers his advice and experience to move the business forward. Thus, in its portfolio you can find shares in firms such as Cabify, but also others such as the Valencian iPronics, which develops photonic chips; the fintech Flywire, also born in Valencia but now based in the United States, where it is listed on Nasdaq, or Humane Genomics, which investigates artificial viruses to attack cancer cells.

www.informacion.es
Eddie is an Australian news reporter with over 9 years in the industry and has published on Forbes and tech crunch.