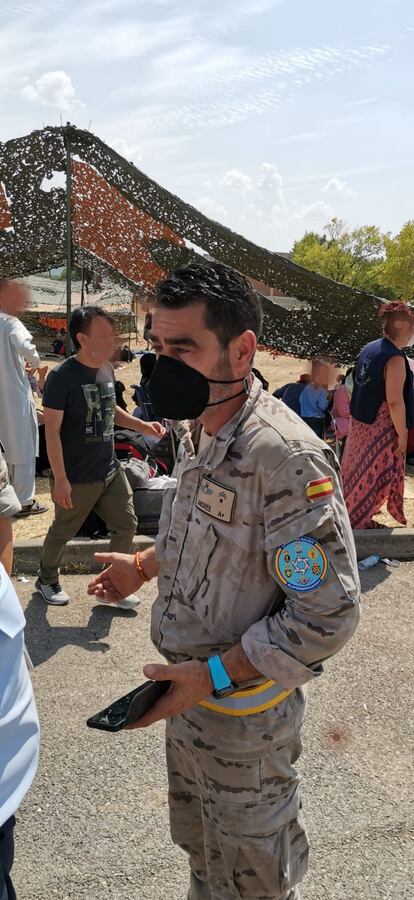 Second Lieutenant José Ángel Andrés has been in the Armed Forces for 32 of his 55 years and for a week, when the first flight with evacuees from the Taliban's Afghanistan landed at the Torrejón de Ardoz air base (Madrid), it is the first face that the refugees see when they arrive. His eyes – the mask covers him – and his voice – along with those of Maite or Yolanda, the heads of the Ministry of Inclusion who alternately accompany him, and the interpreter – make up the reception "in a place unknown to all of them." Second Lieutenant Andrés, from the Air Traffic Support Section (Satra), is responsible for "taking a list of each and every one of the families and people who arrive and who are perfectly identified since they leave Kabul", just before get off the Air Europa plane that takes them from Dubai, where they make the stopover after leaving the chaos that collapses the international airport of the Afghan capital.
"When you open the door and enter the plane, you feel observed by everyone, they don't know exactly where they are coming from, or what they are going to find, if they are going to take them to another place … my role is to cushion that blow, to acclimatize them minimally and to see that we are good soldiers ", says Andrés. "Almost all of them speak English, but in case there is someone who does not, the translator will come up with us," he details.
On Thursday afternoon another plane with 240 Afghans arrived and another flight is expected to arrive in the next few hours. They are among the last in this rescue and evacuation mission against the clock. The second lieutenant has crossed his gaze so far with the more than 1,900 people ("mothers, fathers, children, babies …") whose eyes are a mixture "of fear and bewilderment" at what is to come. "These are people who come with their whole lives in a ten-liter backpack that they have had to do in five minutes, before running off," Andrés sums up this Thursday by phone, shortly before getting back to the foot of the ladder. "Some come even without a backpack, with a sheet tied at the ends: a bundle, for the rest of their lives."
An "Afghan mini-town" in Torrejón
They arrive exhausted, especially the children, and "they come very worried: they have left everything behind, also their relatives, in danger, and they know they will not be able to return, it is a huge drama," warns the second lieutenant. "It is a very long trip, the little ones arrive asleep, they have to wake them up, but it is very comforting and fills us with happiness to see that after a few hours they are playing in the camp, with whatever it is, they feel safe and show themselves happy, "he says, while expressing his great satisfaction at doing this job. "For many hours that we spend here, we are delighted, it is our job: we have gone from maintaining transport operations to setting up a mini-town, with all that it entails, a town of Afghan citizens, with the Red Cross, National Police, Civil Guard, staff from the Ministry of Inclusion, dozens of volunteers … ".
However, and despite the fact that the pace of arrivals has accelerated, the second lieutenant is aware that not everyone will be able to leave: "We will not be able to remove everyone who would like to leave."
After that first landing await them the police identification, the security check with a scanner and the drug control with dogs, to then go on to be interviewed and welcomed by the personnel of the Ministry of Inclusion and finally attended by the Red Cross. "At the same time, they are fed, and for small children we have put a lot of microwaves for bottles and specialized personnel," he says.
Waiting for the last refugees to arrive that Spain will be able to evacuate in the few hours that remain until the imminent total withdrawal of the twenty policemen and the hundred soldiers who are carrying out this work in Kabul, Second Lieutenant Andrés and his team will continue there , at the foot of the track.

elpais.com
Eddie is an Australian news reporter with over 9 years in the industry and has published on Forbes and tech crunch.