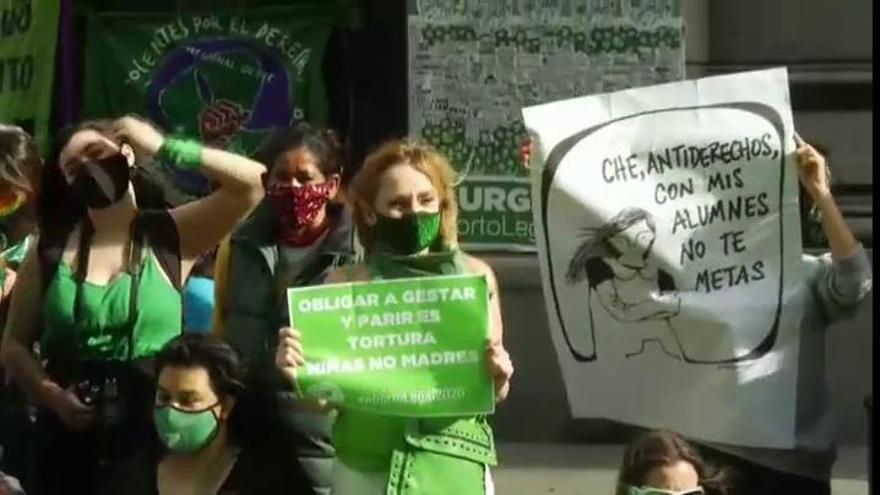 Thousands of people have taken to the Argentine streets this Friday dyeing them green again to show their support for the bill that aims to legalize abortion in the country, which has been debated for the last day in the country's Congress, in the absence of its vote in the chamber.
In the capital, Buenos Aires, the mobilizations have taken place in front of the Congress, although they have not only been in person, but also messages of support have multiplied through social networks to the project to decriminalize the voluntary interruption of pregnancy. In this way, while the deputies debated the project in the Lower House, the Plaza del Congreso has been starring workshops, batucadas and different activities awareness.
During the day this Saturday, the emphasis has been placed on teachers and health personnel, with messages aimed at the awareness so that girls and adolescents can trust in this type of professionals in case of an unwanted pregnancy. The slogans that have marked the demonstrations have been "the teacher always believes you" and "girls, not mothers."
The expectations of social groups and organizations is that Congress approves the bill on December 10, when the vote is scheduled. However, the proposal promoted by the Government of the President, Alberto Fernández, after will have to go to the Senate, where approval is more difficult because, in principle, it does not have the necessary support. In fact, already in 2018, a project for the decriminalization of abortion overcame the first barrier of Congress, but the Senate finally rejected it.
The estimates of 'La Nación', to date, place the deputies in favor of passing the new law in 107 compared to 100 who would vote against in Congress, while in the Senate it would be 32 favorable votes and 36 unfavorable.
Fernández presented the project to the Lower House in mid-November, one of his electoral promises, after considering that "the legalization of abortion saves women's lives and preserves their reproductive capacity. It does not increase the number of abortions or promote them, it only solves a problem that affects public health. "
This bill would allow voluntary termination of pregnancy until week 14 of gestation, with this included, while it obliges health institutions to perform abortion within ten days. Likewise, it admits the individual conscientious objection of medical professionals, which allows them to refuse to perform an abortion as long as it is guaranteed that the woman can be cared for by another professional.
The current abortion law dates from 1921 and only contemplates the interruption of pregnancy in the event of rape or when there is a risk to the life of the pregnant woman. Protests and 'green tides' have occurred in Argentina in recent years to demand decriminalization.

www.informacion.es
Digsmak is a news publisher with over 12 years of reporting experiance; and have published in many industry leading publications and news sites.