Chances are you won't ask John Parsons for an autograph if you come across it at the grocery store. His good-natured face, still jovial and unmistakably foreigner, may sound rather little to you. It's not even available on Spotify yet A long, long road, his first solo album, which he just released at 67 years old. But it is within the probability, instead, that the name of this gentleman affable appears in the credits of a few of the albums that you treasure at home, as soon as you boast of fondness for Spanish pop of the last four decades.
And if they tell you that this smiling Welshman was the guitarist who escorted Miguel Ríos in the days of Rock & Rivers, the most massive and indelible tour that the music of this country has known, it is almost certain that he will not resist the temptation to ask him about it.
– Was it so bad, John?
– Oops, at that time we weren't fully aware. That second day [6 de marzo de 1982] we were very nervous and focused on our work. Many fans do not know that the recording equipment had failed the night before and all the material was practically useless. We had them, ahem, here [se agarra el cuello]. We were a small rock orchestra of nine musicians, we had to record a double LP live with twenty-many songs and we didn't have the slightest margin of error. But there was a special emotion in the atmosphere. Almost 40 years have passed and I have recorded on hundreds of albums since then, but people still remember me for that concert.
The man who has opened the doors of his house to us in Galapagar and has placed beers, cured cheese, ham (the good kind), olives and breadsticks in the center of the table is, wherever you see him, an institution. Or, at the very least, an illustrious anonymous. What do artists like Joaquín Sabina, Luz Casal, Juan Perro, Antonio Flores, Alejandro Sanz, Álex Ubago, Javier Ruibal or Pedro Guerra have in common, in addition to their trade and public notoriety? With all of them our knight with the silver hair has engraved or turned, one of those dedicated squires who strives, from his discreet background, to make each of his leaders shine more brilliantly. He never acted as a protagonist, but as a more than necessary cooperator.
I have never been the most technical, fast or virtuous guitarist on the planet. I have always defined not humility, but a lack of confidence, the fear of being worthless. And that has helped me to always be with the batteries and try that my work improves that of the main artist
"I have never been the most technical, fast or virtuous guitarist on the planet," he muses aloud. "I have always defined not humility, but a lack of confidence, the fear of not being worth. And that has helped me to always be with my batteries and try to make my work improve that of the main artist ". Nobody accredits in the union as many hours of flight as he does in all of Spain, but he still does not trust himself, not even with orders a priori more simple. Every time you are called to visit a recording studio, you arrive with a lesson learned. "Reputation, in this business, is at stake every day. If you aspire to be Cristiano Ronaldo, you cannot resign yourself to playing a bad game, "he says.
It's funny that soccer comes up, even though Parsons is just a very circumstantial fan. Nacho Sáenz de Tejada, the long-awaited musician and critic of EL PAÍS, once dedicated an anthological definition to him: "He is the Michael Laudrup of the guitar in Spain". Temple, elegance, finesse, solidarity effort: the parallelism was very well brought. And that John was anything but a precocious artist. There was not a single farandulero antecedent in his family and he never picked up an instrument until he was 11 years old, when he found a ramshackle old guitar in the music classroom of his Welsh public school. He took it in his hands and was able to touch the first time, by intuition and hearing, the Satisfaction of the Rolling Stones. His parents would end up enrolling him, some years later, in a Leeds school specializing in modern music. "Well, they called her light music, light music, a definition that I always found quite comical. As if classical music were heavy metal!".
How did that little boy from Pontllanfraith, a town of just 9,000 inhabitants in South Wales, get to the mountains of Madrid? What happened so that a mediocre student, who almost always failed French exams, ended up becoming a decisive reference in the history of Spanish pop-rock? Destiny, you know, loves to set traps for us and concoct sharp turns of script along the way.
In the Leeds classrooms, Parsons hit it off with a good-natured rocker from Chile, Tato Gómez, who acted as bassist and occasional producer for a certain Miguel Ríos, a singer from Granada that our protagonist had never heard of. Tato was looking for a delicate and solvent guitarist for a ballad in which Miguel had placed a lot of confidence, St. Lucia. John would end up being the chosen one.
In Madrid in 1980
When he landed in Madrid in 1980, he was stunned. "I did not know a single word of Spain, beyond the four topics about the beach, the sun, the islands and vacations," he acknowledges, "and suddenly I found a city in which emotion prevailed, the good life and good vibes. I could not believe that it was a country that had just emerged from a dictatorship ". Conscientious as usual, he left his skin so that that ballad recorded in the Eurosonic studios was not his only recording on Spanish soil. And such a way he made it. "Fate also took me for a couple of long seasons to Cologne, Germany," he says. "Sometimes friends ask me if I am a privileged brain, because of speaking three languages ​​fluently. And what's up: I've always been a survivor, a hard worker who has made an effort to ensure that music never ceases to be his life ".
It amuses him now to play in his hands with a copy of A long, long road, that work in the most complete solitude (he sings, composes, plays all the instruments, records and produces) with which, already in his sixties, he has decided to debut in his own name. "It's fun to feel a bit of a rookie at this point," he laughs. "It took me too long to get it out, it's a thorn that should have gotten me out much earlier. But the family, the mortgage, those things in life got in the way ". The funny thing is that it seems to have taken a liking to his so far pending subject. "I don't think it's worth setting up a band to go A long, long road to the stage ", he clarifies," but anyone likes to be recognized and like what he does. Now that I have made my debut at 67, maybe I record a second album at 68. Or, even better, at 69, which I like more… ".
Illustrious gallery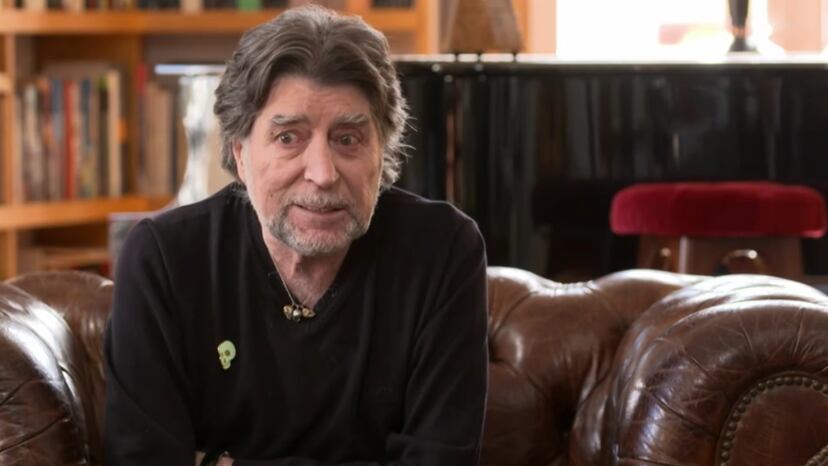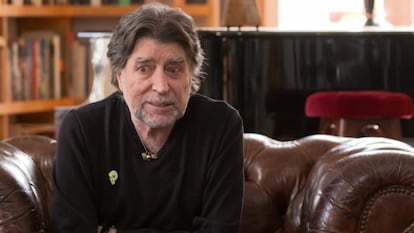 The life of John Parsons Morris would give for a book, especially if he writes it together with María Sánchez. She asked this Cordovan from Pozoblanco, in administrative times at the Miguel Ríos y Leño recruitment agency, to be engaged on the night of that famous March 6, 39 years ago. "It was a trap," she warns, still dead with laughter today. "We were all the musicians and technicians in the dressing room, eating and celebrating the great success of the concert, and suddenly everyone disappeared and he and I were left alone. John had already commented on his interest in that new girl in the office, so they decided to make things easier for us… ". María remembers "dates, places and battles" without the need for Google or agendas, so she occasionally acts as a prompter when we ask her husband for small definitions of the artists who have marked him the most:
– Joaquín Sabina. "He really liked my solo for Pobre Cristina, so on the tour for that album, Mentidas piadosas, from 1990, he decided to count on me. He was more nocturnal than owls and a well-rounded character, surprising in everything. Since he was very fond of a Persian cat that I had at the time, he became infatuated and decided to buy one for himself. Do you know what he called it? Judas! Only he could come up with that name for a little animal… ".
– Juan Perro (Santiago Auserón). "The great gentleman of the music of this country. A philosopher in any circumstance: even when we were going out for wine! I learned a lot by his side, especially to refine my taste for music even more. And above all, they are very good people ".
– Álex Ubago. "Those who don't bother to pay attention to him would be surprised if he found out what a good singer-songwriter he is. His songs are very well structured, apart from the fact that some lyrics seek to attract the attention of young girls. And he is a very mature, respectful and funny guy: a real gentleman ".
– Luz Casal. "We ended up integrating a very good band around her, one of the best in which I have participated. They were concerts of great professional enjoyment, especially for the rockier part of the repertoire. Luz's forays into boleros and other genres interest me little, but her first albums, the rockiest, I still find them great ".
Subscribe here to our new newsletter about Madrid.

elpais.com
Eddie is an Australian news reporter with over 9 years in the industry and has published on Forbes and tech crunch.