Carine Mardorossian
The Conversation*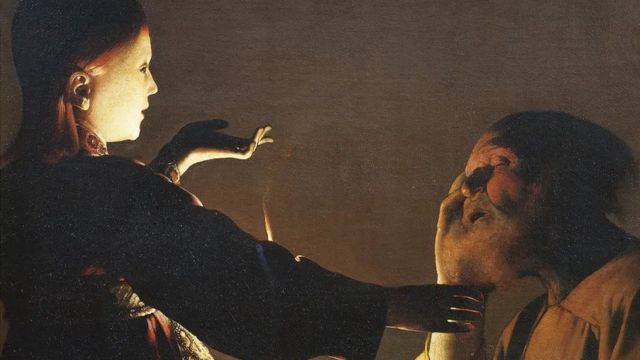 One of the most devastating elements of the coronavirus pandemic has been the inability to personally care for loved ones who have become ill.
Time and again, grieving family members have recounted how more devastating their loved one's death was because they were unable to hold their hand to provide a comforting, familiar presence in their final days and hours.
Some had to say your last goodbye through a mobile phone screen held by a healthcare worker. Others resorted to the use of walkie-talkies or to greet family members through the windows.
How can you overcome the overwhelming pain and guilt that comes when you think of a loved one dying alone?
I don't have an answer to this question. But the work of a hospice doctor named Christopher Kerr, with whom I wrote the book Death Is But a Dream: Finding Hope and Meaning at Life's End ("Death is but a dream: finding hope and meaning at the end of life"), it might offer some comfort.
Unexpected visitors
Early in his career, Dr. Kerr was tasked, like all physicians, with the physical care of his patients.
But she soon noticed a phenomenon experienced nurses were already used to.
As patients approached death, many had dreams and visions of deceased loved ones that they came back to comfort them in his last days.
Clinicians are trained to interpret these events as delusional or drug-induced hallucinations that could warrant further medication or full sedation.
But seeing the peace and comfort that these end-of-life experiences seemed to provide her patients, Kerr decided to pause and listen.
One day in 2005, a dying patient named Mary had one of those visions: She started moving her arms like if i rocked a baby, lulling her son who had died in infancy decades earlier.
To Kerr, this did not seem like cognitive decline. It was asked what would happen if patients' own perceptions at the end of life had an impact on their well-being in a way that nurses, chaplains, and social workers should not be concerned about.
What would medical care look like if all the doctors also stopped and listened?
The project begins
Thus, seeing dying patients call upon loved ones, many of whom they had not seen, touched or heard for decades, he began to collect and record testimonies of those who were dying.
Over 10 years, Kerr and his research team recorded the end-of-life experiences of 1,400 patients and families.
What he discovered amazed him. More than 80% of his patients, regardless of social background, origin or age group, had experiences at the end of life that seemed to involve more than strange dreams.
These were vivid, meaningful, and transformative. And they always increased in frequency near death.
They included visions of mothers, fathers, and long-lost relatives, as well as dead pets returning to comfort their former owners.
It was about resurrected relationships, revived love, and accomplished forgiveness. They often brought comfort and support, peace and acceptance.
Become a dream weaver
The first time I heard about Dr. Kerr's research it was in a barn.
I was busy cleaning my horse's stable. The stables were on Kerr's property, so we often discussed his work on the dreams and visions of his dying patients.
He told me about his TEDx talk on the subject, as well as the book project he was working on.
I couldn't help but be moved by the work of this doctor and scientist.
When she revealed that she wasn't making much progress with writing, I offered to help. He hesitated at first.
I was an English teacher who was an expert in taking apart the stories that others wrote, not in writing them myself.
His agent was concerned that I might not be able to write in a publicly accessible way, something for which academics are not exactly known. I persisted and the rest is history.
It was this collaboration that made me a writer.
I was given the task of instilling more humanity in the remarkable medical intervention that this scientific investigation represented, to put a human face on the statistical data that had already been published in medical journals.
The moving stories of Kerr's encounters with his patients and their families confirmed how, in the words of the French Renaissance writer Michel de Montaigne, "the man who teaches men to die, must at the same time teach them to live."
I learned from Robert, who was losing Barbara, his wife of 60 years, and was weighed down by conflicting feelings of guilt, despair, and faith.
One day he inexplicably saw her reach for the baby they had lost decades ago, in a brief span of lucid dreams that echoed Mary's experience years earlier.
Robert was impressed by his wife's calm demeanor and happy smile.
It was a moment of pure plenitude, that transformed her experience of the dying process.
Barbara was living her passing as a time of regained love, and seeing her comforted gave Robert some peace in the midst of his irreparable loss.
For the older couples Kerr cared for, being separated by death after decades of togetherness was simply unfathomable.
Joan's recurring dreams and visions helped mend the deep wound that left the death of her husband months before.
She called him at night and signaled his presence during the day, even in moments of full and articulate lucidity.
For her daughter Lisa, these events meant that her parents' bond was unwavering. Her mother's dreams and visions before death aided Lisa on her own journey toward acceptance, a key element in the processing of loss.
When children are dying, it is often their beloved deceased pets who make appearances.
13-year-old Jessica, dying of bone cancer, began having visions of her former dog, Shadow. His presence reassured her.
"I'll be fine," he told Dr. Kerr on one of his last visits.
For Jessica's mother, Kristen, these visions, and Jessica's resulting reassurance, helped her start the process she had been resisting: that of letting go.
Isolated but not alone
The health system is difficult to change. However, the doctor hopes to help patients and their loved ones recover the dying process from a clinical approach to one that is appreciated as a unique and rich human experience.
Pre-death dreams and visions help fill the void that might otherwise be created by the doubt and fear that death evokes.
They help the dying to reunite with those who they have loved and lost, those who gave them security, supported them and brought them peace.
They heal old wounds, restore dignity, and reclaim love. Knowing this paradoxical reality also helps the afflicted to cope with pain.
Since hospitals and nursing homes continue to be closed to visitors due to the coronavirus pandemic, it can be helpful to know that the dying they rarely talk about being alones. They talk about being loved and getting back together.
There is no substitute for being able to hug our loved ones in their last moments, but it can be a comfort to know that they are comforted.
* Carine Mardorossian is Professor of English at the University of Buffalo, USA.
This article originally appeared on The Conversation. You can read the original version in English here.
Now you can receive notifications from BBC Mundo. Download the new version of our app and activate them so you don't miss out on our best content.

www.bbc.com
Eddie is an Australian news reporter with over 9 years in the industry and has published on Forbes and tech crunch.