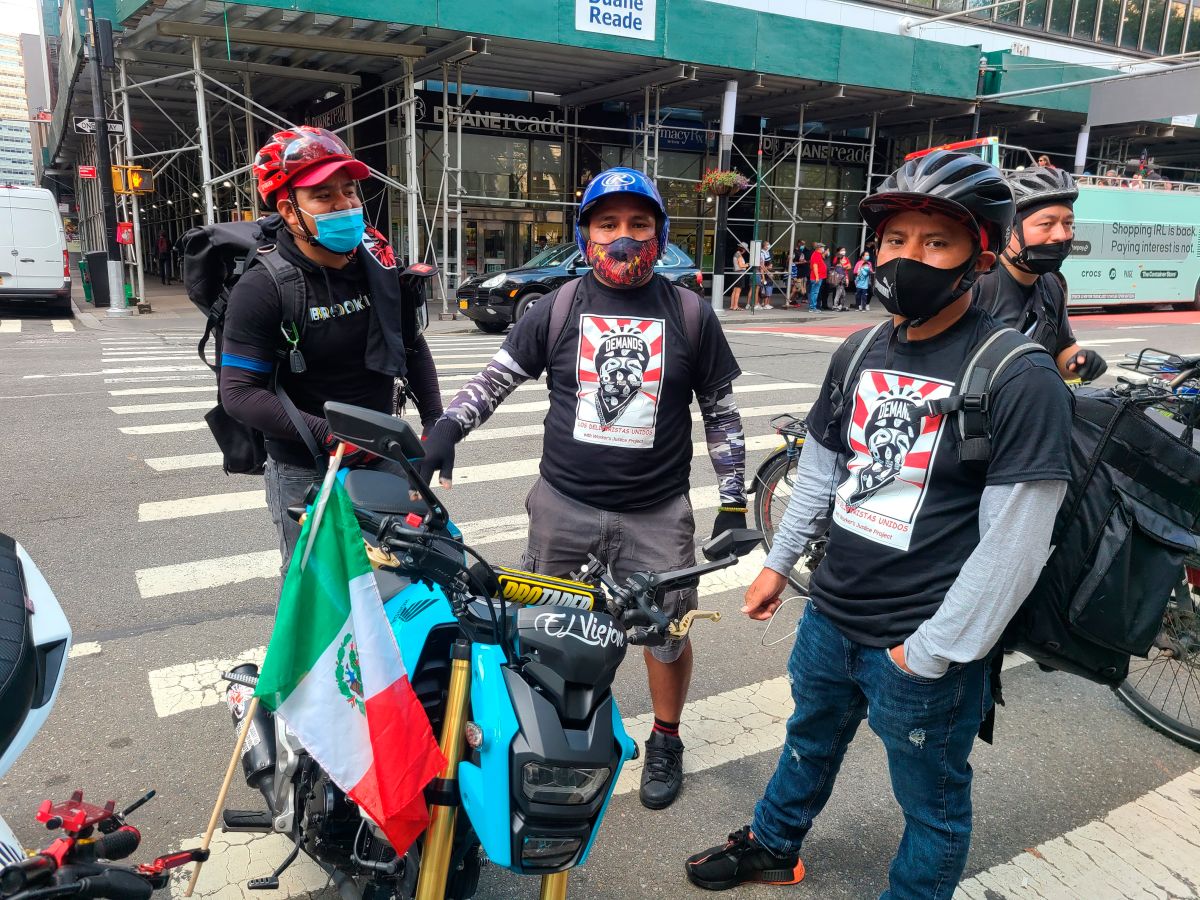 The Municipal Council voted this Thursday by a large majority the approval of a legislative package, which contains six bills, which will benefit more than 65,000 food delivery men currently working on the streets of the New York City, including a measure as basic as forcing restaurants to lend them the bathroom.
The 'deliveristas', as they are also known, were considered essential workers'during the COVID-19 pandemic, because while the city was in quarantine and businesses were closed, they were the only ones working non-stop to deliver meals and other services to New Yorkers who couldn't leave their homes, and to the do that work they put their health and that of their families at risk.
"At the peak of the COVID-19 pandemic, when restaurants were closed for dinner in New York, it was delivery men who helped those businesses survive. These essential workers risked their own safety to bring food to New Yorkers. Now, the Council votes six bills to protect their rights, including legislation to make restrooms in restaurants more accessible to them, "the Council said in a statement.
Earlier this week, the defender of the 'deliveristas' Ligia Guallpa, who is director of the Labor Justice Project, told The newspaper who was optimistic about the approval of the laws and assured: "I think we are about to reach a historic moment in which this Council is going to set an example at the national level, making the applications more transparent and beginning to treat the workers who kept the communities afloat with respect and dignity, and that they have their basic protections such as the fair wage".
The activist referred to the Apps (online applications) that provide the food delivery service such as UberEats, Postmate, GrubHub and DoorDas, who use delivery men, a great majority of them immigrants, and who do not consider them as employees and do not give them any type of employment benefit.
"I am very grateful to him Labor Justice Project and Los Deliveristas Unidos for welcoming my colleagues and me to their movement and entrusting us with this legislative package. For nearly two years, we have worked together to seek rights, protections, and justice for New York City delivery workers. Today, in testimony to the organizational power and determination of Los Deliveristas Unidos, this legislation reaches a historic vote ", said the Councilor Carlina Rivera, who was the primary sponsor of the restroom law.
A package of 6 laws
The package of laws approved this Thursday is composed of six laws. In addition to the one that grants the right to use the restrooms of the restaurants they serve, there is another measure that makes the process of determining and providing tips to deliverers more transparent.
"Unfortunately, workers do not always receive the tips that are assigned to them. This law will now prohibit food delivery applications from requesting a tip from a customer unless they clearly reveal the amount or proportion of each tip that the delivery man will receive in turn, "specified the Council.
And continuing with the economic issue, another of the laws addresses what is related to their low wages. One of the new laws requires that the Consumer and Worker Protection Department (DCWP) conduct a study to determine which delivery workers should be paid considering their total income, expenses, required equipment, safety conditions, and other factors. This law also requires that upon completion of the study, the DCWP establish the required minimum payments for delivery workers and publish updates each year.
A recent survey by the School of Labor and Industrial Relations of the Cornell University carried out among food delivery people, in which 85% said they dedicate themselves only to that work, it showed that while in New York the minimum wage is $ 15 per hour, the vast majority of 'deliveries' working for applications earn an average of $7.87.
In the communiqué of the municipal legislative body, the rest of the laws voted were also detailed: "A fourth law establishes payment standards by prohibiting Apps from charging distribution workers a percentage before granting them payment of their salaries, and also requires that pay the 'deliveristas' at least once a week. The fifth law requires that food applications provide delivery drivers the opportunity to establish a maximum distance for the trips they make, including the parameters that they can establish around bridges or tunnels ".
Finally, the Council voted a sixth law that requires applications to provide free thermal bags to workers who have completed at least six deliveries for the same company.
This is how the laws were voted:
Law 1846-A – Voting: 40 in favor and 3 against. Disclosure of tip policies for food delivery workers.
Law 2288-A – Vote: 40 – 3. Third-party courier and food delivery services must provide insulated tote bags to deliverers and authorize the Commissioner of the Department of Consumer and Worker Protection to deny, suspend, revoke, or refuse to renew a license for violations.
Law 2289-A – Vote: 40 – 3. Establish general provisions related to working conditions for third-party service workers, and require third-party food delivery services to allow delivery people to establish limitations on the distance and route for deliveries.
Law 2294-A – Vote: 40 – 3. Establish minimum travel payments for third-party food delivery service and third-party courier service workers.
Law 2296-A – Vote: 41 – 2. Establishment of standards for the payment of food distributors.
Law 2298-A – Vote: 41 – 2. Agreements between third party food delivery services and food service establishments and the provision of access to sanitary facilities for food delivery workers.

eldiariony.com
Eddie is an Australian news reporter with over 9 years in the industry and has published on Forbes and tech crunch.