MADRID
Updated:
Keep

A complaint from Workplace Harassment shakes the foundations of Podemos in Torrejón de Ardoz. The former municipal secretary of the formation has sued the party leader and spokesperson in the municipality, Olga Jimenez, before the Democratic Guarantees Commission after being dismissed from her position while she was on medical leave due to a detachment of the vitreous body that caused altered vision. «I have been dismissed by Councilor Olga Jiménez after falling ill, three days after a medical sick leave fifteen, as she explicitly told me, for the sole reason of agreeing to take that leave that she herself proposed to ignore to my surprise, "explains the affected militant, Paula María González, in a burofax sent, dated November 18, to the Guarantee body to which this newspaper has had access.
González was appointed on September 14, 2021 and dismissed, as recorded in municipal reports, on October 7. The termination took effect four days later, when he had not been in the job for a month. job title. As it is an internal position, the reports do not contain more information or reasons for the decision. But in the burofaxGonzález explains his version: "After requesting more information about the medical problem, she argued that if she had known that I could be absent for health reasons, she would never have named me", continues in the complaint, in which she also accuses Jiménez of "breach reiterated the statutes, principles and code of ethics of the party "and maintain a" despotic attitude ", causing "fear" and "generating more and more casualties among militants."
González has waited until the period of temporary disability decreed by the physician to report the facts. It is awaiting a response from the party. «Since 15-M I have been part of Podemos as registered, but I began to participate in active politics as a result of the last regional electionss, on May 4 ", he explained in a telephone conversation with this newspaper about his activity in training.
"In September I occupy the municipal position," he adds. «Jiménez prevented me from doing my work from day one, he would not let me develop my initiative. He exercises his position with total abuse of power, something contrary to the ideology of the party, to have everything under control ", he assures with great disappointment. The former secretary gives a clear example: she suffers from dysmenorrhea and, according to her account, even discriminated against her. «He even had a deal sexist. He asked me how I was doing and I told him that this was not going to be a problem. From behind, I was saying that I did not want to work because I felt bad. It is not true ", affirms González. The chance comes when the party to which he belongs maintains, at the national level, another discourse. Around the same time, Irene Montero's number two, Ángela Rodríguez, stated that women who suffer difficult periods should have the right to sick leave.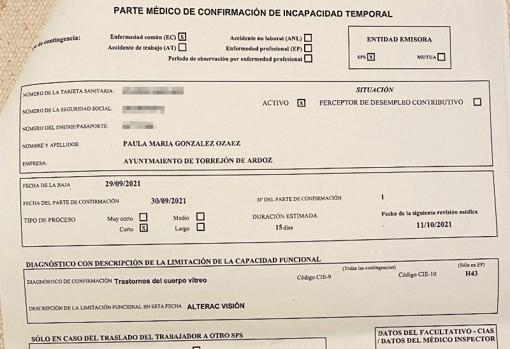 As the days went by, the relationship between González and Jiménez worsened. And he did it in record time. "The calls they were continuous, even outside of working hours. 'This has to be tomorrow at nine o'clock, because if you don't, you already know …', he would tell me. I threw myself nights without sleep to have the work ready the next morning but then it no longer mattered, "says the victim. "When I saw that I was insecure, I exerted more pressure. He did not explain to me how some things were done that, due to the short time he had been in the position, he did not know ", he emphasizes:" It was a repeated and daily grind. "
Everything was blown up when the doctor diagnosed him, at the end of September, vitreous body disorder. «I had the medical report of rest, but she told me not to take my leave. At first I did not take it and I worked from home. Until I reached the limit because I was burdened with more work. Some things were face-to-face and I didn't know how to do them without going. I reminded him that he needed repose and he sent me more tasks, "says González, who asserts that he has" lost a 10% vision in that eye. Three days later, the termination message arrived as municipal secretary.
The spokeswoman and leader in Torrejón – where the party only has two councilors – assures that the story of her former partner is "totally uncertain." «I refer to what my party says. I have not received any documents, "he settles the questions. Now, it will be Podemos who solves.
See them
comments

www.abc.es
George is Digismak's reported cum editor with 13 years of experience in Journalism