Dalia Ventura
BBC World News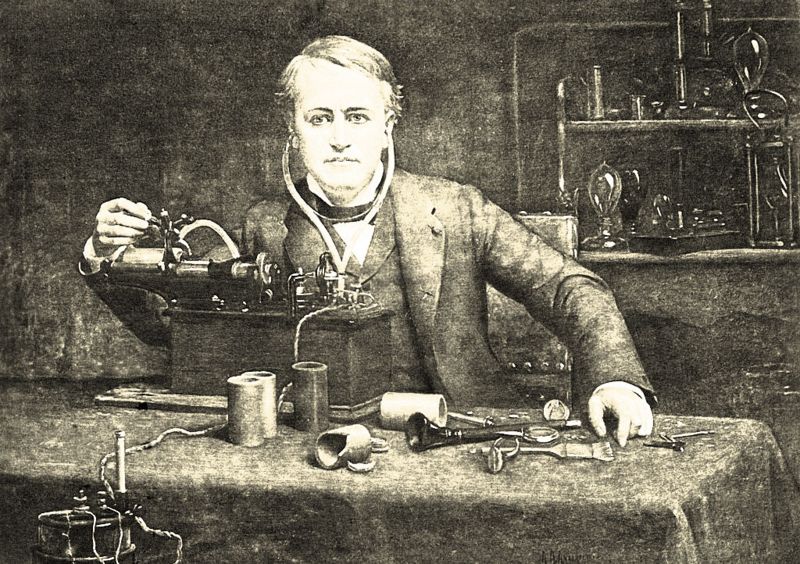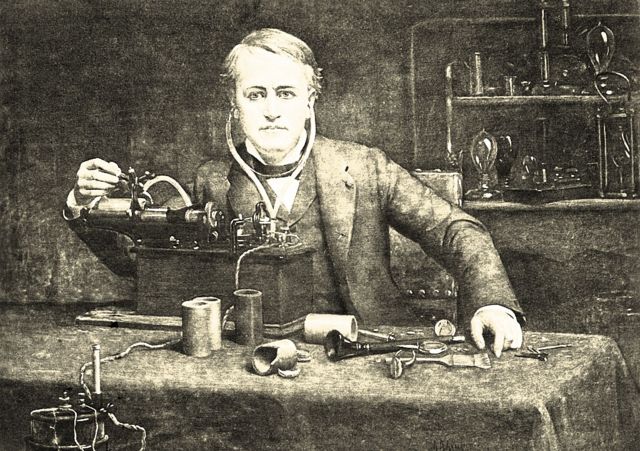 For 120 years there was a hardly controversial truth: that Thomas Alva Edison had been the first person to record the human voice.
The inventor of, among other things, the light bulb and the motion picture camera, he had famously achieved it in 1888 with another of his creations, the wax cylinder phonograph, and there were many witnesses to the feat, including concert-goers that he recorded. at the Handel Festival in Crystal Palace, London.
However, more than a century later, two members of the First Sounds Initiative – a collective that "strives to make humanity's first sound recordings available to all people of all time" – began to suspect that there was an alternate reality.
His surprising discoveries led to the fact that in 2008 history was rewritten … twice.
The find
When the American Patrick Feaster, an audio historian, began reading about a pre-Edison pioneer of sound, a Frenchman named Édouard-Léon Scott de Martinville, he was not very enthusiastic; his invention seemed to be nothing more than a technical precursor to the phonograph that was only used for scientific experiments.
But his opinion changed as he investigated more, particularly after seeing some bad photocopies of the patent of a device called a phonoautograph, which the French had registered on March 25, 1857.
Shortly thereafter, on a visit to Paris, his colleague David Giovannoni consulted Scott de Martinville's documents in person at the French Patent Office and found two phononautograms … no less than sound recordings dated 1860, 28 years before Edison's.
They were soot-covered sheets of paper that had been marked by the vibration of a boar sow caused by sounds; Thanks to the fact that they had been submerged in a fixative, those traces of something that happened a dozen decades ago were perfectly preserved.
The challenge was to translate those marks into sound waves. Giovannoni sent the papers to Feaster in the United States, who, using his computer, went to work as soon as he received them.
"I ended up staying up all night," Feaster told the BBC's "The Orchestra of Lost Sounds."
He had to manually adjust the sound waves using as reference the vibrations inscribed by a tuning fork that Scott had recorded in the same documents for precisely that purpose.
"When the sun came up, I could finally listen to the recording. It was (the French folk song) In the moonlight. Sitting there, I realized that it was the first person to hear someone sing before the outbreak of the Civil War eAmerican: I got goose bumps".
Not only that: Feaster was also the first to hear that recording. Point.
Édouard-Léon Scott de Martinville had never reproduced it; in fact, he didn't even try.
Another dream
Scott was a manuscript editor and typographer at a scientific publishing house in Paris. As a good man of letters, his dream had been another.
What if a writer, he wondered, could "dictate a fleeting dream in the middle of the night and upon waking discover not only that it has been written, but also rejoice in his freedom from the pen, that instrument with which he struggles and that cools his expression?"
Basically, what he wanted to create was a device that would fulfill a similar function to modern automatic speech recognition programs, a tool capable of processing the voice signal emitted by the human being and converting it into symbols that could be easily read.
"The reckless idea of ​​photographing the word"It had occurred to him one day in the mid-19th century after reading a text on human physiology: if photography could capture fleeting images with lenses that mimicked the eye, couldn't a replica of the ear capture spoken words?
His inspiration gave birth to the phonoautograph, a sound self-writer, and he dreamed again that calligraphy written in soot, which he regarded as natural shorthand, would one day be read with the same ease as the symbols we had invented, such as letters. .
For now, he had realized his vision of making sound, always invisible and fleeting, something visible and permanent.
After his phonoautograph caught the attention of SEIN (Société d'encouragement pour l'industrie nationale), an association of experts that evaluates new technologies and their possible contributions to French industry, Scott had support to improve his invention.
Later, he partnered with Rudolph Koenig, a precision science instrument builder, to commercialize it, offering it in the catalog as a device capable of filling a gap in acoustics, which, he said, "is a century behind other experimental sciences, lacking instruments of observation, measurement and analysis, such as astronomy before the invention of the telescope".
The phonoautograph was "a means of dissecting sound phenomena, a microscope that not only show the sounds it retains its mark. "
Showing sounds, rather than reproducing them, was always his intention and with that in mind, Scott made several dozen recordings of fragments of song, poetry and theater in various languages ​​that lay quietly, safe, but almost forgotten in various venerable French institutions. .
Until in 2008, with today's technology, one of those recordings came to life as "a ghost traversing a veiled curtain of time", as Giovannoni told the BBC.
Presentation in society
The recording of Au Clair De La Lune in the voice of a girl that Giovannoni and Feaster thought might be Scott's daughter – "Wouldn't that be sweet?" – was released to the public and soon went viral.
Not everyone found it so sweet.
Charlotte Green, a BBC Radio 4 journalist, got an uncontrollable fit of laughter when she heard her on the newscast she was presenting live, a clip that also went viral.
Green later said it sounded like "a bee trapped in a bottle."
Some were moved, others found it creepy.
In any case, history was rewritten: perhaps Edison had been the first to reproduce the human voice, but now we knew that Edouard-Léon Scott de Martinville had been the first person to record it.
Once again
Six months after the release of what was now recognized as the world's first voice recording, Giovannoni and Feaster were working on other audio when they realized they had made a huge mistake: they had reproduced In the moonlight at twice the speed.
When corrected, the voice was not that of a girl, but that of Scott de Martinville himself.
History had to be rewritten once more!
Scott died of an aneurysm in virtual anonymity a year after learning about Edison's phonograph.
He was buried in a nameless grave, as his family could not afford a headstone. In his will, Scott asked his sons to make sure he and his invention were not forgotten.
In 2015, UNESCO inscribed in its Memory of the World Register "Mankind's First Recordings of His Own Voice: The Phonautograms of Édouard-Léon Scott de Martinville (c.1853-1860)".
Remember that you can receive notifications from BBC Mundo. Download the new version of our app and activate them so you don't miss out on our best content.

www.bbc.com
Eddie is an Australian news reporter with over 9 years in the industry and has published on Forbes and tech crunch.