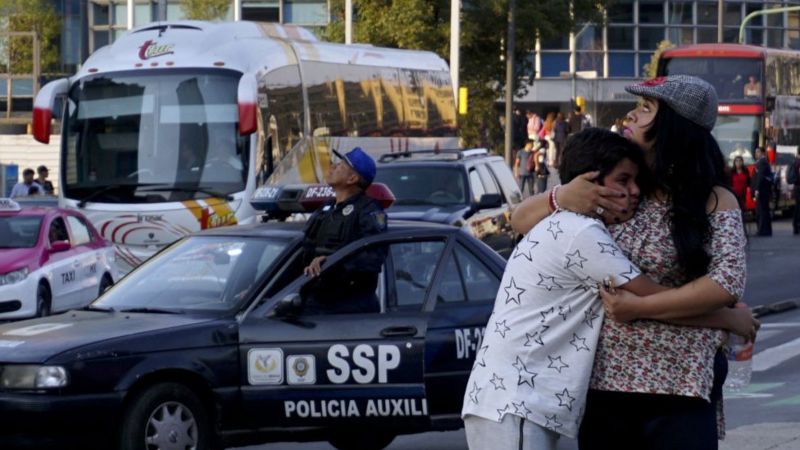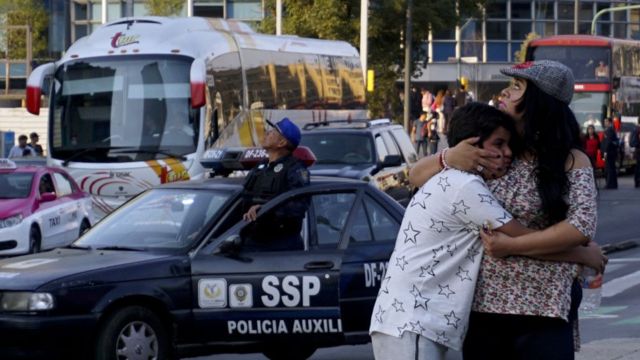 It is a myth that has been reinforced by recent coincidences: September is a month of great earthquakes in Mexico.
On September 7, an earthquake of magnitude 7.1 shook Mexico City and the south of the country, as happened on the same date in 2017, when another earthquake of magnitude 8.2 shook the region.
And September 19 is another day etched in the minds of many.
In 1985 an earthquake of magnitude 8.1 occurred, the most devastating in recent times for the country. And exactly 32 years later, another 7.1 earthquake also left hundreds dead and buildings destroyed.
This has led many Mexicans to question whether there is any phenomenon that makes September – or "September", as some jokingly call it – a month of great earthquakes.
For scientists there is a clear answer: they are just coincidences. Why?
Is it September when it has shaken the most? No
Since there are seismic records in Mexico, starting in 1900, there have been 86 earthquakes considered "large" for being of magnitude greater than 7.0, according to the statistics of the Mexican National Seismological Service (SSN).
The month with the most events accumulated in the last 121 years is December, with 12 earthquakes. One step back is September, with 11, and it follows June with 10.
That shows that in reality those three months accumulate the highest seismic activity, but for a marginal difference. The rest of the months have varied records.
Why do people "feel" that they tremble more in September?
Scientists acknowledge that population doubt is understandable given that a person is used to relating the events that they have lived through.
Any inhabitant of Mexico City who is over 40 years old experienced two tremors, the one in 1985 and the one in 2017, on the same date: September 19.
"This is a perception. Valid perception, logical perception of people, because we are used to measuring natural phenomena at the scale of human life, which is not always the most appropriate point of view," said seismologist Luis Quintanar in a press conference on September 13.
"To measure its frequency, its intensity, it must be on a geological scaleNot on the scale of human life, which is 60, 70 years, but on a scale slightly greater than 100, 200 or more years, "he added.
Can earthquakes be predicted? No
Scientists from the SSN and the National Autonomous University of Mexico (UNAM) were questioned about the possibility of another earthquake happening again on September 19.
But the answer is emphatic: it is not possible to know.
"Earthquakes cannot be predicted. And this must be taken very clearly from both points of view: we cannot say when an earthquake will occur, but neither will we be able to ensure that earthquakes will not occur," said Jorge Aguirre, from the Institute. of Engineering of the UNAM.
"We know that there is some seismic activity due to the dynamics of the Earth and that eventually we will continue to have earthquakes in Mexico, but we do not know when or at what time. And we can neither assure that there will not be earthquakes, nor assure that there will be earthquakes somewhere or at some date, "he added.
The populations of the center, south and southeast of Mexico, including the capital of the country, are exposed to seismicity due to the various geological faults that exist in their surroundings, so it is likely that seismic events will continue to occur.
Does the rainy season generate earthquakes? No
With the proliferation of the belief that September is a month of large earthquakes, it has also spread among people that this could be due to the fact that it is the rainy season that can have some effect on the subsoil.
But this is not the case: "From a scientific point of view (…) nor the rains, much less other things have to do with trembling more in September. Not only in Mexico, in the whole world there is no evidence of this, "said Arturo Iglesias, head of the SSN.
"Perhaps the exception is the seismicity that is sometimes induced by the recharge of dams. There, yes, sometimes when a dam is recharged in a typical way, for example, after a hurricane or something like that, small local seismicity usually occurs that it has to do with the own weight of the water that alters the state of efforts around a dam, "he explained.
And is there a relationship between earthquakes and climate change? No
Related to the heaviest rains, hurricanes, floods or droughts in recent years with climate change, doubts have also arisen as to whether there may be a relationship with the earthquakes.
But experts again indicate that there is no evidence for that.
"There is no correlation", explained Rosa María Ramírez, director of the Engineering Institute of UNAM.
"Climate change causes disasters, just like earthquakes. But there is no correlation," he emphasized.
Scientists say technology has evolved in recent decades to improve the detection, measurement and prognosis of affectation earthquake, saving lives through early warnings and improved building codes.
But they ask the population prevent the spread of rumors like that September is a month of "big tremors".
Remember that you can receive notifications from BBC News Mundo. Download the new version of our app and activate them so you don't miss out on our best content.

www.bbc.com
Eddie is an Australian news reporter with over 9 years in the industry and has published on Forbes and tech crunch.