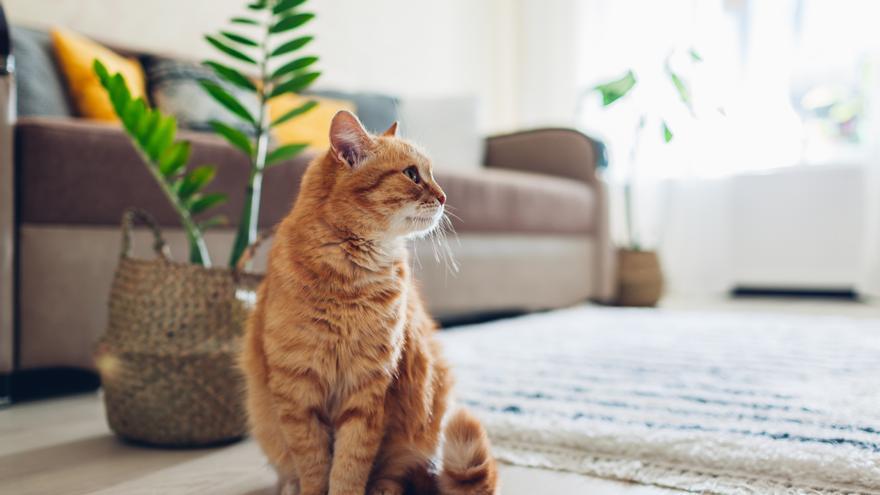 The project of animal rights and protection law, that the Government put out for public consultation on Wednesday, contains novel provisions regarding the protection of animals, especially those pets. The objective of the Executive is that there is "zero abandonment and sacrifice"of pets, but the law contains many other measures that, according to the Ministry of Social Rights, will mean a" before and after "in the protection of animals that live with humans. Some of them controversial. These are the keys of the legal draft, which still has to go through the Council of Ministers, the advisory bodies and the Courts, so it will undergo modifications and will not see the light, at the earliest, until late 2022.
1. They will not be able to live on terraces or patios
The legal draft establishes that pet owners must "keep them integrated into the family nucleus, in a good state of cleanliness and hygiene." They will not be able to leave them in decks, patios or basements, neither in closed vehicles, exposed to heat or cold, nor tied to the doors of an establishment without supervision. They will also not be able to roam in public spaces without someone to watch them. And the animals that, for reasons of welfare, size or characteristics of their species, cannot coexist in the family nucleus, must have adequate accommodation, with rooms according to their dimensions and that they protect them from the inclemencies of the weather, in good conditions of care and neatness.
2. Course and collect excrement
If the rule is approved, all dog owners must pass a training course, "With the aim of facilitating proper responsible ownership". Likewise, the law establishes that a companion animal may not be alone for three consecutive days and, in the case of dogs, the term may not exceed 24 hours. It also urges "to prevent animals from depositing their faeces and urine in places of habitual passage of other people, such as facades, doors or entrances to establishments, proceeding in any case to the withdrawal or cleaning those with biodegradable products ".
3. Zero sacrifice
The law prohibits the sacrifice of companion animals, it is only authorized by health or euthanasia reasons, which can open the door to the death of some with incurable but treatable diseases or serious injuries, according to the president of the shelter El Refugio, Nacho Paunero. Autonomies such as Catalonia or Madrid already have laws that prevent sacrifice, but the Government wants to homogenize the situation and prohibit this practice in all Spain.
4. Forbidden to breed and sell in stores
The law also set by the "zero abandonment", For which measures such as mandatory identification of pets, sanctions for those who abandon or limits for breeding are incorporated. If the law sees the light, no private can breed their own pets. Breeding and sale can only be done by registered professionals.
This implies that they will stop being sold pets in stores and that it will be forced to sterilization of animals that usually live in open spaces and can interact with other animals of the same species and different sex. Likewise, its exhibition and exposure to the public for commercial purposes will be prohibited, fish excluded.
5. Zoos will not be able to breed
The legal draft specifically prohibits the breeding of non-native wild animals, that is, native to another country, both terrestrial and marine, as well as trading with them, in particular for the exploitation of their skins or by-products. And zoos or dolphinariums will not be able to breed or acquire new animals, except for those threatened species.
6. It is forbidden to keep wild animals
The legal draft prohibits the keeping of animals from protected species by international standards applicable in Spain, state or regional, as well as the keeping of wild animals in private homes, as well as in enclosures not properly fenced or adapted to the nature of the animal, and their circulation through public spaces or premises open to the public.
7. Circuses without wild animals
The circuses with wild animals, as well as the fights and animal fights, pigeon shooting and tube shooting. It is also forbidden to use spikes, necklaces and the like that hang animals or electrical devices that cause them suffering. And, to avoid animal suffering in pilgrimages, horseback riding or processions, the animals cannot be immobilized. However, the law leaves out the bullfighting, which causes so much controversy that it could make the standard not see the light of day.
8. End dangerous dogs
The law considers that no animal is dangerous because of its breed and that dogs must be valued individually. Is for this that I know remove the list of dangerous dogs, "Without prejudice to the fact that, by regulation, the conditions in which they should be handled are established, after carrying out a sociability study".
9. Registry and animal sanctuary
The draft creates a national system of animal protection registries (SERPA), which will include a National Register of companion animals, a registry of zoological nuclei of pets, a registry of disabled people for the possession of animals, of animal protection entities and of professional experts in behavior. Likewise, the law creates the figure of animal sanctuary and establishes special protection for feline colonies, which will be managed through the CER method of capture, sterilization and return.
10. Evacuation in disasters
The law establishes that the territorial emergency plans of the communities must include instructions regarding how to evacuation of animals in cases of catastrophe. In particular, they must consider the number of animals to evacuate; a list of places to relocate them; measures to facilitate their being temporarily housed together with their owners; their maintenance and protocols for urgent care, protection and release, recovery or euthanasia of stranded live marine animals.

www.informacion.es
Eddie is an Australian news reporter with over 9 years in the industry and has published on Forbes and tech crunch.