The floor is 15 square meters. A small living room with a rug where several cushions lie. A narrow kitchen with a half-empty fridge and a balcony that overlooks the neighborhood's green mosque. Here lives the Syrian Melak El Osman with her three-year-old daughter Aya. They arrived in Reyhanli, a Turkish city located just four kilometers from the border with her country, in 2019. Years of war, stories of torture and abuse in prisons, the rejection of society, the abandonment of her husband and half a face burned after An airstrike on her home in January 2016 seems like too much for a 26-year-old. Like El Osman, there are hundreds of former detainees living alone, with serious psychological problems and no prospects for the future in Reyhanli after escaping from a country devastated after more than a decade of war.
As little Aya runs around with a packet of chips, El Osman apologizes for having nothing but Turkish coffee and some chocolates to offer to the guests. The young woman's new life in Reyhanli is not behind bars, but it is not far from being in a prison, either. Some dark and dilapidated stairs give access to his home, a few empty square meters where he spends 24 hours a day with his daughter. Between four walls, he deals with his mental problems derived from the attacks suffered behind bars after his arrest in 2017, which destroyed his life and undermined his self-esteem. "Those two months that I spent in jail destroyed my life. The stigma of having been detained by the government makes society not forgive you. It was a nightmare. They tortured me, sexually abused me, insulted and denigrated me in the cold cells of Damascus. When I left, my husband had married another woman and in my city nothing was the same because he had been imprisoned ", explains the 26-year-old through tears.
Born in Daraa, a conservative and generally Bedouin southern city where anti-government protests began in 2011, El Osman highlights the difficulties he faced after leaving prison. "I had a bad reputation and everyone was talking about what the soldiers had done to me. I couldn't even go back to college because they made it difficult for me to get admitted again. My husband no longer wanted to be with me because of what they had done to me. Everything collapsed and I decided to leave, "he laments as he spontaneously covers the part of his face that is burned.
It was a nightmare. I was tortured, sexually abused, insulted and denigrated in the cold cells of Damascus

Melak El Osman, 26-year-old Syrian
Abdel Qader, director of the humanitarian organization kahatein, highlights from his office in Reyhanli the problems faced by women who were incarcerated. "In 2018 we decided to delve into this issue. They leave the prisons after being abused and tortured. The husbands reject them, are left alone and face an unjust society, which judges and rejects them. That's why they run away and come to places like Reyhanli to start a new life, "he argues. Currently, the organization helps 52 beneficiaries in this situation with psychological and financial support and, in some specific cases, with medical treatment. Kahatein is providing psychological therapy to El Osman once a week every Friday and financial support of 70 euros per month.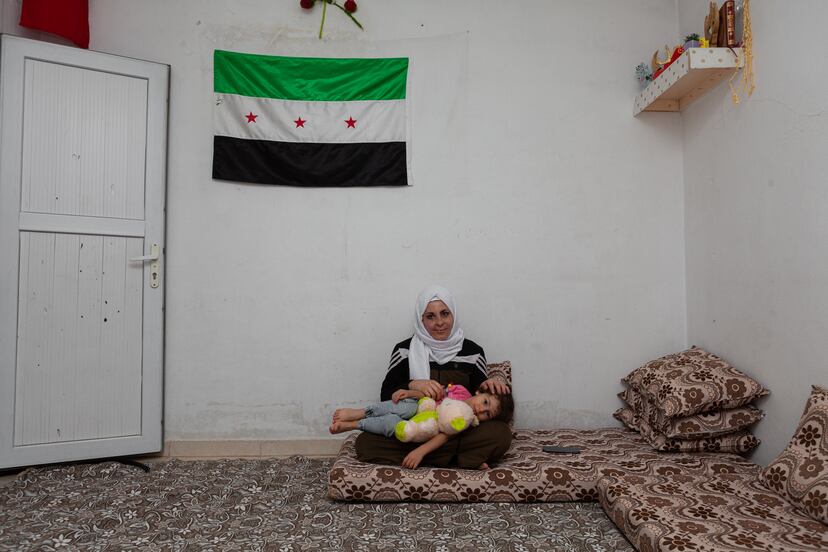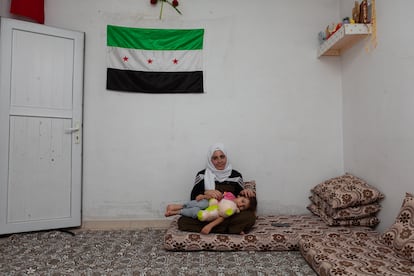 The young woman tells her story while little Aya plays with her teddy bear, oblivious to a story shared by hundreds of women in Reyhanli. Osman was 22 years old and returned, as every day, from the University of Damascus, in Daraa, where he was studying the second year of Banking Sciences. On the way home she was arrested. The young woman claims that she was one of the organizers of the demonstrations in Daraa when the 2011 anti-government protests began. Her activism cost her arrest over the years. "For me it was already a routine. They insulted me, beat me and raped me in prison. I cried and was alone all the time. They asked me for the names of the rioters and, finding nothing, they transferred me to Damascus, where I was in various prisons until I ended up in Adra, "he says, referring to the well-known penitentiary located on the outskirts of the capital. Those two months of beatings, transfers from prison to prison and continued sexual abuse, she says, left her touched forever.
Qader maintains that there are hundreds of women in the city who were imprisoned in Syria, but knowing an exact figure is impossible, since most do not dare to tell the sexual violence suffered during their arrest for fear of stigma, which makes the documentation process much more difficult. "The problem is that many have lost self-confidence, are forever injured and need help to start a new life here," he explains. Qader comments that they help the expresses depending on the need. Sometimes they grant about 100 euros, others 150 or even support them to start projects such as beauty salons or provide them with sewing machines.
El Osman's odyssey did not end in Reyhanli, a city where he arrived two years ago without money, with a little girl and with serious psychological problems that he still cannot get rid of. After spending several months living in a house for compatriots wounded in the war, he tried to ask for help from both individuals and organizations. "Many people who said they wanted to help me tried to abuse me taking advantage of the fact that I am alone and despite my situation," she laments. The consequences of torture, abuse and the complete change from her previous life as a student and married to Reyhanli's misery and loneliness have taken their toll. The Osman carefully removes several documents from his bag confirming that he suffers from post-traumatic stress disorder. "I'm not well. I feel tired. My day to day is to be at home with Aya, we don't leave here. I am afraid of everything. To the street, to the young. I don't trust people, "she explains with her head down.
The worst has been the pyramidal destruction of my family. We have always been very close and now everyone is incarcerated, dead or very far from me

Safaa, Syria, 22 years old
Many young women like El Osman have faced injustice both in and out of prison and the consequences are still very much present years later. The stigma in Syria associated with imprisoned women is a heavy backpack that few manage to shake off. Reports of rape and other forms of violence are frequent, especially during the war years. In both sides of a conflict, women are usually gradually exploited as a weapon of war to pressure their relatives or members of the opposition to surrender or, in other cases, they are used as a bargaining chip in the exchange of prisoners . The International Movement for awareness (ICM) documented the detention of at least 13,500 women from 2011 to 2019 in its last report. Until that year, at least 7,000 were still in prison, according to the ICM.
Koran classes to forget torture
Little Yusef opens the door of the house and tells the guests that they have to wait. His sister Safaa needs to put on the niqab to receive guests. The young woman is 22 years old, from Damascus and was arrested in her country in 2014 when she was 15 years old and had just returned from school. He prefers not to give his real name because he still has relatives in Syria and fears that they may retaliate against them. In a spacious living room, with blue sofas and a large window that illuminates the entire room, Safaa begins her story with a broken voice and pauses that reveal her sadness without having to uncover her face.
"It was just a girl. How was I supposed to know about the rioters at the protests? "He wonders. Safaa remembers perfectly that April 2014, when she stepped on what she calls a "cage" for the first time with her older sister and her mother, who were also arrested. "Beating with metal sticks, insults, little food, constant screams of tortured people … All this made us go crazy in the cell," he says. He also highlights with a thread of voice what a woman finds when she is released. "Anyone like us is not going to get forgiveness from our society. It is not only stigma related to abuse, there is also stopping to socialize with you for fear that they will be the next detainees ", he laments.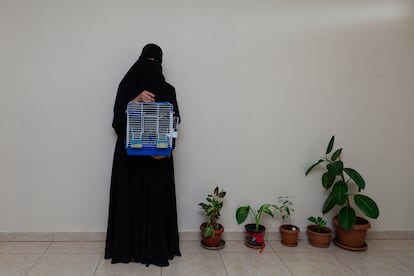 In October of the same year, Safaa left prison to find half the family devastated. One of his brothers died behind bars at the age of 14 and another brother and his father were still in detention, he says. In 2016, she fled to Reyhanli after escaping from her neighborhood in Damascus to Idlib (northern Syria) after her liberation, but the danger and fighting in this city forced her to move to the Turkish city. "I will never forget those months. But worst of all has been the pyramidal destruction of my family. We have always been very close and now they are all incarcerated, dead or very far from me, "he says through tears.
In Reyhanli, Safaa has found an escape route from her depression and the memories of a lost childhood. A school for learning and reading the Koran, started by an Aleppo teacher who attends two hours a week every day, has given her back "some of the illusion" that was taken away from her in recent years. "I am very happy during the time that I am there. There is a very good atmosphere and after classes the girls go to the garden to talk for a while ", she assures. The method of understanding, reading and reciting the holy book evades Safaa for a few hours from the heavy reality that lives in Reyhanli and from her past memories. "I already know more than 13 suras and the teacher assures me that I am good at it. It is the moment of the day that I look forward to the most, "she enthuses before beginning to recite one of the parts of the Koran that speaks of Mary, her favorite.
Safaa's life since arriving in Reyhanli has not been easy. She counts the juggling she does every month to feed her mother and her little brother, Yussef, in addition to paying the rent for the house, which is just over 100 euros. Kahatein and the Turkish Red Crescent provide him with almost 400 lira every month, about 40 euros. The last quarter he has been working making food for a factory that paid him 500 lire a month (almost 50 euros), so his situation became relatively comfortable. The job was temporary, so now he has just been unemployed. "It is the problem that I face in Reyhanli. I'm alone, with children and with my mother, but there are very few jobs here, "she says. The young woman regrets that most of the jobs she finds are physical and due to her back problems "derived from beatings in prison" she cannot accept them. "Many of us who were arrested in Syria are here, whether they have made it public or not, we find ourselves in this situation or even worse. We lost everything there and we have nothing here.
You can follow PLANETA FUTURO in Twitter, Facebook e Instagram, and subscribe here a nuestra 'newsletter'.



elpais.com
Eddie is an Australian news reporter with over 9 years in the industry and has published on Forbes and tech crunch.