Less than half an hour's walk from 12 Fournier Street, home to one of the most celebrated duos of our time, Gilbert & George, is Bunhill Field, London's old dissidents cemetery. There are buried the nonconformists William Blake, Daniel Defoe, and John Bunyan. It seems that Blake is the only one who receives flowers every day from visitors to the place. However, the charismatic couple of artists like to stop in front of the grave of Bunyan, the author of what is perhaps the most popular book in English literature, and perhaps also the least read: The pilgrim's progress.

PHOTO GALLERY Gilbert & George walk through London
When Gilbert Proesch (Saint Martin de Tor, Italy, 1963) and George Passmore (Plymouth, England, 1942) met at Saint Martin's art school, they decided to embark together on a moral and visionary journey. A journey towards self-realization that they themselves often compare with that described by Bunyan, in the seventeenth century. "The day we decided that we did not have to paint or sculpt to make art, but that it was enough for us to be ourselves, we began a journey through life where we faced drunkenness, being too sexy, religion, politics, all those things that make up existence, "explains Gilbert, during a conversation with Swedish art critic Daniel Birnbaum. "A path that we continue to travel, leaving behind, on the walls of the cave, those scratches that make up our images. This is our journey. Our art has always been very personal ".
The talk, via the Internet, is held on the occasion of the last exhibition of the provocative artistic couple, NEW NORMAL PICTURES. It can be seen virtually on the website of the White Cube gallery in London and is expected to be open to the public on April 13. It is made up of 26 images taken during the pandemic period. Large photomontages of a tragicomic tone sprinkled with color, which show us fragments of a city enveloped in a strange atmosphere where everything seems to shake. Stunned, its protagonists seek support and refuge in the dilapidated street furniture. Only his signature tailored suits and ties remain pristine within the landscape of detritus and chaos that makes up this new normal.
They claim to have started thinking about a new normal before the term was applied to the new virus. They started making the images a year and a half ago. "Nobody will believe it, but it was like that," says George. In this way, his images seem to have a prophetic quality, anticipating future realities, such as those compositions that include shovels, made before the number of victims begins to dramatically increase.
Setting foot outside his residence, in the multicultural Spitalfileds neighborhood, is beginning to take the pulse of the world. A reality that has inevitably changed since, at the end of the 60s, they decided to act as a "living sculpture". "When we started we wanted to see the western world as a celebration, a triumph. We thought we were safe, and we admired how far we had come, "recalls George. "We all want to be free and safe, but you can do that in North America, in Europe, in Australasia and little else. Terror reigns in the rest of the world, at the hands of dictatorships or the church. And the triumph has been cultural. It has been organized neither by politicians nor by the church, but by writers, thinkers, painters, musicians, and poets. We believe in the power of culture ".
"Then we were young and we were more satisfied with ourselves; we looked up. Now we look down and have begun to see a whole new world, "continues Gilbert. "We couldn't help but gloat over the detritus of existence. What is left? What do people leave behind? What is not wanted? What do they unwittingly treasure? All of these things are connected to love, "adds George.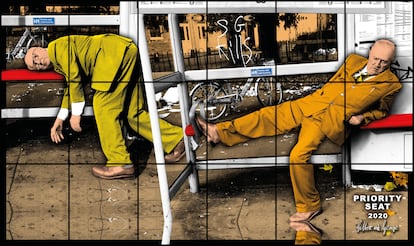 They express their admiration for the tradition of the visionaries of past centuries, for those "who go around up there, and never step on the earth. Dreaming of a crazy new world ", as Blake did. Lonely who remain isolated in their own universe. Even so, they are still interested in what they find when they leave their doorstep behind; the melting pot of cultures that makes up London's East End becomes a microcosm through which to view the world on foot. "Each ride is the global ride, the eternal ride. What was very personal becomes general, facilitating the understanding of life. One does not have to go to a special place to understand life, or to be inspired. Open the door and meet the world, "says George.
In the 90s, the British writer Michael Bracewell, ―author of the text that accompanies the catalog of the exhibition― referred to them as "a modern extension of the Dickensian characters". Today he claims he did not have to adjust this description. "Artists see – as Dickens did – the wrinkles and shadows and fractures of everyday life where the mood of the city assumes its own consciousness. And therefore they share the modern sensibility, that acute, overwhelming psychic and psychological awareness, the moral allegory ".
They say they see "seeds of freedom and also of prejudice within the details of our community. They are on the stickers on the streetlights, on the things that people say. It is from that freedom and from those prejudices that we build the new normal ". Hence the tragicomic character of his work. "Everything that is important is very simple and very complicated at the same time, and everything that is important is very funny and sad at the same time," George emphasizes. "What we show is a reality", Gilbert adds. A reality of colored balloons, ―like those found on your walks and that are used to inhale nitrous oxide by the youth of the neighborhood―, of champagne corks, of people sleeping in the streets and of bags full of garbage and drugs, near the doors of the old telephone booths, whose graffiti certify the end of an era. Gilbert & George's work not only draws the present, makes references to the past and visualizes the future.
"We are not critical, we do not see anything wrong," warns George. "Ultimately, this is all about two people becoming a single artist with a vision of the world," Gilbert sums up. "That won't last," many warned. But they have found that being two "ends with insecurity."
Gilbert & George NEW NORMAL PICTURES. White Cube Mason´s Yard. London. From April 13 to May 8.
You can follow BABELIA in Facebook and Twitter, or sign up here to receive our weekly newsletter.



elpais.com
Eddie is an Australian news reporter with over 9 years in the industry and has published on Forbes and tech crunch.