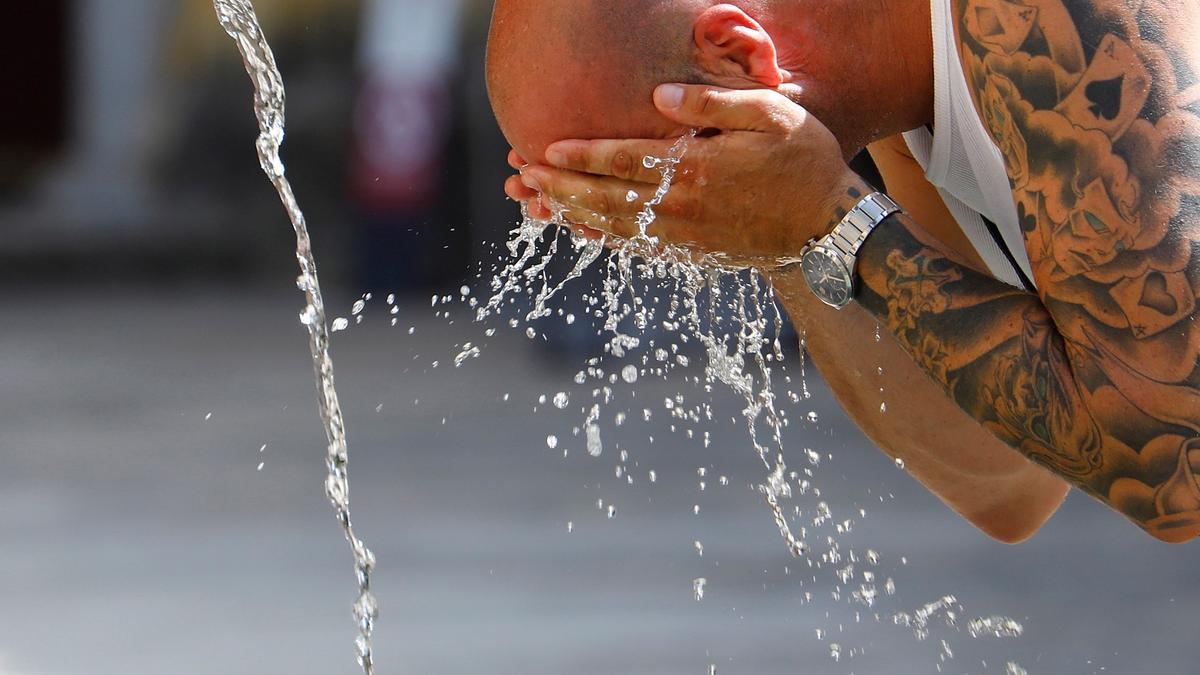 The intense heat has put almost the entire map of Spain on alert this Saturday, with 16 provinces in red for extreme risk of high temperatures, which could exceed 42 degrees and even go up to 44/46 degrees.
Areas of Huesca, Zaragoza, Albacete, Cuenca, Toledo, Lleida, Badajoz, Valencia, Cádiz, Córdoba, Granada, Huelva, Jaén, Seville, Madrid and Murcia are on alert for extreme risk of high temperatures.
According to the State Meteorological Agency (Aemet), the Highest value could be registered in the Cordovan countryside, where the thermometers would read 46 degrees from 2:00 p.m. It will not be much less in areas of Huelva, Seville or Jaén, where temperatures of up to 44 degrees are expected.
These are the most extreme temperatures of this heat wave, where both the maximum and minimum temperatures will reach values ​​above normal in much of the country, except the Cantabrian area, a good part of Galicia and some areas of the Mediterranean coast.
In fact, this past dawn at 00:00 hours, the thermometers were still at values ​​above 34 degrees in Arganda del Rey (Madrid), Fuentes de Andalucía (Seville) or Cañaveral (Cáceres).
In total, this Saturday they are on alert provinces of 15 autonomous communities -including areas of the two archipelagos-, of which eight appear in red on the map. Although the risk is lower in those communities on orange alert -the risk is important, not extreme-, the heat is also expected to be very intense, with temperatures between 37 and 44 degrees. For example, in Vegas del Guadiana in Badajoz there is a significant risk -not extreme- of reaching a maximum temperature of 44 degrees, as in the Cadiz countryside or in the highlands of Murcia.
In the Canary Islands, the alerts are for significant risk (orange) on the islands of Gran Canaria, Lanzarote and Fuerteventura; in some points it could reach 39 degrees (east, south and west of Gran Canaria). The Balearic Islands are also on orange alert; there the thermometers could reach 41 degrees in the north and northeast of Mallorca.
In view of this map dyed almost entirely orange and red extreme precautions must be taken. From Civil Protection it is recommended to limit sun exposure, stay in well-ventilated places, eat light and regular meals, rich in water and mineral salts, drink water frequently and avoid physical exercises in the central hours of the day. You have to be interested in the elderly and sick and those who live alone or in isolation.
High temperatures bring another problem: favor the risk of forest fires -the map of Spain is also practically whole in red due to extreme risk-, that is why Civil Protection recommends paying special attention to the regulations of each autonomous community, avoiding throwing away cigarettes, garbage and, especially, glass bottles that make a magnifying glass effect Sun. Negligence, recalls this organization, causes a large part of forest fires.

www.informacion.es
Eddie is an Australian news reporter with over 9 years in the industry and has published on Forbes and tech crunch.