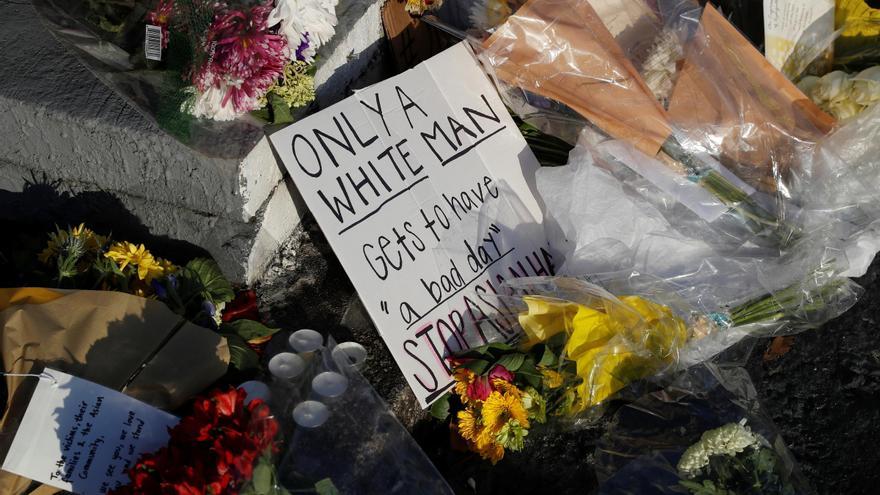 The suspect in the Atlanta shootings killed seven women because he "blamed" them for his sexual addictionBut America's politicians and media have taken days to assume that they were misogynistic crimes, in a country that still does not see the gender violence as a structural problem.
The first news about Tuesday's attack linked what happened with the wave of hate crimes against people of Asian descent since the pandemic began in the United States, since six of the eight deaths in three massage parlors were women of that racial group.
US President Joe Biden underscored his concern the next day about "brutality against Asian Americans," but it took until Friday to also mention "gender-based violence", and spoke very little about that factor during his visit to Atlanta. Biden was not alone: ​​after authorities described the suspect as someone who wanted to "remove the temptation" that Asian massage parlors posed for him, almost all media coverage and political reactions remained focused on denouncing only his racism.
Focus shift
Several Asian women quickly challenged this simplistic approach: American writer with Filipino roots Christine Liwag Dixon denounced in a viral tweet that the "hypersexualization of Asian women has a lot to do with violence" against them. "I have been offered money for a 'massage with a happy ending'. Men have cornered me in the street saying 'I love you long time," wrote Liwag Dixon, quoting a line from the film' Full Metal Jacket '(1987) much used to harass Asian girls.
South Korean Sung Yeon Choimorrow, who heads the National Forum of American Women with Asian or Pacific Roots, was also stunned to see a key component in the dehumanization of Asian women. "Racism intertwined with sexism has always been a part of our lives," Choimorrow told Efe.
A blind spot
Testimonies like Choimorrow's helped broaden the focus, and by Friday, The New York Times had already begun to speak of machismo in its coverage of the shooting. However, the fact that this factor was not evident since the suspect's alleged motives were known reveals how much remains to be done in the United States to make gender violence visible, according to experts consulted by Efe.
"If we do not talk about misogyny and its role in this event, we miss an important part of this news, if not (it turns out that it is) the most important, "Jocelyn Frye, a specialist in gender issues at the progressive institute Center for American Progress (CAP), told EFE.
For the feminist writer Soraya Chemaly, it is unfortunate that in her country "does not stop erasing intersectionality", and that even when talking about a structural problem, such as racism, it is not taken into account how it converges with "other identities "of the victims, such as their gender or their class.
The data
In addition to affecting a third of American women at some point in their lives, gender-based violence in the United States has a nefarious ally in firearms: a Average of 53 women die each month shot to death by their partner, according to the gun control organization Everytown. However, official data on gender violence are scarce and they are often reported as 'domestic' abuse, something that hides the fact that 4 out of 5 victims are women.
The #MeToo movement has raised awareness of sexual abuse in the United States, but other types of violence against women – such as physical and psychological abuse committed by their partners– They are still relegated to niche debates and rarely occupy space on the front pages or news of the country.
"We think we are immune to misogyny"
"In the United States we have a tendency to believe that, in some way, we are immune to the misogyny that exists elsewhere, and that it is quite evident in our culture as well," Chemaly said in an interview with Efe. Part of the problem, added the thinker, "has to do with idea of ​​American exceptionalism, with believing that women here are freer than anywhere else".
Chemaly believes that if the Atlanta shootings had occurred in India for example, the media in his country would take more into account "the social context", but when they happen in the United States, the discourse of the "lone wolf" who has problems predominates. mental "There is a tendency to separate violence from culture, and to focus on one person" without seeing the structural problem, stressed the author of the book "Rage Becomes Her" ("We are all angry").
In the wake of the racism "that proliferated as a result of the mandate" of former President Donald Trump, many US media "understand better that they cannot ignore hate crimes," but "still they are not prepared to link the idea of ​​white supremacism to that of male supremacism"when explaining violent events, he added.
"The task is enormous"
Frye, the gender expert at the CAP institute, cites three factors that help explain why the United States has not yet "really opened its eyes" to the problem of sexist violence. "We think of these issues as private concerns, especially when we talk about domestic violence (…); there is still a knee-jerk reaction from survivors not to say anything so as not to be harassed, and there is still a dominant discourse of blaming women "who are victims," ​​Frye explained.
And the worst thing is that it is not enough to draw attention to the problem to tackle it. "We have systems that are not designed to really support survivors, structures that people do not trust to report … The task ahead is enormous," he concluded.

www.informacion.es
Eddie is an Australian news reporter with over 9 years in the industry and has published on Forbes and tech crunch.