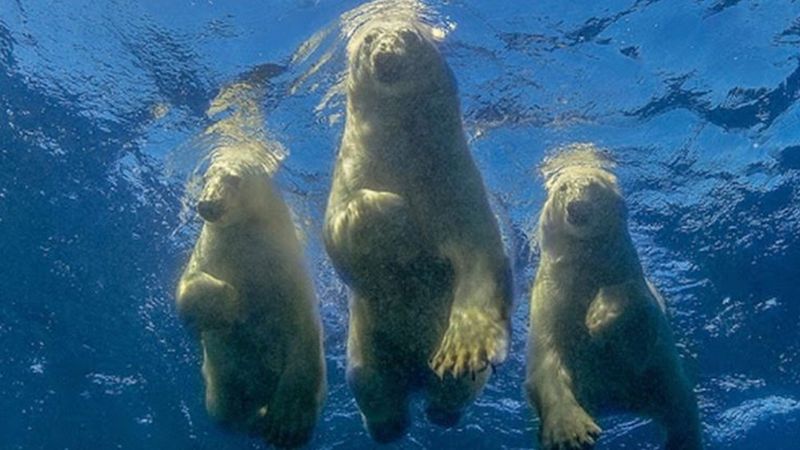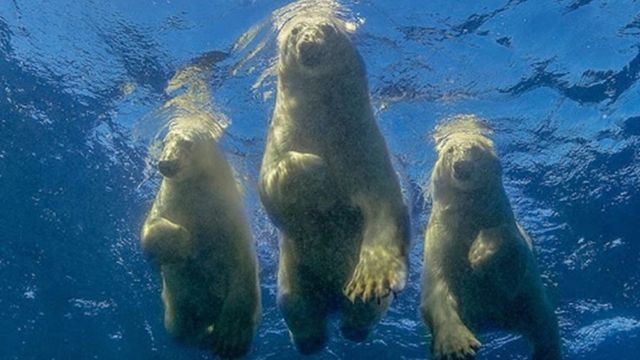 "Fear makes me alert, it hasn't stopped me from doing anything," says Amos Nachoum, a wildlife photographer internationally recognized for his underwater images.
From Antarctica to the High Arctic, it has dived in extreme environments to capture some of the most magnificent and elusive predators that live underwater.
Among the many creatures he has photographed, his list includes blue whales, killer whales, anacondas, Nile crocodiles, and of course sharks.
But unlike most photographers, Amos doesn't use a cage safety in the water.
"I wanted to show in a picture what it means to deal with the Great White," he told the BBC radio program Outlook.
"If we don't provoke them, if we don't pester them, we can be with them peacefully."
There are no demons in the sea
In fact, he was a meter away when he photographed a great white shark.
We are used to seeing the jaws of a shark as a symbol of terror.
But the Israeli photographer sees elegance, power and beauty in the animal.
For the past 45 years, he says he has struggled to change the misconception that certain species, like the Great White, are just ruthless killing machines.
"There are no demons in the sea," he often says.
Currently considered as one of the best photographers in his field, Amos Nachoom's first contact with a camera dates back to his adolescence, when at the age of 12 he found one in his father's warehouse.
He lived in Tel Aviv with his parents, a Jewish couple who had fled Libya.
Amos learned to use an old camera and began taking photos.
"I realized that photography gave me the opportunity to express myself," he recalls.
His relationship with his father, whom he describes as strict, was difficult.
He left home at age 14 to live and work with the local fishermen, who taught him a very important skill: diving.
His departure from Israel
Later, he did military service, mandatory in Israel, and fought in the 1973 Arab-Israeli war.
Amos says he was traumatized by the violence and left Israel to start a new life in the United States.
He drove taxis in New York and made a living doing odd jobs before finding his place in the water: as a scuba instructor.
While accompanying a group of tourists on a diving vacation, an American taking photos with an underwater camera gave him an idea.
Once he combined diving with photography, he set out to bring a new look at the great creatures that lurk under the sea.
"The general relationship with large animals, with sharks and whales, was very negative," he recalls, "but my relationship was very positive."
The last dream
Amos had a particular dream that he wanted to achieve: to be the first man to photograph a polar bear, in the water.
He remembers his father calling it a "suicide mission" when he found out about her plans.
"There was a total disconnect," Amos says of his father, who preferred to see him settle down and get married.
"He gave up on me. He couldn't connect with what I was doing."
Undeterred, Amos headed north to the Arctic in the spring of 2000.
With the help of a local Inuit guide, he spotted a male polar bear and jumped into the water.
"You always need a very good guide and a lot of experience before doing something like that, because there is a possibility of an accident. "
The wind pushed his boat away from Amos, while the polar bear got closer and closer.
But Amos had done his homework beforehand. I had read that polar bears could not dive deeper than 10 meters.
"The polar bear is very heavy and has a lot of fat on its body and on its skin. It has to work hard to get down," he says.
Decades of experience have taught him to seek signs in an animal that may indicate that an attack is imminent.
Was narrowly saved
When the bear came within twenty feet of him, Amos dove, and the bear followed.
"So it was a drama," he relates.
"He was about 15 or 17 meters away and he kept going down. I could only see his paws, nose and muzzle. Honestly, I was scared."
Amos had little chance of fight or flight of the great carnivore.
"When I was about 75 feet (22 meters), I looked up. Instead of facing me vertically, the bear was more horizontal and was swimming at that level."
He survived, and luckily when he resurfaced, the polar bear was gone.
A trip to the Arctic costs a lot of money and preparation, including hiring a charter plane and setting up tents.
Amos was determined to try a second time to take the photograph of his dreams.
Second try
The opportunity came years later, when his student Yonatan Mir made a documentary about him, which took them both to the Arctic in 2015.
They got a budget of one million dollars for the project, a sum that would allow them to stay only five days.
They searched for four days with no luck, until the precious moment arrived.
"We saw them go down the hill and into the water."
At last they had spotted a mother bear with her two cubs.
It would be the first time a polar bear was photographed with two cubs in those circumstances.
This time Amos had a dive buddy, Adam, who was there to film the event.
"They were getting closer and closer and closer to us. I looked at Adam and took the regulator out of my mouth, smiled and put the regulator back on and went down," recalls Amos.
"She (the polar bear) came over our heads. I turned around to take a picture of her."
The image he took was the silhouette of a bear, so he waited for the shot to show the bears staring at him.
"The mother bear was initially above the water. Then she lowered her head … I was clicking non-stop, all the photos I could take."
As Amos focused on polar bears, the filmmakers spoke with his father, who is now bedridden, back in Israel.
"My good boy, my crazy son and my hero", were his words about Amos.
For most of his adult life, Amos says he hardly spoke to his father.
"I was stunned. I had a hard time understanding what was coming out of his mouth and knowing what he thought of me."
His father passed away before Amos could return to Israel.
But upon his return, he visited the cemetery and took the framed photo of the polar bear with him to place on his grave.
"I have achieved something that he did not think he could."
But the famous photographer also adds.
"He challenged me to be the best that I can be."
Remember that you can receive notifications from BBC News Mundo. Download the latest version of our app and activate them so you don't miss out on our best content.

www.bbc.com
Eddie is an Australian news reporter with over 9 years in the industry and has published on Forbes and tech crunch.