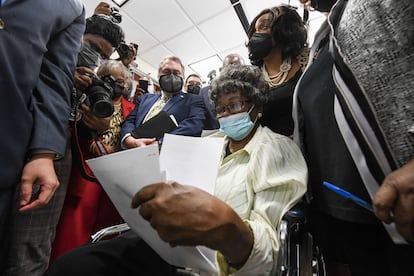 Claudette Colvin is an 82-year-old African American with an entry in the Encyclopedia of Alabama and a street named after her in the New York Bronx. But this retiree born in Montgomery (Alabama) also has a pending matter with the justice: a criminal record that dates back to March 2, 1955, when at age 15 she refused to leave her seat on a bus to a woman from White race. It was nine months before Rosa Parks would immortalize the same gesture of dignity and resistance; a turning point in the fight for civil rights that contributed to breaking down the wall of segregation – not inequality – in the United States.
But Colvin, who was looking distractedly out of the window that day, thinking of a young man in his neighborhood, also black, who had just been sentenced to death, before the driver ordered him to give up his seat, did not go to the annals like Parks, although his defiance brought Martin Luther King, an incipient leader at the time, to the town to meet with the authorities. Colvin was also the main witness in the case Browder v. Gayle (1956), in which the Supreme Court ratified the prohibition of segregating by race in urban buses.
Today, more than six decades later, Colvin aspires to have his record as a juvenile delinquent annulled and for this he filed an application in a court in his hometown on Tuesday. The charges that were brought against her, and still appear in the yellowish registry, were violating the law of racial segregation, resistance to authority and assault on the police officer who detained her. After appealing, he was granted indefinite parole for only one of them, the assailant. His lawyers emphasize that the petition obeys "the interest of justice and, in addition, recognizes its integral role in the civil rights movement." For her, it is a question halfway between pride and memory: "I am not doing it for myself, I am 82 years old. I want my grandchildren and great-grandchildren to understand that their grandmother stood up for something important, and that it changed our lives a lot, changed attitudes, "Colvin said Tuesday.
Around her, a cloud of family and friends surrounded her this Tuesday as if she were a celebrity. Among them was the nonagenarian lawyer Fred Gray, who on December 1, 1955 had eaten with Rosa Parks hours before she was arrested for repeating Colvin's gesture, and whom he later defended, without luck, at trial. Gray made up for the loss a year later, in the case that featured Colvin as the main witness.
Despite six decades, Claudette Colvin's release remained conditional. Putting an end to this lack of definition, and the advanced age of the woman, made the family move. "Every year a small commemoration is held [del acto de Colvin] and this year we talked about it, "explains his lawyer, Phillip Ensler, by phone. "Technically, it is a motion to clear your file, but it is also something very special, both sentimental and historical. Beyond justice, Colvin and his family needed that peace of mind, "adds Ensler, since no one, at any time, told the woman or her circle that the sentence had expired. "That made her and her family feel that she would always be under the supervision of the government." Colvin spent decades in New York, in that Bronx where a soulless street remembers her, but in old age she returned to Alabama.
"Claudette Colvin made enormous contributions to human rights. He risked his life for justice by refusing to give up his seat on the bus to a white passenger, and secondly, he testified in the lawsuit that ended racial profiling on public buses. She suffered, she was imprisoned, she lost friends. He assumed dangerous postures that could well have cost him his life. He still has nightmares of the sound of a key turning in the cell door. Their bravery must be recognized. He deserves the National Medal of Freedom, the highest civilian honor in the nation. She would be the first young person [en referencia a su acción en 1955] in receiving it. Claudette Colvin is a national treasure ", his figure Phillip Hoose, author of Claudette Colvin: twice toward justice, based on countless interviews with the low-key heroine and awarded the National Book Award in 2009.
Join EL PAÍS now to follow all the news and read without limits
Subscribe here
During her arrest, a police officer kicked her out while another dragged her towards the tail of the bus to handcuff her and forcibly remove her from the vehicle; On the way to the police station, in the police van, the officers joked about what her bra size would be, says Hoose in the book. "They treated us like second-rate citizens," Colvin recalled Tuesday in Montgomery courthouse. According to a Pew Research study conducted in March, 80% of Americans believe that their African-American compatriots continue to be discriminated against. 46% of those surveyed rate their marginalization as "great".
Parks' scheme – unlike high school Colvin, a Montgomery activist for the National Association for the Advancement of Colored People (NAACP) – led to a boycott of public buses in Montgomery in 1956, a mobilization launched at the behest of Luther King, then a 26-year-old pastor who would eventually lead the cause across the country. About the reason for the historical oblivion of Colvin, overshadowed by the figure of Parks, the interested party herself explained in 2009 in an interview in The New York Times that Parks had a better chance of standing out, because her skin was whiter than hers. "My mother told me to keep quiet about what I did. He said, 'Let Rosa be the only one. The whites are not going to bother her, their skin is lighter than yours and they like that, "said Colvin, underlining that he has long managed to appease mixed feelings about his role in the story. "I knew that [Parks] he was the right person ".
Parks got all the fame, but now the circle is closing. A judge who is also African-American must rule in the coming weeks on the resolution of Colvin's file. Unable to contain himself with emotion or the required circumspection inherent in any proceeding, Calvin L. Williams took seconds Tuesday to announce that the file on juvenile delinquent Claudette Colvin will be destroyed.
Follow all the international information at Facebook and Twitter, o en our weekly newsletter.



elpais.com
Eddie is an Australian news reporter with over 9 years in the industry and has published on Forbes and tech crunch.