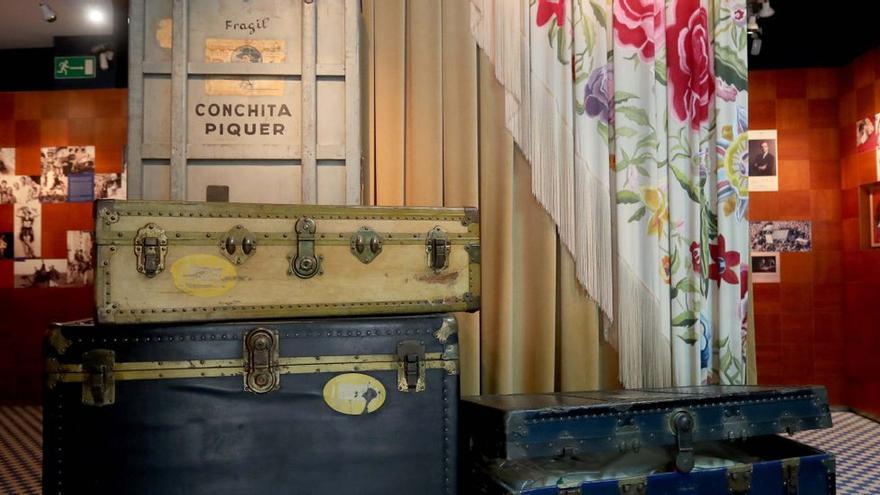 The death of Doña Concha's daughter has caused some neighbors to come to the museum this week. Most are fond of their music, and others know it because their mothers and grandmothers sang the songs of the Piquer at home. "Tattoo", "Green eyes" or "Lime and lemon" are some of the songs that resounded in the kitchens of thousands of Valencian homes.
However, the packaging of the Piquer surname is blurred for some generations, since the copla, and even more the one that the Piquer sang, is no longer present in the radio formula. His figures tend to disappear from the collective imagination. But the Concha Piquer Museum is a constant reminder of the history of this clan of singers.
"Conqua Piquer had a projection that crossed our borders. She was an international, illustrious Valencian, very loved by Valencians. Interest in his figure has not changed. However, there are generations that have been more connected to his music than others because they have lived his career longer. But, in general, the importance of Concha Piquer as an actress and as a singer continues to be highly valued ", explains María Barceló, Historical Heritage management technician at Valencia City Council.
"In addition to having a privileged voice, she was a born entrepreneur. She had a character that led her to be where she was. She is admired today for her ability to excel. She worked hard to reach the top from humble beginnings. Her journey it was full of difficulties but she was able to overcome them to become a well-known folkloric, "says Barceló.
Piquer was a rare bird in his time, not only for having a striking voice and acting skills, but also for his intention to direct his career and life. Barceló emphasizes that what marked the course of his career was New York. "There they gave her the opportunity to train and she took advantage of it. Most of the Spanish singers of the 30s and 40s had very humble origins, many had not been educated. However, Concha wanted to take advantage of her stay in New York to train in the entertainment industry. She became a businesswoman with acting skills, "she adds.
His father was a bricklayer and his mother was a seamstress. They lived in the Sagunt neighborhood, in the house where today the museum that honors his figure is located. His first performances were at the neighborhood festivals and at the Huerto de Sogueros, in Carmen. He began to sing in provincial theaters when he was only 11 years old. And his stroke of luck would not be long in coming. The Valencian composer Manuel Penella, after listening to her in a performance, decided to include her in his zarzuelas company, with which he would later leave for New York, a land of triumphs for other Valencians, such as Guastavino, Blasco Ibáñez, Sorolla or the soprano Lucrezia Bori. It was there when he participated in the production of "The Wildcat" by Penella. The success of her performances led the singer to make her first recordings. The tour continued through Mexico, Cuba, Puerto Rico or Panama. He returned to Spain when he was 20 years old, when he began to shoot some films. It did not take long for him to return to Argentina, where his daughter Conchín was born, who had a difficult time establishing herself on the stage with her own name because of the fame of her mother, with whom they would compare her until her death.
Another obstacle to her career was her marriage to the bullfighter Curro Romero, with whom she began a courtship at the age of 14 and with whom she ended up marrying at 17. At the age of three they divorced thanks to the recently approved Law of Divorce of the democracy. She would tour several times, but the death of her daughter in a car accident would keep her out of the spotlight for years. His voice was definitely turned off this week. Leaving us without the characteristic bell of the Piquer, at least for now.

www.informacion.es
Eddie is an Australian news reporter with over 9 years in the industry and has published on Forbes and tech crunch.