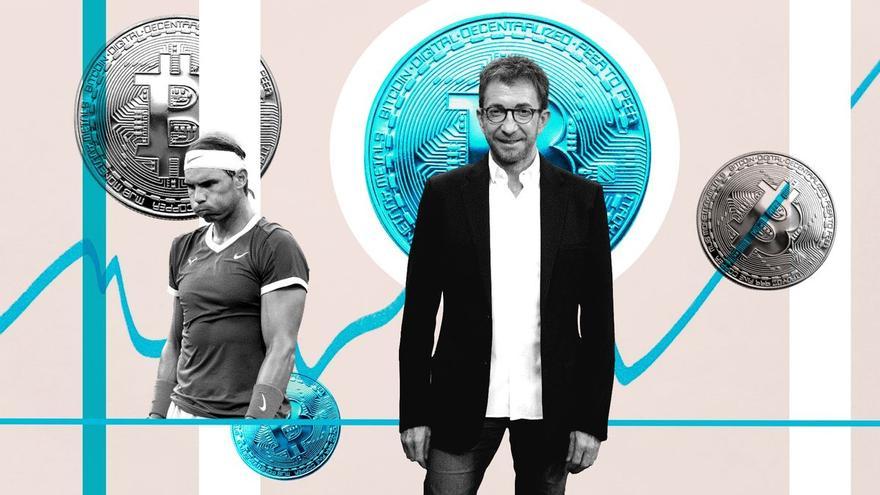 False 'brokers' that pretended to be specialists in bitcoin or cryptocurrency investments captured their victims through misleading or directly false advertisements on social networks fraudulently using the image of known characters like Rafael Nadal or the journalist Pablo Motos.
These fraudsters, who have starred in a macro-scam that is already being investigated in the National Court, established an emotional bond with dozens of clients, from whom they demanded an initial investment of 250 euros, which they deposited in a fake bank account that they had previously tampered with the members of the criminal organization, which in this way made investors believe that they were making significant profits in a few months.
For several months, a manager contacted by phone almost daily with the people captured to achieve personal intimacy, while they made them see the supposed profits they were getting thanks to their first investment, but also to highlight what they could gain if they raised their funds.
Up to 100,000 euros
In this way they convinced investors to make transfers that they even reached 100,000 euros, given that they fully trusted the business that their trusted brokers offered them.
"Good morning, Aurelius Belini from Kontofx writes to you. Jason also told me that he is going to call you today, that he misses you"Says an alleged supervisor to a client, whose initial manager had identified himself with that name, with a South American accent, and who had a relative living in Talavera de la Reina:" The desire is mutual, it has been several months of work in common ", responds the confident investor, as evidenced by the evidence provided to the Judicial Police.
"Jason got mad at me"
According to the transcripts of the conversations, to which EL PERIÓDICO DE ESPAÑA has had access, a client goes to supervisor Belini to ask again who his trusted manager had been: "I have to tell you that you'll have to name me another 'broker' because Jason has gotten mad at me. I suppose that with good reason because I made a somewhat rude comment (but within the confidence that I thought I had), and after making repeated apologies I have not called or contacted me. Sorry, he was a good person. "
Thanks to this daily contact, clients even allowed members of the criminal organization to remotely access their computers, from those who made new transfers to bank accounts located abroad.
And again the scammed ones saw on the false website of the investment platform that his benefits increased up to 18% per month, which was one more incentive for these people, many of them over 60 years of age, to make new purchases of cryptocurrencies.
The "burned" account
But the end of the dream for dozens of investors came with what the Judicial Police called the "burned" account, which was nothing more than when the victim did not have more money to invest or requested the withdrawal of a part of the supposed profits obtained, the authors of the scam manipulated the data of the web so that the client observed that their investments entered heavy losses.
And that moment of panic was taken advantage of by the scammers so that the supervisor of the supposed initial manager contacted by phone with the deceived, whom they did an ultimatum: either invest more money or lose all of the investment.
But the criminal organization ended up cutting short his relationship with the alleged client, who tried in vain to be informed of what was happening: "Although I think you are preparing the Saint Tropez conferenceI am only sending you this message to communicate two things: those from Schangexpro have not paid anything yet and the second is that no collaborator has been contacted to talk about the September forecasts ", the client wrote.
Over time, the deception became more and more evident, although the scammed clung to the people who had captured them: "Since August 7 I have not been able to contact anyone from Kontofx. You told me that at the end of the month a collaborator of yours would contact me to raise the issue as of September. I've tried twice with Jason, no response and this week through tech support and neither. You will tell me something, "wrote a whistleblower, who was unable to obtain any information.
2.82 million scammed
In this way, this criminal organization "of an international nature, highly structured and specialized, with a high number of members and which functioned like a real company" obtained at least 2.82 million euros, according to a joint report prepared by agents of the Technological Crimes Group of the Drug and Organized Crime Unit (Udyco) of the National Police Corps in Aragon and of the Central Unit of Scams and Means of Payment of the Mossos d'Esquadra.
The agents of both bodies recorded in a police report, to which EL PERIÓDICO DE ESPAÑA has had access, their investigations into the 'modus operandi' of this criminal group that fraudulently used the image of famous people, as is the case of Pablo Motos, Rafael Nadal or Pedro Sánchez to attract clients in Spain.
A company that offers phones
To carry out this macro-scam, the organization used at least 247 phones from twelve countries, including Malaysia, New Zealand and Georgia. However, according to the Judicial Police, most of these numbers are administered from the firm Voxbone, a company that offers telephone numbers from various countries to make calls over the internet. For this reason, this technology makes it impossible to determine if the people who made these calls were in these countries. In addition, they created 60 companies for their scams in Spain, being the three main ones of Estonia.
They also enabled an "Exchange" account with their data with the victims' permission. It's about platforms online for the exchange of cryptocurrencies, but also of traditional currency. AND they managed to get their clients to transfer their savings from their bank account to their "Exchange".
And once there, the criminal organization he transferred those funds to his own purse, so investors lost control of their money. The "Exchanges" used for the crime, according to the Judicial Police, were "completely unrelated" to these criminal activities.

www.informacion.es
Eddie is an Australian news reporter with over 9 years in the industry and has published on Forbes and tech crunch.