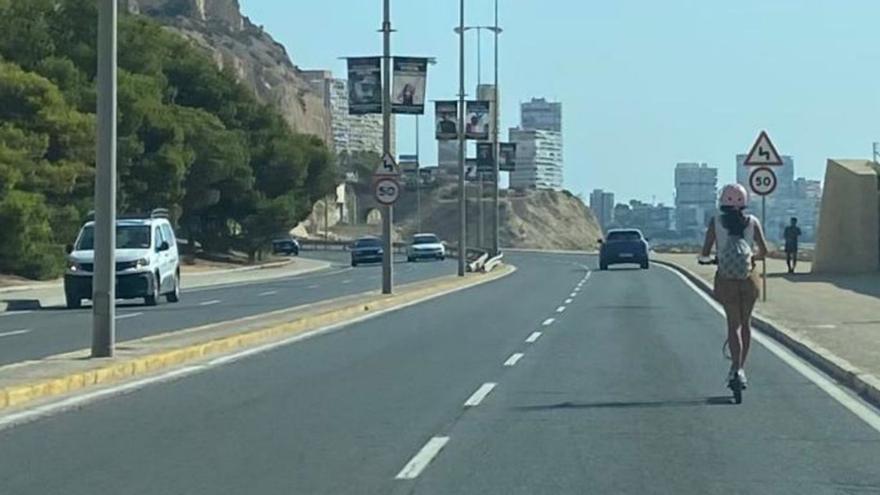 Since then, according to the regulations, users of electric scooters have the obligation to wear a helmet and cannot circulate on sidewalks (or bike-sidewalks), having to travel, and always at a maximum speed of 25 kilometers per hour, through the one-lane and one-way streets, zone 30, cycle streets, bike lanes, cycle tracks and cycle paths. Also, among other issues, it is forbidden for more than one person to go per vehicle and for the driver to travel with headphones.
From the Alicante City Council, the Councilor for Mobility, José Ramón González, positively values ​​the implementation of the ordinance, although he asks users for good sense. "We want to call for compliance with the ordinance with which we have managed to regulate the movement of scooters safely, limiting their speed in our city on the roads and respecting the sidewalks", while being "very satisfied" because since its entry into force "a work of awareness has been carried out since this ordinance was very necessary and demanded by all citizens."
Scooter users are somewhat more critical of compliance with municipal regulations in Alicante. "Many people still do not comply, circulate on the sidewalk being aware that it is not possible, but the other option is to risk your life by going on the road, which is usually poorly asphalted, and with a vehicle without damping", explains Víctor Pérez, who It remains unexplained that bicycles can circulate on sidewalks-bikes and not scooters: «We are criminalized». Sergio Ruiz, president of the Spanish Federation of Personal Mobility Vehicles, is in this line: «The ordinance had to allow scooters to circulate in the same places as bicycles. You go crazy to be able to circulate around Alicante because the city is not connected, you have to make a map before leaving home ».
From Alacant en Bici they continue to bet on "the pacification of traffic as a global solution for all". «With a limitation of 30km / h in the streets and avenues of the Gran Vía towards the center of Alicante, cars, bicycles and scooters could coexist. The problem is that the cars do not respect the speed limits », says Pedro Raigal.
Recently, the General Directorate of Traffic (DGT) has asked municipalities to promote a new awareness campaign to get scooters off the sidewalks, as it continues to be one of the main reasons for the sanctions. During the last days, in this intensification of the controls in Alicante, the Police have denounced fifteen vehicles for traveling on double lane roads, eight for going on the sidewalk, another eight for wearing headphones and four for not wearing a helmet, such as main sanctions.

www.informacion.es
Eddie is an Australian news reporter with over 9 years in the industry and has published on Forbes and tech crunch.