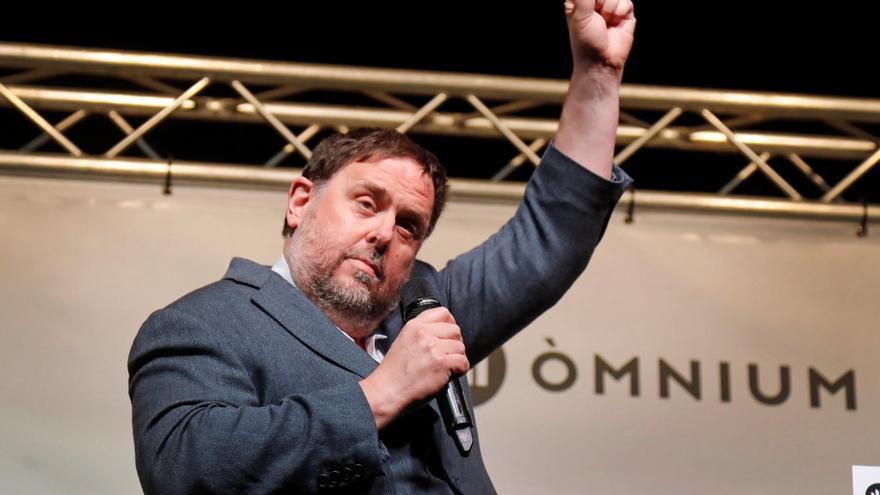 Six of the inmates of the process -Oriol Junqueras, Jordi Sànchez, Jordi Turull, Joaquim Forn, Raül Romeva and Jordi Cuixart, but not Josep Rull, hospitalized- have returned this Tuesday night to the Lledoners prison after the revocation of the third degree, between appeals to "unity" and "no surrender."
Dozens of people have gathered at the gates of the jail to protest the decision of the prison surveillance court to revoke the third degree that the Generalitat granted in January to the former vice president of the Government Oriol Junqueras, the ex-councilors Jordi Turull, Josep Rull, Raül Romeva and Joaquim Forn and 'los Jordis', as requested the Prosecutor's Office in its appeal.
All of them have re-entered around 9:00 p.m. this Tuesday, except Josep Rull, who had a "scheduled operation" and that, according to JxCat sources, he must remain hospitalized for a few days.
The event next to the Lledoners prison has been organized by Òmnium Cultural, which has set up a stage with a canvas that read "Amnesty. Let's set ourselves free", amid shouts of "unity", "independence" and "you are not alone" on the part of the concentrates.
In his brief speech, Junqueras has denounced the attitude of the State: "If they lock us up it is because they cannot beat us at the pollsThey are afraid of us because we are getting stronger every day. "
"We will not give up, we will not get tired, we will never give up", has proclaimed Junqueras, who has called to "make an independent Catalonia a reality".
For its part, Jordi Sànchez has claimed independence "unity" against the Spanish State, an appeal shared by former minister Jordi Turull: "Enough of so much persecution, so much repression. Don't let up, let's go to one o'clock to win the freedom and independence of Catalonia."
After some words of remembrance for the "companions of exile", Carles Puigdemont, Antoni Comín and Clara Ponsatí, to whom the European Parliament has lifted their immunity, Jordi Cuixart has warned the courts that he does not intend to renounce either his ideas or his position: "I went to prison as president of Òmnium Cultural and I will leave prison as president of Òmnium Cultural".
Cuixart has said that does not accept "lessons in democracy" from those who "cover up Bourbon corruption" and they launch "siren songs of pardons" and have promised to continue defending the right to self-determination and "seeking justice in Europe."
"We will stay true to our idealsWe will not renounce our ideals, "said former minister Joaquim Forn, who has attacked those who" play "with the" hopes "of people talking about pardons, when" it is absolutely false. "
Romeva, for his part, has denounced that this "anachronistic, failed and fragile state" continues to "persist in error", but the prisoners persist "in determination": "All this will be worth it for the republic, for freedom" , has sentenced.
Before the intervention of the prisoners a manifesto has been read in which it is appealed to "continue fighting for fundamental rights without regrets, or forgiveness, or resignations" and the right to self-determination and amnesty against the "repression" of the State are vindicated.
Beyond the mobilization called by Òmnium at the doors of the Lledoners prison, in Sant Joan de Vilatorrada (Barcelona), the ANC has promoted mobilizations in different parts of Catalonia, among them the Meridiana avenue of Barcelona, ​​where dozens have been concentrated of people.
In La Meridiana, the concentrates have unfolded a giant 'stellate' flag, amid cries of "freedom" for the prisoners, a mobilization that the president of the ANC, Elisenda Paluzie, did not attend because she was in the act of Lledoners .

www.informacion.es
Eddie is an Australian news reporter with over 9 years in the industry and has published on Forbes and tech crunch.