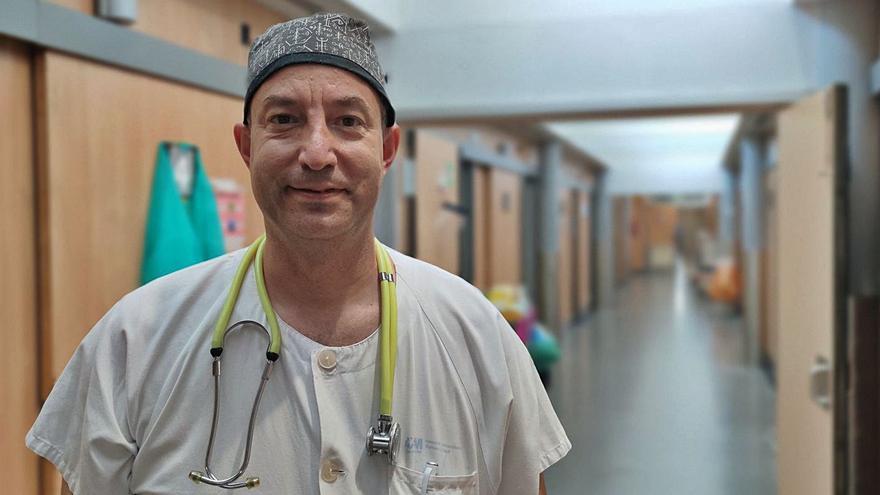 We are on the verge of summer, the incidence is low, although slowly, and hospitals are emptying of covid patients. What could go wrong?
With these variants that we know today, we will win the battle. The problem is that variants will continue to come, as is happening in the United Kingdom, where India has arrived and their pace has changed. They had a much higher percentage of vaccinated than us and it is already beginning to be noticed in hospitals. The good news is that vaccines seem to hold up. The problem is that the strongest variant is the one to be imposed. It is Darwin's law of selection. We started with the Wuhan one, then the D614G, then the British one and now it's going to be the Indian one. What comes next will probably have a certain vaccine escape. The British said that in July they would have a new wave because of the unvaccinated people and because the variant that came would avoid the neutralizing antibodies of the vaccines and of the infections.
Many experts agree that the Indian variant will end up becoming dominant in Spain. Are border controls, the requirement for negative tests and quarantines useless?
It is clear that the variants come mainly by plane. The problem is not only that they enter, but how we want to present Spain in the face of tourism. It is a mistake to make things easy and not require PCR from people coming from the UK. Spain must be differentiated for being a tourist fortress, because 13% of our GDP depends on this. Whoever wants to come will not be stopped from having a PCR, but it will give us a lot of information. They have given us a touch in the EU and they have taken us off the lists. We have a cumulative incidence of more than 100 and there is community transmission. And in the end that is what European countries see. There has been no control throughout the pandemic, everyone has entered without PCR. People who work in airlines told us: "When we come to Spain we do not get PCR, because we know that it is not requested here."
In addition to PCR, there are antigen tests, which in Spain have not just been liberalized, when in Europe they are sold in supermarkets.
We demanded at the beginning of December of last year that they be liberalized to do self-testing at home. If I have a meal with family members, it is 50 or 60 euros what they cost and I am safer. In other parts of Europe, such as the United Kingdom, free tests are distributed to families so that people can take them if they have a cough or a few tenths of a fever. This would make us multiply the tests at no real cost to the State coffers. Two months ago it was announced that they would be liberalized in Spain, but it has not been done, and it seems to me a mistake.
What has been the best and the worst of having been so exposed in the media?
Thank goodness, so far I have only received good feedback from people. Today I was taking care of patients and they said to me: «Hey, are you the one on TV? Thank you very much … »The only bad thing is the time you take from the family, because you have to prepare the programs, read a lot … But I have had a lot of fun doing what I do and I like to read about the pandemic.
He has been an advocate of the "Zero covid" strategy. Is it still worth applying, when vaccination is progressing rapidly?
It must be applied precisely when we are in these parameters. The countries that have adopted it have been ultra-belligerent with the disease when cases were few. In Europe, a different type of strategy has been chosen [mitigación], and I believe that the Zero covid strategy will no longer be adopted, because contagions are going to decrease. The other day I read an article from the United States about when the pandemic will end: it said that it will not be when the World Health Organization says so, but when the death toll is acceptable to the people.
It seems.
We are going to live in an epidemic whose duration will depend on the variants and the people who have been vaccinated. There will be countries like the United States and Israel that will have a hard time reaching group immunity, because they have many people who are not going to be vaccinated, and in those countries there will be a kind of endemic, a disease that it will continue to spread among the unvaccinated. We are not going to end the virus until we have vaccinated 50% or 60% of the world's population. If not, there will be variants again and it will happen as with the flu, which in some years is more virulent and others less. The problem is that a variant eats 40% or 50% of the effectiveness of vaccines, and we will have a new wave that can be fearsome.
What is the PharmaMar Aplidin clinical trial and what phase is it in? He said on Twitter that the week could have good news.
We are, as it should be, in talks with the Spanish Medicines Agency to have all the safety issues resolved in order to start a very robust clinical trial. It takes a long time. Spending almost six months of struggle means that the opportunity to try an antiviral that could be the only specific antiviral in the world, such as Aplidine, can be lost. This in the US would have been resolved in 15 days. We have been here for 6 months, and you lose many scientists who in the end get bored.
How is it understood that Remdesivir was given the green light much earlier?
This in the end is the power of the pharmaceutical industry and what comes from the United States. They have much more agile protocols there and probably the conversations with their regulatory agencies are more fluid and it goes where it goes. It is not that they have less security, but that all these administrative procedures are done in a much more agile way: if it takes six months here, there are 15 days. And the administration is very supportive of their own research, not like here. We have not had the administration's support for a Spanish drug at all. Nor is it that they close the doors, but it is too slow.

www.informacion.es
Eddie is an Australian news reporter with over 9 years in the industry and has published on Forbes and tech crunch.