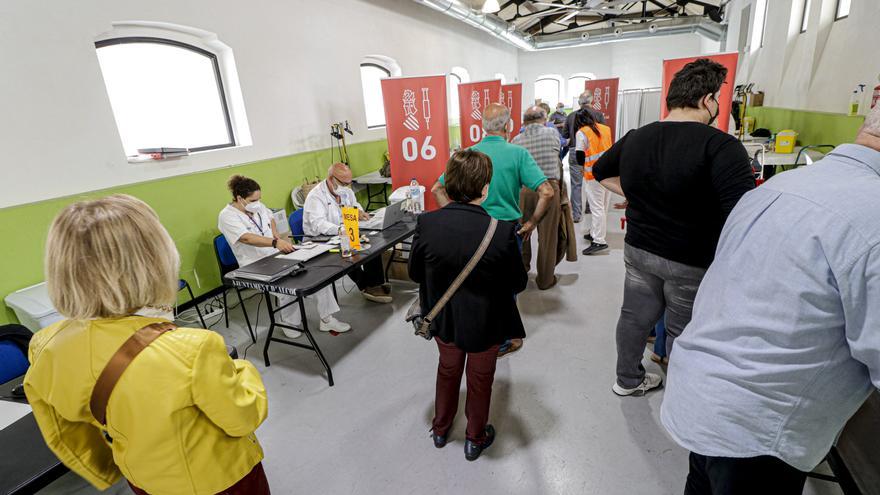 The province continues to add coronavirus infections and the data exceeds one hundred in 48 hours. Health has communicated this Monday 146 new positives in two days, a figure higher than in recent days when 87 were reported on Saturday and 120 on Friday (It should be remembered that the autonomous department does not update the figures on Sunday). However, Alicante has not added any deaths since last Wednesday and deaths since the start of the pandemic stand at 2,844.
In the Valencian Community, the balance of infections since the last update last Saturday are 965 new coronavirus cases confirmed by PCR test or through antigen tests, which put the total number of positives at 400,962 people. By provinces, 47 in Castellón (41,447 in total); 146 in Alicante (149,502 in total); and 772 in Valencia (210,012 in total); the total of unassigned cases remains at 1.
However, the Ministry of Health continues to be concerned about the age group in which most of these new positives occur. Thus he reported that, one more day, the cases detected confirm that 52% of infections correspond to young people between 15 and 29 years old. Specifically, 29% of the positives are between the ages of 20 and 29, while 23% are between 15 and 19 years old. 13% of cases are between 30 and 39 years old, while 14% correspond to the age group between 40 and 49. "The relaxation of prevention measures is linked to an increase in social interaction in older groups of people. It is what is causing the increase in cases that we are observing ", reiterated Herme Vanaclocha, deputy director of epidemiology of the Conselleria de Sanitat Universal i Salut Pública.
These fringes of those are those that still await vaccination, a process that is advancing in the Valencian Community where 2,508,762 people already have a dose of the vaccine against the coronavirus. With the full immunization schedule (two doses for Pfizer, Moderna and AstraZeneca; and the single dose from Janssen) there are 1,662,991 people. By provinces: 199,504 in Castellón, 609,047 in Alicante and 854,440 in Valencia.
In addition, in two days, 352 discharges to patients with coronavirus have been registered. In this way, they are already 401,230 people in the Valencian Community who have overcome the disease dince the pandemic began. By province, registrations are distributed as follows: 42,028 in Castellón, 149,629 in Alicante and 209,516 in Valencia. The total number of unassigned registrations remains at 57.
Regarding the situation of Alicante hospitals, income remains stable although since Friday, one more person is on the floor in the centers of the province where there are a total of 19 admitted. Of them, 3 are in ICU, one less than three days ago. In the Valencian Community there are currently 126 people admitted: 12 in the province of Castellón, 1 patient in the ICU; and 95 in the province of Valencia, 10 of them in ICU; in addition to those of Alicante.
On the other hand, there have been no deaths from coronavirus, so the Total deaths since the start of the pandemic remains at 7,450: 807 in the province of Castellón and 3,799 in that of Valencia. In Alicante, the deaths since March 2020 amount to 2,844 and no deaths have been reported since last Wednesday.
According to the data recorded, there are currently 3,749 active cases, which represents 0.91% of the total positives.
As for the sprouts, Health reported that four have 10 or more associated cases:
Utiel: 10 cases aged 4-71 years. Social origin

Valencia: 10 cases aged 17-23 years. Social origin

La Pobla de Vallbona: 21 cases. From 9 to 50 years old. Educational field

Bétera: 31 cases. 16 and 17 years old. Social ambit

www.informacion.es
Eddie is an Australian news reporter with over 9 years in the industry and has published on Forbes and tech crunch.