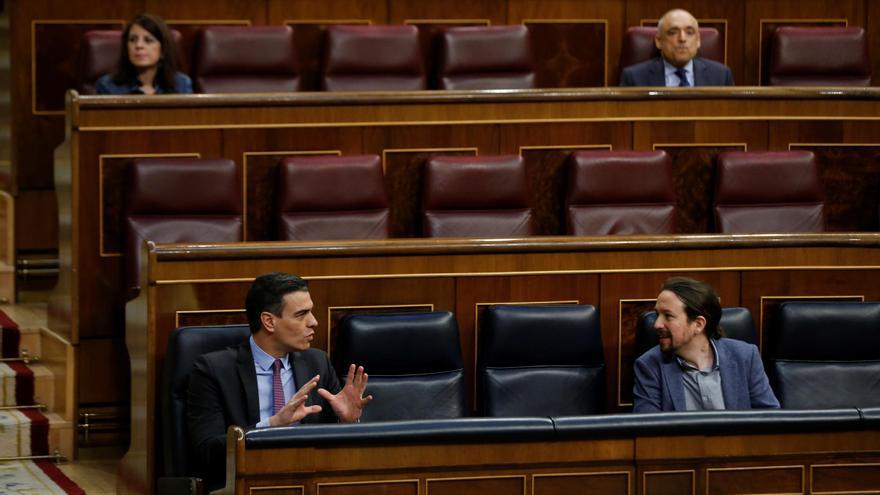 The PSOE will reject the proposal in defense of the co-official languages ​​of the State promoted by the independence groups and supported by United we can, because it considers that it is unconstitutional and that what it seeks is to turn its own languages ​​"into a political weapon."
The proposition not of law, that it will be voted on Thursday, has the support of EH Bildu, ERC, the CUP, BNG, JxCa, the Pdecat, PNV, Compromís, Más País and Unidas Podemos, which once again separates itself from the PSOE, apart from a dozen cultural entities in defense that languages co-officers have the same rights as Spanish.
The initiative emphasizes that the Government guarantee that officials who provide services in territories with their own language have knowledge of that language.
The Socialists, who have tabled an amendment that will not foreseeably be accepted, have announced that they will reject the proposal because it would be political irresponsibility to approve an "unconstitutional" initiative.
The PSOE deputy Marc Lamuà has indicated that "this proposal cannot be a swallow it up" and has affirmed that it contemplates points that are not constitutional and "for that reason we cannot approve it because then we end up in judicial sentences."
"If you want to be responsible politicians, they cannot go through the back door camouflaging other intentions", he said and warned that" it is a mistake to turn a language that has no ideology into a political weapon ", an idea that PP deputy Ana Belén Vázquez has also shared.
Vázquez has asked not to confront the different co-official languages ​​and has advocated to protect Spanish in those territories where it is being discriminated against, such as in Catalonia.
"The State cannot remain impassive in the face of the violation of linguistic rights. They cannot force the courts or administrations to write in the co-official languages ​​… Languages ​​are not imposed, they are loved, they are learned, used and respected", he pointed out.
The PP has also tabled another amendment to the proposition in which he urges a "cordial and harmonious" bilingualism.
UPN has announced that it will vote against because the proposal: "They have groped it for their goal of national construction."
From Ciudadanos, the deputy Marta Martín has accused the proponents of presenting a "xenophobic" initiative because it attacks Spanish, "which is not a legal imposition but a wealth that we have regardless of the co-official language" existing in a territory. "Spanish annoys you because it is something that we all have in common and want to build parallel realities," he said.
On the part of Vox, Antonio Salvá has asked that EH Bildu be outlawed "for being heir to ETA" and he has been radically against a proposal that "is an attack on Spanish and that seeks the destruction of Spain."
In defense of this initiative, the spokesperson for eh Bildu, Mertxe Aizpurua, has asked this Government, "which in theory assumes plurinationality", who does not miss the opportunity to defend it with facts because the co-officiality must be applied with equality, has insisted on not giving up on Thursday's vote, since it has said that they are still working on a compromise amendment.
"It is our languages ​​that are at risk," he warned Aizpurua, and some, like the Asturian or the Aragonese -he said-, much more.
The representative of the PNV, Joseba Aguirretxea, has been very critical when defending the equality of linguistic rights and remembering that the State has the obligation to ensure these, especially censuring the PSOE and the PP for not doing so and the UPN for being "the only one world party that has legislated against its own language (Basque) ".
Within the Plural Group, the Deputy of Compromís Joan Baldoví has ​​assured that he and many others with their own language have often felt like "redskins" in their own land when, for example, an agent tells them to speak to them "in Christian, in Spanish", while Genís Boadella, from JxCat, has regretted that the Government ignores the preliminary article of "the sacrosanct Constitution", which speaks of the different languages ​​and the role they have to play.
From ERC, Marta Rosique has accused the PSOE and the rest of the groups that have positioned themselves against this initiative, of having "the homogenizing will to end minority and minority languages."
And United We Can has defended that Spain must comply "with what the Constitution says", Joan Mena said and stressed that "this country has no future if it does not support all its peoples."
Mena has warned that there will be no majority of progress in Congress without counting on the formations that defend multinationality and has warned that the last elections in Catalonia "have reduced uniform Spain by half."

www.informacion.es
Eddie is an Australian news reporter with over 9 years in the industry and has published on Forbes and tech crunch.