Today, Saturday, a judge will decide whether Richard Gere testifies against former Italian Interior Minister Matteo Salvini in the trial for his performance in blocking the Open Arms ship. The actor had volunteered, because, as has happened on other occasions, in this way he gives international visibility to the cases that interest him. It is not the first time, by far, that the protagonist of Pretty Woman (1990) is politically involved. For example, after starting a relationship with the Spanish Alejandra Silva – his third wife after Cindy Crawford and Carey Lowell – his relationship with Spain is closer and he has met with President Pedro Sánchez and with the former Madrid mayor Manuela Carmena to request a solution to the problem of the homeless. He has also visited Mexican President López Obrador and criticized Donald Trump. "He's an idiot," said the actor, who at the time also had unkind words for the Bushes and Reagans for their policies in Central America, their support for the Guatemalan genocide of the early 1980s or the invasion of Panama.
But no problem takes up as much time as the one in Tibet. Since getting to know the refugee camps in the area, Gere has worked to promote human rights and democracy in this region. The actor is one of the most famous Buddhists in Hollywood and a close friend of the Dalai Lama, who was the first to know and bless his wife's first pregnancy. "I couldn't mention it without first telling His Holiness Dalai Lama," Silva said on his social media.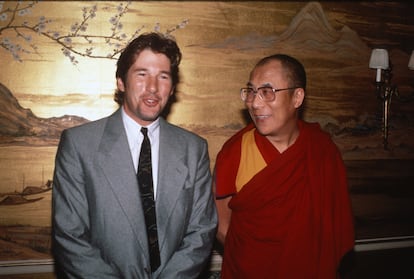 Despite his successes on the big screen, Gere has not starred in a Hollywood movie for a long time. The motives? Two, mainly. The most important, you don't need it. Unlike other actors of his generation, such as Robert de Niro, Gere has a healthy economy, as stated to The Hollywood Reporter: "I'm not interested in playing a withered Jedi in Movie of the Year. I've been successful enough in the last three decades to now allow me to make smaller films. "
The second reason has to do with his activism in favor of Tibet, dating back to the 1993 Oscars. Presenting the award for best artistic direction, instead of a 30-second text on how the great painters of history would have been artistic directors, Gere took the opportunity to address Chinese leader Deng Xiaoping. "What a horrendous, horrendous human rights situation there is in China," he launched, to then exhort the leader to take his troops and take the Chinese out of Tibet "so that the people can once again live as free and independent people." . The director of the Academy, Gil Cates, was enraged. "For someone I invite to present an award to use that time to postulate a personal political belief, I think it is not only outrageous, it is disgusting and dishonest," he complained bitterly. And he added: "Does anyone care about Richard Gere's comments on China?".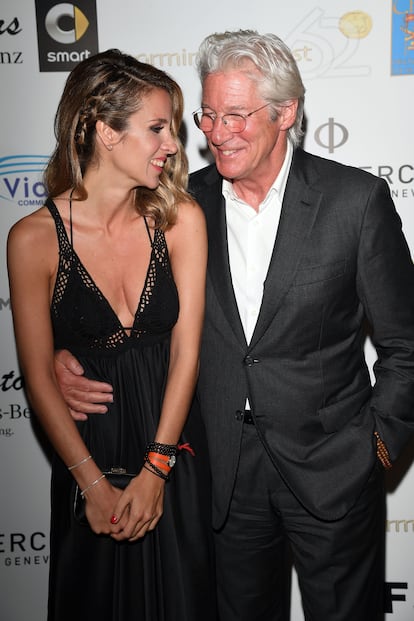 It mattered to China, which was in the midst of promoting Beijing as the venue for the 2000 Olympics. Having a Hollywood star rant about one of its most entrenched conflicts before a millionaire audience was not his best cover letter. . Finally, Sydney won.
In 1997, Gere was removed from the promotion of The red maze. "Everyone was happy. And suddenly, without warning, they called me to leave it. The MGM production company was closing a commercial agreement with the Chinese and they told them that if the film was released, there would be no agreement ". Promotion came to a halt, and Jon Avnet's thriller passed without pain or glory. The tentacles of the Chinese boycott are so long that, in 2008, Fiat had to apologize to China for filming an advertisement in which Gere was driving one of its cars through Tibet.
Richard Gere has been forced to turn his career around, but the actor is a man used to challenges. His beginnings are a succession of risky roles in awkward movies, such as the aggressive Tony from Looking for Mr. Goodbar or the brother on the verge of incest in Heaven days. When he was starting to make a name for himself in Hollywood, he starred in Bent on Broadway, a homosexual love story in a concentration camp from which any star project would have fled.
How John Travolta fled from American gigolo after detecting the homoerotic subtext of Paul Schrader's film. Something that did not worry the director, who had always had Gere in mind as the prostitute Julian Kaye. Unlike Travolta, Gere was not scared and went one step further by starring in one of the first full-length nudes in the history of commercial cinema. "As far as I remember, it wasn't in the script. It happened naturally while we were filming, "the actor confessed in an interview. That role made him a sex symbol in spite of himself. "He had become, at least in appearance, another person: a disturbing heartthrob, perfect for the late sixties. Gere was a little Brando, a little Dean, a whiff of Clift, and everyone, men and women, wanted to take him home ", wrote Michael Gross in Esquire.
That success coincided with his conversion to Buddhism and his first visit to Nepal, from which he returned transformed. What he found on that physical and spiritual journey helped him leave behind the impetuous young man who took refuge in alcohol and drugs, who lost a role for fighting with Sylvester Stallone and showed his penis to a reporter from the Ladies Home Journal after she asked him if he was gay and if it bothered him to be seen as a sexual object. "Do you want to see a sex object?", He replied as he lowered his fly.
When the impact of American Gigolo, I arrive Officer and gentleman. Gere agreed to star in what turned out to be the third highest grossing film of 1982 – after AND and Tootsie– for the $ 350,000 they offered him. He seemed destined to be the undisputed star of the eighties, but then came failures like Cotton club, of Francis Ford Coppola, o Caught with no way out failed so miserably that the critic of the Washington Post, Paul Attanasio, asked that Gere not star in another movie. "This business is a roller coaster. Once you go up you cannot get off and there are many peaks and valleys. When you get to the valley, vampires like to pound you. But as soon as you make money, they show up again, as friendly as before ", recognized the actor in his early days.
His career was at an all-time low when he reappeared in Dirty business playing for the first time the antagonist of the film. Criticism surrendered to the new and mature Gere, who really was the same one she had hated just a couple of years before, but with silver temples. Then came Pretty woman and the nineties were his. He stayed in the front row with balls like Runaway bride, worked with Robert Altman and had no problem giving the role of handsome to Olivier Martinez in Unfaithful or dance in Chicago. Since then, and almost two decades later, Richard Gere has not returned to star in any resounding success, but has garnered the best reviews of his career with discreet films such as Norman: the man who got it all O Dinner.
At Gere, who after the seventies reinvents himself again, is more interested in focusing on his solidarity work.
You can follow ICON on Facebook, Twitter, Instagram, or subscribe here to the Newsletter.



elpais.com
Eddie is an Australian news reporter with over 9 years in the industry and has published on Forbes and tech crunch.