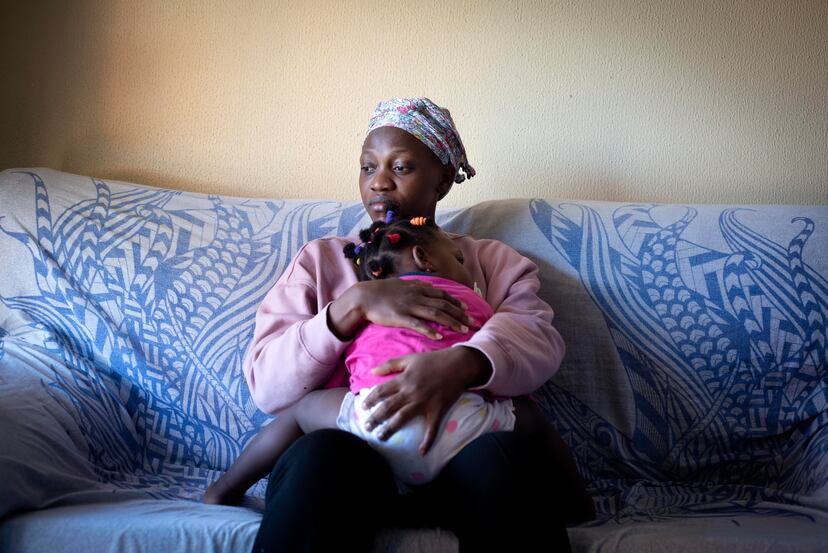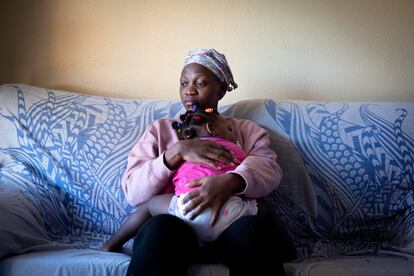 "The judge deserves a big 'bravo!' And the Spanish State has been great in my case, but behind come many children still without rights ". Catherine Cristine Elimbi is emotionally grateful for the decision of the Spanish justice, which this week has given her daughter Fatima an identity by registering her in the civil registry, despite the fact that she was born in Oran (Algeria), during the five-year journey between Cameroon and Córdoba, where he now resides.
Elimbi, 26 years old and eight months pregnant, speaks surrounded by olive trees, silence and horizon in a foster home in the Emet Arcoíris Foundation, located on a hill on the outskirts of Montilla (Córdoba). There she spent her first four months after arriving by boat to Almería from Algeria, where she paid 4,600 euros to be able to cross the Alboran Sea "terrified" with her 19-month-old daughter.
Stateless foreign babies born on the trip to Europe and without a birth certificate are at the mercy of civil registry officials across the country, who sometimes register them and sometimes criticize the lack of documentation. The papers often disappear in the tortuous journey in a boat and finally accompanied migrant minors suffer from this lack.
Despite having a name, surname and a DNA test that proves the kinship with his mother, the Spanish State refuses to recognize them and they remain invisible. A stumbling block to school, regularize your situation, or access health. Hence the significance of the reasoned resolution of Judge Francisco José Ortega, responsible for the civil registry of Montilla and head of the Court of Instruction 2 of this town of 22,700 inhabitants, who has put white on black why Spain should care for those babies that each month they arrive to the Canary Islands and Andalusia coasts as a signatory of international treaties that protect them.
"The courts are obliged to apply the laws respecting fundamental rights. Of course, I remain convinced of the fair decision and that there is no obstacle for Spain not to register these children by directly applying an international treaty such as the European Convention on Human Rights ", the magistrate explains by telephone. "They raised the case with me and I automatically thought about the human rights perspective," he confides in the proposal of the Cordovan Prosecutor's Office to register the minor, who attends a nursery in the center of Córdoba, where her mother now resides.
Elimbi suffered a forced marriage in Cameroon, left a five-year-old daughter there with her grandmother, and in her flight she spent three years in Mali with her current partner, who could not pay for the trip to the Peninsula and remains in Algeria. "There life is worth less than zero, you are in continuous danger, even from the police," he explains in French. She studied until she was 18 years old and here she wants to learn Spanish when her body regains strength after the journey and pregnancy, and perhaps stay in Spain.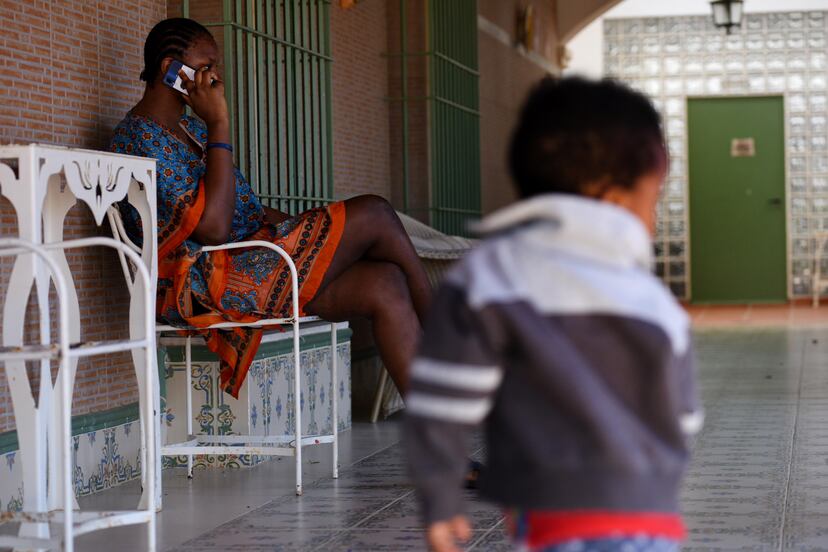 Ortega's order has been celebrated by the NGOs that care for these women and their children, and which until now lacked a judicial resolution sensitive to the distress of these minors, in legal limbo as soon as they were born. Given the upward trend in these cases with accompanied minors, in 2018 the Ödos project was born to guide these migrant women, coming from countries such as Ivory Coast and Guinea-Conakry, on their way to France, the final destination of the vast majority.
The Montilla residence now sleeps 10 children and 22 women who fled forced marriages, genital mutilation or sexist violence, and who usually stay for about three months before crossing the Pyrenees to meet family or friends and start a new one. life. But to gain momentum and cross the border it is essential to be documented. "The civil registry of Montilla accepts the patera police record where they assign a temporary NIE, but it is not normal. Although other women do not give so much importance to paperwork, Catherine has understood the importance of administrative management because she knows how to read and write ", explains Teresa Girón, director of the center.
From Almería, Francisco Morenilla, a public defender specialized in maritime arrivals, points out that in the civil registries of Roquetas de Mar and El Ejido they often run into obstacles from officials. "The women arrive without documentation, but they ask for the birth certificates of the children and we try to get them, but it is not always achieved by an insurmountable documentary bureaucracy. Sometimes they have to lie and say that they are not married so as not to provide the marriage certificate, "he exemplifies. Isabel Martínez, a social worker at a migration center in that Andalusian province, protests: "There are easy consulates for documentation like Gambia, Ivory Coast and Morocco, but others like Algeria are very complicated. It does not make sense, with the DNA test, what else does it give the civil registry if they are married or not to give an identity to the baby? In Andalusia they can have a health card, but then they can have problems with their schooling and take away their rights ".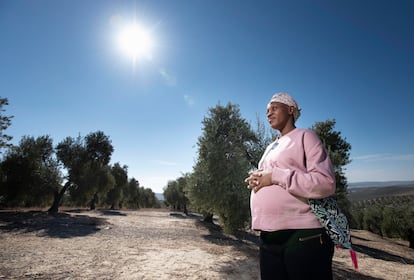 Several NGOs are involved in the Ödos project, which for a year has been partially financed by the Ministry of Inclusion and Social Security, including the Professor Uría Foundation. The lawyer José Alberto Navarro, to which he belongs, praises "the guts" of Judge Ortega: "It is a magnificent car and of great value because it has been brave in its correct and well-founded interpretation of the law. Give answers to those children who cannot be registered and their life will now be much easier. I have seen cases with the mother with the mother and the son not. How is it possible that we protect the mother and not the child? "He asks.
Navarro affirms that this case "has gone well because we have learned a lot in these three years" and is optimistic about the next processes involving the identity of accompanied minors: "I have the intuition that this answer will be based on jurisprudence," he says. . Proyecto Ödos has another similar case open in San Sebastián, which has been brought to justice after the initial refusal of the San Sebastian civil registry.
In his reasoned resolution, Judge Ortega clearly stated why the first right of these foreign children is the possibility of existing for the Spanish State: "If it does not exist, it has no freedom to respect, nor a right to be recognized, that is, It simply does not have a knowable legal personality, it is nothing in the legal reality ".

elpais.com
Eddie is an Australian news reporter with over 9 years in the industry and has published on Forbes and tech crunch.