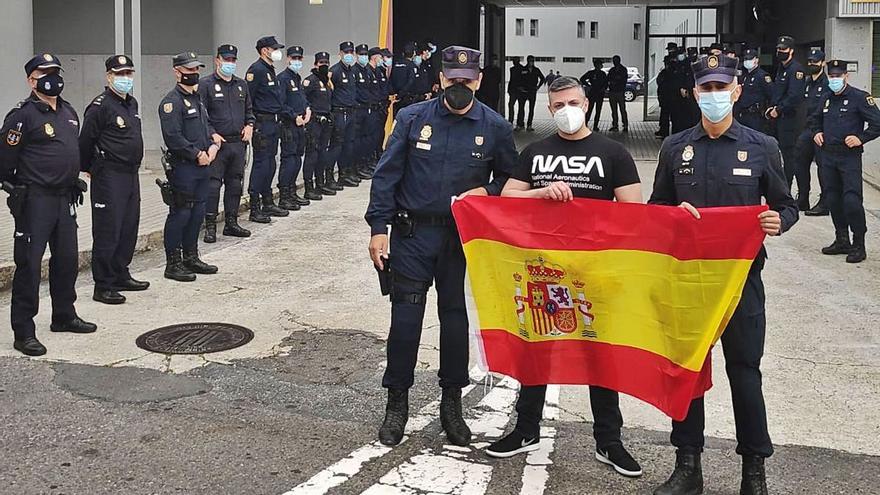 The national police officer Ángel Hernández was honored by his colleagues at the Coruña barracks in Lonzas this Thursday, the day he came to sign his retirement. At just 45 years old, Hernández leaves the body as a result of the injuries suffered during the riots that occurred in Barcelona in 2019, when the conviction of the Procés leaders was made public.
-Your colleagues paid you a small tribute this Thursday. He was very excited. Did you expect it?
-Yes, my teammates and the Lonzas Citizen Security staff. I was very surprised. I had only spoken with a colleague to tell him that if he worked, we had coffee, that he had to go and sign the retirement papers. When I realized it, they had that emotional tribute mounted on me. I was very excited.
-He retires with 45 years. Did you ever imagine your last day in the National Police like this?
-No, I was going to join the Viveiro police station in July. I thought that I would retire at the age that it was my turn, and no. That fateful night, my police career was over.
– He had, he says, an assigned destination. Were you waiting for the notice that you should retire? What happened?
-After the first operation in Barcelona, ​​the bone did not heal. In addition, they had inserted a plate and six screws and a pseudo osteoarthritis occurred. In November of last year they had to operate again, they changed the plate, they put eight screws and a mesh. From the first moment, the nerves of the radius were affected, in the forearm and in part of the hand I have the sensation that they are asleep. Then, the problems that come with having all that material stuffed into the forearm: little wrist mobility, reduced forearm mobility, I can't do the prone supination, pain, discomfort … In the end you realize that things are not evolving After 40 sessions of physiotherapy, it affects you psychologically and when you want to realize it, you begin to assume that you will not be able to exercise 100% as a police officer.
-How have these two years been on a psychological level?
-They have been an ordeal. At first you don't care about it, you have nightmares, you have anxiety, you think it is something normal and you eat it by yourself. When they told me that I had to have surgery again, the nightmares, the anxiety returned, and, in the end, you decided to put yourself in the hands of an expert. It is a slow process, you improve, but there are things that make you go backwards. This doesn't help either, because it makes you relive those moments you spent.
-You have been granted leave for common sickness, but you want to be recognized that you are on sick leave due to a problem while on duty.
-It is complicated to explain, nobody is clear about it. When I came from Barcelona, ​​an investigation was opened to clarify the causes of my injuries. Those injuries were determined to be the result of an act of service. In December, I had to go to medical court. A case had been started for a transfer to a second activity, but the medical court ruled that this possibility did not exist and that a file for retirement due to permanent incapacity to perform police functions due to a decrease in psychophysical capacities had to be initiated. When I went to sign off the body, I find that it is as if what happened to me had been a disease. Based on the years of seniority in the police force, there are some tables. If you do not reach 15, they take part of your pension. I had four months to go before I was 15, with which I find myself with a considerable detriment to the pension. Now I have to ask the CEO to recognize that disability as an act of service. If they do not recognize me, I will have to go to the administrative litigation, and that can take years.
-Have you felt little supported by the Police and the Ministry of the Interior?
-Since they gave us the medals in January, no one called me again. When it was news and it was on all television, they would call you and take pictures with you. Those who called me every day were my fellow van, my deputy inspector, my group leader.
-And on the part of public opinion? The image of the riot police is one of the most questioned.
-Yes, the truth is that unpleasant work is up to the intervention units. There are other services we do that are more rewarding. The Angrois accident happened to me, it was a very tough service, but you have the gratification of knowing that you have been able to save lives. You get other services that are not pleasant: evictions, riots …
-Those days there was talk of cases of police brutality in Barcelona.
– I do not know, I had an open fracture in an arm, and I have another colleague who had to retire due to the injuries. I don't know the injuries that the CDR people had, but 280 wounded in one night in the Police, I think it is not precisely because we were brutes. Where is brutality, on a rubber ball, or on a 20-kilo paving stone?
-What moments will you remember from your career, besides that and Angrois?
-I also got on October 1. Then there are services such as football matches or the Champions League finals, which are experiences that you do not live in other specialties of the police with that intensity.
-What is taken from the body?
-Many friends and memories. I have had very good moments, but also very bad ones. I prefer to stay with the good ones and the experiences with my colleagues, with the feeling of unity and familiarity. In the end, you spend more days with your van mates than with your family. They end up being your other family, I have spent New Years Eve and Christmas Eve with them, everything unites.

www.informacion.es
Eddie is an Australian news reporter with over 9 years in the industry and has published on Forbes and tech crunch.