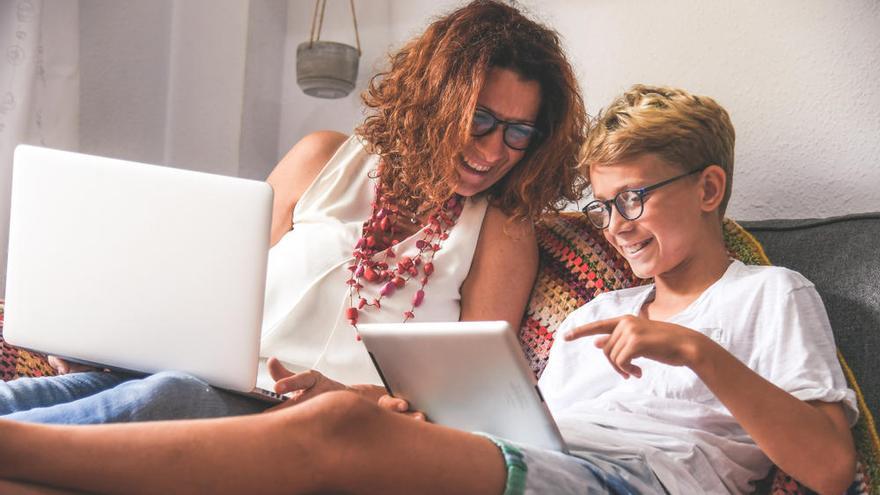 We must not demonize screens. In this pandemic they have saved us from more than one and that is that we have increased the time spent in front of them during confinement, but also with teleworking and our children's 'online' classes. However, can become a double edged sword and a source of problems if we do not teach our children to manage them and self-control in the use of them.
In the specific case of adolescents, the psychologist Alice Banderas He underlines during an interview with Infosalus that social networks are a very valuable weapon when it comes to combating loneliness, since it allows them to contact their friends, satisfy that belonging to the group and feel accepted. In turn, he says that through them they can express themselves, but also can acquire knowledge, or become passionate about topics.
"Yes, the screens and social networks too they have risks that we don't see, because a screen is an open window to the world where many content and people can be sneaked in ", warns Banderas on the occasion of the publication of his latest book 'Talk to them about screens and social networks' (Lunwerg).
For this reason, this psychologist and psychotherapist advocates digital education, for providing our children with good tools to face them. "Just as we do not let them cook alone, first we teach them and they do it with us, we should do the same with the use of social networks and screens. In their first sexual relationship you will not be there, but you will. you have previously transmitted a series of values ​​or guidelines that will apply when faced with that situation. Here it is the same, and most of the time they will spend it alone, "he emphasizes.
Thus, Alicia Banderas explains that adolescents today maintain such a close relationship with screens because it is the habitat where they can talk about what they want, of their own interests, with immediacy, carry out any activity, combat loneliness and boredom.
In addition, in it they can acquire multiple identities, as if it were a masked ball under the anonymity that they favor, and says that for young people it is very easy to tell someone they like through the networks or on the contrary to criticize them. Of course, it warns that this entails risks because, among other points, adolescents do not unify their identity in this way, and there may come a time where everything depends on the approval of others, on the 'likes' they add, arriving to undermine your self-esteem.
"They have that narcissism and the popularity they crave directly. One of the risks of expressing oneself on the Internet is fierce criticism that harms the person, as can happen with cyberbullying, with a photomontage or meme, or when a false profile of someone is created, rumors spread with humiliating or humiliating comments . That is why we must train our children to educate them in empathy, in how they want to express themselves, and that is why we have to accompany them in that process, what things can be valid, what can harm, "he adds.
On the other hand, it warns of the growth of challenges on the Internet, given that a 10-year-old girl in Italy recently died with the belt of a bathrobe when she wanted to fulfill a challenge. "There are dangerous challenges because there are people who behave very badly and there are challenges that kids sometimes normalize. We must insist on what the limit of self-care is so that they do not harm themselves," insists Banderas.
It also speaks of 'sharenting' or share photos of our children, something that many times we do since we had your first ultrasound. "We adults are the mirror and we must set an example. The same for us to show a photo of our children with a funny attitude is worth us, but you do not look for your child's digital reputation, or if that photo could embarrass him. We tell them to control themselves but sometimes we don't. That is why I invite parents to do a check on their social networks and with the child review what is published. What is published always remains ", he adds.
Also, always alert teens that the best sexting with your partners is not to (share images with sexual content). "A spiteful boyfriend can share it on a social network of friends and make it viral, although it is a crime, and sometimes it can even be published as pornographic material, with your son as the main character. If they want to take an erotic photo or selfie, do it but where they are never recognized. That they keep it private so that they cannot be identified. Accompany in this process, "reiterates Banderas.
The psychologist also warns of 'grooming', those situations in which an adult has first posed as a minor, generating trust, and then asks for sexual photos and threatens the minor with telling their parents if they do not agree to the physical encounter. "That is why it is vital to accompany and speak clearly about the risks. If a child has crossed a line, a parent should never tell him I warned you, but I will help you solve it because there are many ways to do it," adds the expert.
When they usually start
Alicia Banderas warns in this sense that already from Primary there are many minors who want to start in social networks, when this should not be until the age of 13, putting pressure on their parents that all their classmates belong to a certain social network. Here he advises that, as much as children insist that everyone is part of that social network, be strong because that is not the case and surely not all have it.
Here he warns of the eroticization of childhood to which some applications invite like Tik tok, and for this reason he recommends teaching children to use them, for example recording artistic things, issuing messages of solidarity, for example, and not only sticking to the reproduction of their image, but also to use it to show something they do, such as a video cooking or designing a project.
He also sees it important to teach our children that, despite the fact that social networks often show life as beautiful or easy, this is not true, and in reality we are all sad sometimes or not always, we all do well.
With this, Alicia Banderas states that the starting age on a mobile it will depend more on the degree of maturity of our children, although fixed in 12 the 'ideal' age. For social networks, the 13. "I would never give my mobile as a gift. Your mobile, as you are a minor, I am responsible for what happens, and you have to train it and you have to give it your old one, which has no data or can connect to make a first chat with your family, a whatsapp with their relatives, to know how to connect and teach them that they do not have to answer at the moment, train patience, they are taught to say things with respect, "he emphasizes.
Before you have it, it suggests the establishment of a pact to know what you can visit and what not. "If you are very young, establish parental control on your mobile and on the tablet, although it is not the panacea because they learn to skip it, but that is why it is best for parents to help in self-control," he insists.
At the same time, advises children under 3 not to be in contact with screens, and if they do it always accompanied by parents. "They cannot have the screen and give it the finger themselves," he says. Between 3-6 maximum one hour a day, or wait 15-minute intervals, which is what usually lasts an episode of drawings; while between 6-12 years one hour a day supervised; and between 12-18 no more than two hours a day.
Alicia Banderas ultimately warns of gender violence in the networks and on the mobile, since it is increasingly common to mistake that control of the couple for signs of love. "With the mobile you always know when the person is connected, if he has written to others before you. It is very important to recognize them because especially in girls that your boyfriend has your password is not the correct thing, that he controls your mobile either, Nor does he demand that you show him messages, that he asks you who you are talking to, that he prohibits you from speaking on WhatsApp or blocking people, who wants to know your location. These are forms of non-normal violence, because this is being normalized as if they were samples of love, but behind jealousy, dominance and control, "he adds.

www.informacion.es
Eddie is an Australian news reporter with over 9 years in the industry and has published on Forbes and tech crunch.