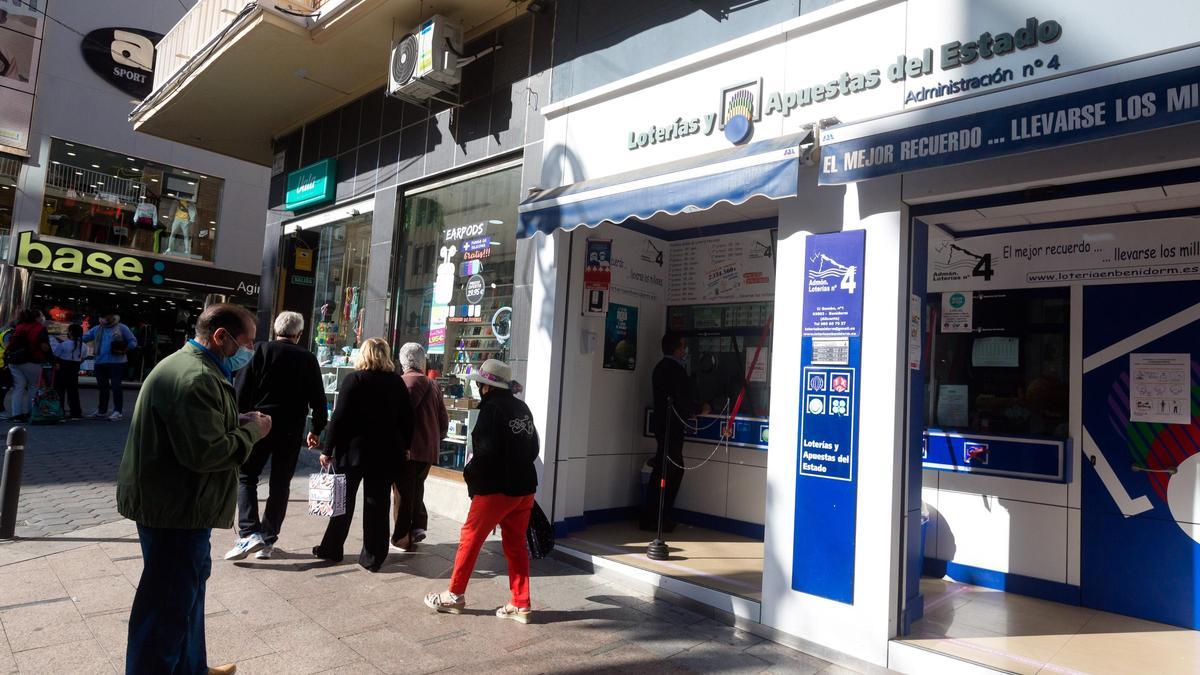 Buying a Christmas lottery ticket in the place where you spend the holidays is a very widespread custom. The Lottery administrations of the most touristy areas of the province reserved and sold thousands of tickets every year to visitors from all over Spain who had chosen Benidorm or Torrevieja to spend the summer or a long weekend, but also those who arrived with the Imserso. But the pandemic has left mobility restrictions and, in recent months, users have not been able to buy their lucky numbers "in situ". A circumstance that has doubled the orders to buy tickets online and by phone.
This is corroborated by the administrations that sell the most in these two tourist cities and that they have dozens of prizes sold on their backs. These businesses affirm that sales in general "have fallen" but they have increased requests to send tickets to all of Spain. «This year both by web and by phone has increased a lot; more than double that of another year », explained Mar Álvarez, owner of Administration 4 of Benidorm located on Gambo Street. In it, every year you could see long queues of tourists to take their numbers that are now gone due to the situation of the pandemic. «We have people who are very loyal to the purchase and from all over Spain. They call us saying that they cannot come and that they want his number, "he said. And there are "people who always buy the same" and even subscribers whose reservation is already fixed from one year to another. "There are very loyal people who have been buying the same one for 30 years. They know you and have even given them a prize and they call for you to send them the tenths," he added.
So she, as happens to other administrations, has had to expand the material means and put more hands to pick up the phone and attend the web. "We have had to reinvent ourselves like all of Spain; Before, the strongest was the window but this year it is a non-stop phone ». In this situation is David Zapata, one of those responsible for Administration 5 of Torrevieja: "The phone does not stop ringing" and ensures that sales in this way are "being very high."
And where do tenths travel? Well, most do it to Madrid and the Basque Country, from where the tourist capital receives most of its visitors throughout the year. This was indicated to this newspaper by the two previous sellers and Severiano Balaguer, in charge of the administration 1 of Benidorm, in that Santo Domingo street. "We have a lot of strong customers who for obvious reasons could not come" and "we have a very large demand" from all over Spain. Because although the tenths especially travel to Madrid or the Basque Country, they also travel to Extremadura or Asturias. The reason: those who traveled with the Imserso to Benidorm and who this year will not be able to do so either.
However, the provincial delegate of SELAE in Alicante, José Miguel Romero, explained that "last year 91% of the total consigned of 134 million euros was sold." But this year, with the pandemic, the figures today are "a little below" although "the window is not working badly." He indicated that "we are a very lucky province" and that, for example, Benidorm is a city that "exports lottery to all of Spain."

www.informacion.es
Digsmak is a news publisher with over 12 years of reporting experiance; and have published in many industry leading publications and news sites.