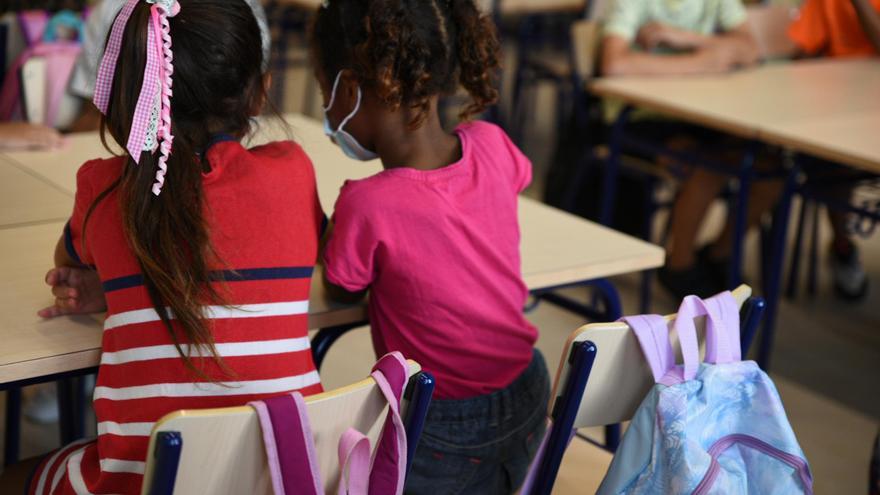 The card bought, the clean baby, the tutoring, the snack for recess, the note in the agenda notifying that the child has been pachucho, the help with the homework, the authorization for the excursion, … family involvement in school and educational care is, still in 2021, maternal territory.
"I have been teaching for thirty years and we have gone from 0 to 0.5 in the involvement of parentsWe have made very, very little progress: education is still a matter for mothers ", sums up Rosa, a teacher and head of studies at a public school in Madrid.
"I think we can speak of 90% or 95% mothers, a very high percentage. I've been teaching for 25 years and has not evolved, I have taught in different populations and that percentage is maintained. When parents come they usually come accompanying their partner, it is very rare that the father comes alone ", agrees Aurora, a professor of Philosophy at a public center in the capital.
The moms are present, the moms are available, the moms solve vicissitudes and unforeseen events in their children's school day: "It's a bit strong, but that's the way it is. Boys and girls perfectly perceive that there is a part of the family that is not involved in their process. (…) In the end the school thing is mom"The doctor is a mother, the mother takes care of the care and her well-being," says Celia, a primary school teacher at a public school in the south of Madrid.
The distribution of time in parenting is still very unbalanced and they are the ones who juggle to be absent from work in an emergency, to help with homework, to accompany learning. Their time is still worth less than theirs, mothers continue to appear always available for care.
And the inequity in the distribution of care is the substratum that pays the fierce employment discrimination of women: the female unemployment in Spain it is four points higher than that of men, the activity rate is ten points lower in women and three out of four jobs part time They are for them, who continue to earn 19.5% less than their colleagues for the same work. Many are forced to leave the job market to care.
Public presence does not equal involvement
The teachers interviewed by EL PERIÓDICO DE ESPAÑA, the newspaper that belongs to this group, Prensa Ibérica, detect a timid increase in the participation of parents in the school meetings, favored in recent pandemic times by the possibility of telematic care, without the need to travel to the center. But they clarify that it is a "Public presence" and they clarify that it does not correspond to a greater involvement in the children's day-to-day life: "There is greater contact, but that involvement is very shallow," criticizes Ana, a kindergarten teacher at another public school in Madrid.
"School life involves much more than attending a meeting or a tutoring. It is true that men are beginning to occupy these public spaces, to take children to and from school, but it is mothers who continue to take care of them: buying books, communicating with teachers when children are absent from school. school, to report that they cannot eat something because they have had a bad night … In childhood, care stage, that lack"Says Ana.
For example, one morning a father took his daughter to school and, since his partner had to leave before home, the girl was not combing her hair and the man gave the teacher a scrunchy and a comb to make her a ponytail because he didn't know. "I was very angry that day," recalls Ana. Also when she learned that a mother prepared every night the clothes that her son had to wear the next day, despite the fact that it was the father who brought him to school.
The least involvement translates into a less knowledge of the children, in the opinion of Ana, who believes that "something very profound" needs to be changed, the interest in knowing children less and knowing what they need: "When in tutoring we talk about deeper things, like who is in charge at home are the mothers, the knowledge is not the same. If you don't take care of homework, have him bring lunch to school, if you don't know how their emotional reactions are to certain situations … I'm not saying they don't care, I'm not talking about love, but involvement and knowledge are not the same".
They are the ones who head the contact list Those who need to be notified when something happens at school: "In the student contact list, the first phone number is always the mother's", highlights Aurora.
In this sense, Rosa, head of studies, underlines the differences in the response of parents when there is any unforeseen event in the school: "The phrase I hear most when I call a father because a child is ill or because of something else is 'I'll tell mom' or 'call mom'".
It is also the case, as Celia points out, that the mother directly requests to be the interlocutor: "You all to me ".
And Ana recognizes that teachers must also do self-criticism because it takes for granted that the mother is the interlocutor: "I am concerned that we are ourselves, on many occasions, who inadvertently make use of mothers as responsible for the children without taking into account or even underestimating the presence of fathers ".
Parties and wake-up calls
Despite the fact that a very high percentage of day-to-day and school care depend on mothers, there are two scenarios in which parents usually go to school: celebrations and the management calls to give a touch of attention to the behavior of minors.
"I didn't meet some parents until graduation party," confirms Rosa.
Aurora explains that it is in the "important" matters where authority is exercised and in playful moments where the father makes an appearance.
"What are you doing going when things have already gotten out of hand? (…) Normal that it ceases to be a reference figure in studies: if you don't know when I have an exam, you don't know what my teacher's name is, you never pick me up if I get sick, what good is it for you to come when they give me a wake-up call? ", reflects Celia.
"You can't cheat to boys and girls, you cannot have that authority and that respect when they perfectly perceive that you are not being involved in their educational process. What I perceive in the classroom is that they, although they complain that their mothers are insistent or boring, interpret care for what it is: concern and love, "he says.
With this reality, the teachers grant, it is very difficult for the little ones to internalize egalitarian roles, because "it cannot be forgotten that his learning pillar and his fundamental reference is the family". "If they see it at home, they will reproduce it, How are we going to change it?Ana wonders.

www.informacion.es
Eddie is an Australian news reporter with over 9 years in the industry and has published on Forbes and tech crunch.