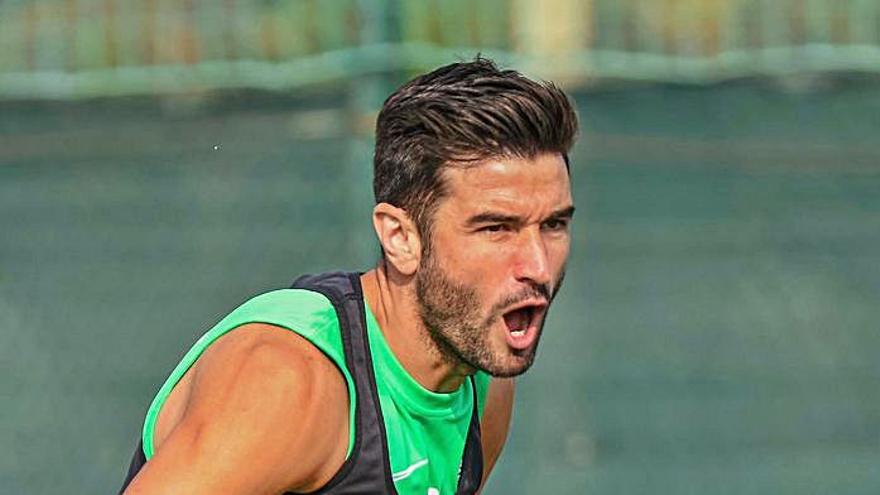 After eight league days, the 22 outfield players on the team have had minutes. The only ones who have yet to make their debut have been goalkeepers Edgar Badia and Axel Warner.
Fran Escribá is shaping, little by little, a starting eleven that varies depending on the casualties, the rival or the tactical system to be used. There are footballers like Kiko Casilla, Enzo Roco, Mojica, Omar Mascarell, Raúl Guti, Fidel or forwards Lucas Pérez or Benedetto, in the absence of Lucas Boyé, who have been fixed for the Valencian coach. Then there have been others like Helibelton Palacios or Gonzalo Verdú who have also been playing regularly with rare exceptions.
However, in recent matches, players from the so-called second unit have appeared, who have had the opportunity to enjoy minutes and have shown that they are ready to start when Escribá deems it appropriate.
Pablo Piatti was injured during the preseason. That delayed his set-up and his entry into the team. The Argentine has only played the last two games and is showing his best level since he has been at Elche. Against Real Sociedad it was the surprise of the starting eleven and completed a good match. He played on the right wing and had two good shots from afar, something the Elche team lacked. Last Sunday against Celta he came out in the second half and brought speed and overflow from the right-hand flank. You can tell that he has recovered his form and that he can be useful at any time.
For his part, Josan is the typical footballer that all coaches wish they had. The crevillentino always strives to the maximum, does not make problems and excuses when playing right lane or extreme and when he does he always complies. In the two seasons of Elche in the First Division, by necessity or characteristics, he has had to act more as a lane, which forces him to sacrifice more in defense. Last Sunday against Celta he returned to his natural position of winger and showed, once again, his overflow and speed on the wing. Escribá knows that he has a wild card for any position in the right lane.
Barragán has been one of the last to debut this course. He returned with the preseason started and after the covid had passed. That delayed his physical form. But the Galician is a player of the confidence of Escribá, a good person, one of those who make costumes – proof of this that he has been chosen as one of the team captains – and that he can adapt to the positions of central or lateral . In Villarreal he played on the right side of the defense of three and against Celta as a winger. On both occasions he has shown his experience and has shown a good level.
One of the players in the Elche squad who has played the least this season has been Josema. The Murcian just accumulates 59 minutes. Mojica blocks him on the left side and in the left-handed central position, for the moment, he has Pedro Bigas, Diego González, even Enzo Roco, who was the one who played last Sunday. Josema had to go out against Celta due to the double injury of Gonzalo Verdú and Diego González and, despite his inactivity, he was very safe and even joined the attack in an action in which he left with the ball controlled from the defense and arrived to the opposite area, leaving the ball to Pere Milla to mark, but the Catalan did not hit. The Murcian has always fulfilled since he arrived at Elche and he also deserves a chance.
Carrillo, Marcone and Tete
Unlike Piatti, Josan, Barragán and Josema, there have been another series of footballers such as Guido Carrillo, Iván Marcone, even Tete Morente, who have had the opportunity to start and their performance has been below expectations. That complicates their future in the Ililcitano team and, if they do not improve their level, they will have a few minutes, especially with the enormous competition that exists in the Escribá squad.
Marcone is ahead of Mascarell, who is currently untouchable. Tete has Fidel, Piatti and Josan in the positions in which he can act. And Carrillo has Benedetto, Lucas Pérez and Boyé ahead. All three have a complicated future.
Pedro Bigas, Verdú, Diego and Josan continue with their recovery plan
Despite not having a League this weekend, the Elche squad continues with its work plan and yesterday they did a new training session in Algorfa. There were four footballers: Pedro Bigas, Diego González, Gonzalo Verdú and Josan who exercised on the sidelines. Bigas has already started to run short distances and, although his recovery is on the right track, he still has about a month left to reappear. Verdú, with a bruise on his calf; Diego, with an overload in the adductors; and Josan, who finished the game with swollen ankles, are still on the sidelines with their planned plan and are taking advantage of the league break to avoid forcing. In principle, next week they will join the group and will have no problem being available for the next game against Rayo.

www.informacion.es
Eddie is an Australian news reporter with over 9 years in the industry and has published on Forbes and tech crunch.