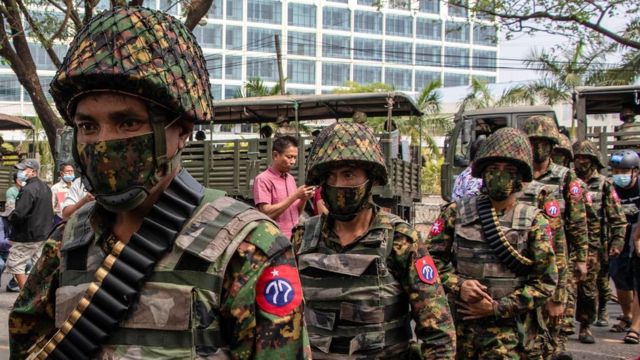 Myanmar's armed forces, the leaders of the recent coup in the country, are funded by much of the national budget.
But they also get a vast and secret income from expanding business interests.
At the popular Rangoon Indoor Skydiving Center, visitors can experience the thrill of jumping out of an airplane from the safety of a vertical wind tunnel.
But few of those who experience this attraction realize that it is part of a huge business empire run by the military and part of the social fabric of the country.
Critics argue that this lucrative network made the Myanmar coup possible and it has exposed the responsibility of the military.
Civilian businessmen compare it to the mafia businesses in Sicily, southern Italy, while activists denounce that democratic reforms will only be possible when "the military returns to the barracks."
Myanmar's army, the Tatmadaw, began to get involved in business after the Ne Win coup in 1962, which ushered in the country's socialist period.
For years, it was a requirement that military battalions be self-sufficient and they were encouraged to develop holdings in local businesses to finance their operations.
Although this practice was gradually phased out, in the 1990s, when the government began privatizing state industries, two military-led conglomerates were established.
Both organizations, the Myanmar Economic Corporation (CEM) and the Myanmar Economic Conglomerate Ltd. (CEML), have since become a key source of wealth for the Tatmadaw, with interests ranging from banking and mining to tobacco and tourism.
CEML also operates the military pension fund.
Several military leaders and their families also have broad business interests and have been subject to sanctions in the past.
Aung Pyae Sone, son of the general and coup leader Min Aung Hliang, owns several companies, including a spa, and has a majority stake in the national telecommunications operator Mytel.
It is difficult to quantify the full scope of these business interests.
But experts say the military's commercial influence remains significant, despite recent democratic reforms, and the coup could be in part an attempt to protect these financial interests, experts say.
"Isolated from responsibility"
What little we know about the financial reach of the military has only come to light in recent years.
A 2019 UN report, prompted by Myanmar's crackdown on Rohingya communities, found that commercial revenues boosted the army's ability to carry out human rights abuses with impunity.
Through a conglomerate of companies and affiliates, the UN said the Tatmadaw had been able to "insulate itself from accountability and oversight."
Details about CEML's structure and finances were also revealed in two internal reports: one presented by the conglomerate in January 2020 and the other leaked by activist groups Justice for Burma and Amnesty International.
Reports showed that the conglomerate is run by senior army commanders, including several leaders of the current coup.
About a third of all shareholders are military units, while the rest belong to former and current members of the Tatmadaw.
The leaked report said that between 1990 and 2011, CEML paid its shareholders 108 billion kyats in dividends, US $ 16.6 billion, according to official exchange rates at the time.
He also suggested that the military uses CEML actions to reward loyalty and punish bad behavior.
A table lists 35 people who were stripped of their dividends for reasons such as desertion and incarceration.
CEML has not publicly commented on the leaked report.
Renewed calls for penalties
Following the coup, advocacy groups have made further calls for targeted sanctions against the military and its access to the global financial system.
Many activists also want to see the conglomerates dismantled.
In a statement to the BBC, Justice for Myanmar accused the army of being in "an illegal conflict of interest".
"The wealth stolen by the military and their businesses belongs to the people of Myanmar and must be returned," they added.
The United States added both conglomerates to a commercial blacklist and imposed new sanctions against military and government figures, along with three mining companies.
Canada, New Zealand and the United Kingdom have also pushed through their own specific measures, although none of them have directly targeted conglomerates.
Activists argue that historically weak sanctions have incentivized the Tatmadaw to carry out the coup and continue alleged abuses against human rights.
Experts told the BBC that increased penalties are being considered, but at the right time.
"The world is still waiting to see how this plays out," says George McLeod, managing director of Access Asia, a risk management firm specializing in the region.
"From what I've heard from insiders, Norway is trying to set up some kind of groundwork to achieve a negotiated solution."
Meanwhile, there is growing resentment among some local business figures about the power of conglomerates.
"They describe it in almost the same way that a Sicilian businessman would talk about the mafia," McLeod told the BBC.
"You have to deal with them if you are on their radar, even if you don't want to."
"They want to be an actor on the international stage"
The Tatmadaw is already beginning to feel pressure from foreign investors.
Japanese beverage company Kirin canceled two lucrative deals with CEML that would have helped it dominate the Myanmar beer market.
Singaporean businessman Lim Kaling also reduced his investment in a tobacco firm linked to the conglomerate.
Meanwhile, local protesters they have been boycotting companies linked to the new government, including jewelry and cigarette brands.
However, calls for international sanctions are not universal. China and Russia have rejected efforts by other members of the UN Security Council to condemn the Tatmadaw.
Experts agree that while sanctions are an important piece of the puzzle, they must be applied in conjunction with legal and diplomatic pressure and the arms embargo.
Tatmadaw deputy chief Soe Win told the UN that they are prepared to face international pressure if necessary.
Without multilateral action, Myanmar could once again become a pariah state, says Peter Kucik, a former sanctions adviser at the US Treasury Department.
"This group of generals in power at the moment is more or less the same as those who were in power under the SPDC (a military junta that ruled Myanmar from 1997 to 2011), and they have shown that they are perfectly comfortable living in an isolated country, "he told the BBC.
And while the country could rely on trade with partners like China, local business figures don't believe in this possibility, Kucik adds.
"They want to deal with top-tier Japanese companies, they want to deal with Western companies, and they want to be an actor on the international stage in the same way as Thailand," says Kucik.
Whatever happens now, activist groups say putting pressure on the military's pockets and reforming its conglomerates will be essential for democratic reform.
"That is what the people of Myanmar want," says Anna Roberts, director of the Burma Campaign UK.
"They want the military to return to the barracks, and they want a civilian economy and a civilian federal government that respects their wishes."
Now you can receive notifications from BBC News Mundo. Download the new version of our app and activate them so you don't miss out on our best content.

www.bbc.com
Eddie is an Australian news reporter with over 9 years in the industry and has published on Forbes and tech crunch.