Updated:
save

Half Spain will be under a blanket of snow for the weekend, and it will not be negligible. Weather forecasts suggest that, after several days of snowing, on Friday and Saturday they could accumulate more than 20 centimeters in many areas of the interior of the peninsula. The culprit will be the storm Filomena, which already on Three Kings Day will leave snow in eastern Andalusia and southeast of Castilla-La Mancha from 500 or 700 meters; but it will be the Thursday 7th when the rainfall extend towards the interior of the peninsula and snowfall begins to be copious.
Well, it already seems highly probable that we see #snow in many areas of the center and east of the Peninsula, including #Madrid. This map shows the probability that we will see at least a few flakes fall on day 7. The redder shades, the greater the probability. pic.twitter.com/IMPELeBpER

– Rubén del Campo (@Rub_dc) January 5, 2021
Spain may be at the gates of one of the longest episodes snowfall in recent years, as explained on Tuesday by the spokesman for the State Meteorological Agency (Aemet), Rubén del Campo. On Thursday, more than 10 centimeters could be accumulated in the east of Castilla-La Mancha, 5 centimeters in the interior of the Valencian Community, and between 3 and 5 centimeters in the rest of Castilla-La Mancha, Region of Murcia, Community of Madrid (including the capital) and southern Aragon. And, although with greater uncertainty in the forecast, he Friday and Saturday rainfall is expected to continue.
«On Thursday it may start to snow in Madrid and the rains will affect almost the entire Peninsula, with a descent from the snow level to 200 or 300 meters. It will be able to snow in places where it had not snowed for years, "said José Antonio Maldonado, Meteored's Director of Meteorology.
On Friday it would continue to snow "copiously" in the Community of Madrid, including the capital, where it would "very likely" accumulate more than 5 centimeters again, as well as in eastern Castilla-La Mancha, inland of the Valencian Community and southern Aragon. «It is not inconsiderable that more than 10 centimeters of snow can accumulate in the capital"On Friday, Del Campo said. The probability is 60-70%. This possibility is even higher in Teruel, Cuenca, Guadalajara, interior of Valencia and Castellón.
On Saturday, the odds of snowfall move north, although it would still snow in the downtown area: there is a 50% probability that in the Madrid capital another 5 centimeters can accumulate. In the case of Guadalajara, eastern Castilla y León, Aragon, Navarra, La Rioja and southern Basque Country, the probability rises to 60-80%.
According to the map of the European Center for Medium-Range Prediction on the thickness of the snow cover scheduled for Saturday at noon, in many areas of the interior and this peninsula accumulations could exceed 20 centimeters.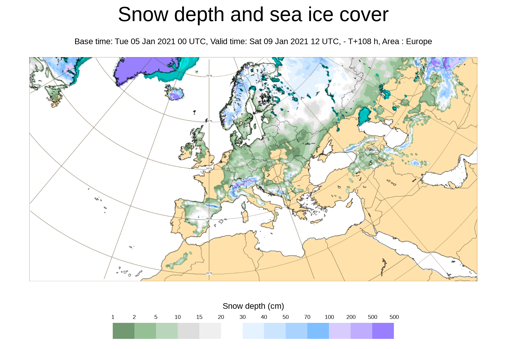 See them
comments



www.abc.es
George is Digismak's reported cum editor with 13 years of experience in Journalism