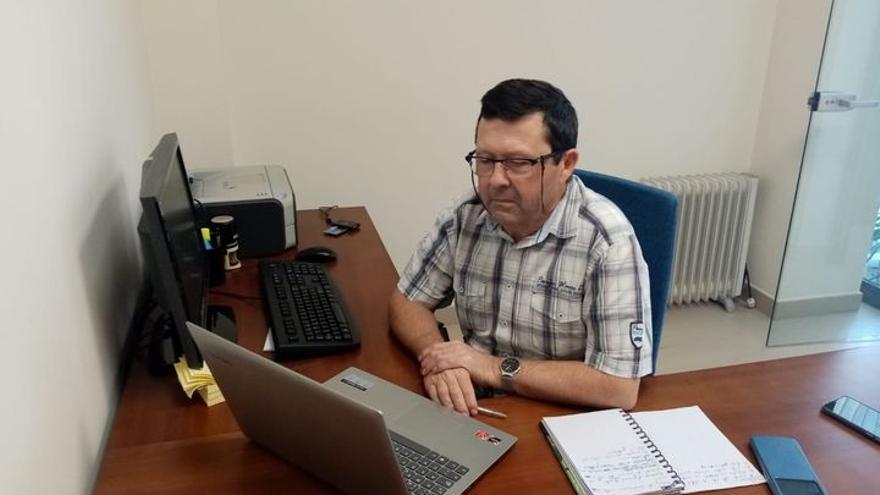 Juan de Dios Fresneda, socialist mayor of San Miguel de Salinas He prevented the access to the plenary session to the only two residents who had been interested in attending the ordinary session of November this Thursday. It was the first in-person plenary session convened after the covid-19 pandemic. In this debate, among other issues, the final approval of the modification of the tax ordinance of the IBI was elucidated, which set the tax to apply for 2022. The San Miguel Arcángel neighborhood association had presented allegations that were going to be addressed in plenary session. Three days before its celebration, The association requested, by municipal registry, the intervention in the debate, in the terms collected in article 228.1 of Royal Decree 2568/1986 of the Regulations for the Organization of Local Entities, which stipulates that "associations that consider it, upon request, may intervene, in those files, in whose processing they have intervened, prior to the reading, debate and voting of the proposal included in the agenda."
On the day of the plenary session, two directors of the association, who were also the only people attending the plenary session, appeared at the town hall to attend the session and the mayor, "without prior notice, informed them that they could not access the plenary hall and blocked access to it with a local policeman in custody of the hall's entrance door during the celebration of the event. However, it did allow access to a private television camera to record the event. "
For the association it causes "embarrassment and embarrassment to others that, in such a crude and crude way, a municipal government, at this stage of the democratic journey, blocks and prevents the exercise of basic citizen rights such as attendance at plenary sessions"
In the municipality there is no restriction whatsoever for holding meetings and events in municipal offices. On the same day as the plenary session, for example, music classes for boys and girls have been given at the municipal headquarters, an act for the International Day against Violence against Women and a meeting to organize a Christmas market.
For the cause association "blush and shame of others that, in such a crude and crude way, a municipal government, at this stage of the democratic journey, questions, blocks and prevents the exercise of basic citizen rights such as the right to the attendance of any citizen to the municipal plenary sessions as well as to be denied the use of the floor. The exercise of basic democratic rights should not be subject to the whim of the current ruler ". In the opinion of the neighborhood community" this situation is more serious when these behaviors are carried out by a socialist mayor, who heads a government, supposedly, progressive of PSOE, LEFT UNITED and Adelante San Miguel. Behaviors like these cause disaffection and disinterest in public affairs and nurture the dangerous seed of democratic involution. "

www.informacion.es
Eddie is an Australian news reporter with over 9 years in the industry and has published on Forbes and tech crunch.