The history of humanity is a tapestry of infinite threads. From the textile patterns of ancient civilizations or the spinning wheels of stories to today's digital space, everything human has been woven and fixed in time. We are connected strands, tangled in … the great loom of the universe. This image springs up instantly before the title of the show by designer Hella Jongerius, Cosmos weben (weaving the cosmos), written on a panel before the Martin Gropius Bau Museum in Berlin. One that she doesn't like. "It has a nondescript photo," he says. What vulgar comes to mean in the language of contemporary design, the sector from which it comes and where it has occupied the stage for years: for its innovative approach to the relationship between materials, objects and consumers; for his way of combining the industrial and the artisanal; technology and tradition, and for giving prominence to colors.
All this through various works in ceramics, textiles, glass … From vases or sofas (the Polder, among others) to Vitra's collection of colors (as art director); from clients like Ikea or KLM to the very United Nations. Expensive or cheap works, it doesn't matter; many are already part of international collections, MoMA or the Center Pompidou.
Right next to the foodtruck Installed in the garden of the Gropius Bau, Hella Jongerius (Utrecht, Holland, 1963) appears, very punctual. One day dressed in multicolored long pants, blue shirt and jacket but different pantone, and the next, with another short and pilgrim sandals that will later change for platform clogs for the photographs. He has intense blue eyes and very elaborate hands. Always on his shoulder, a light colored multipurpose bag, from which he extracts a whole paraphernalia of objects: mobile phone, several notebooks, bicycle keys, a bottle of water … look very Berliner, common in this naturalized and artistic city. For this reason, among other things ("he lived in the comfort territory of Holland"), he says that he moved to the German capital in 2008 and installed his studio here, the Jongeriuslab, founded in Rotterdam in 1993.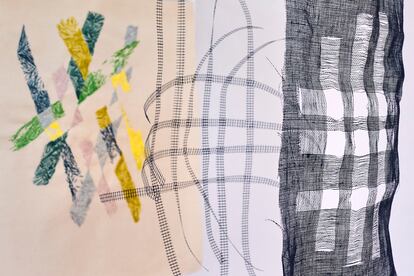 Which, coupled with her weaving passion, brings out, once again, another classic image of a time: that of those parliamentarians of the German Green Party who knitted while continuing the political sessions. She is like this from the beginning: feminist, politician, ecologist, researcher, artisan, multidisciplinary. "In my time we were all creative, there was neither television nor social networks; the fun was inventing ", he says.
Jongerius gets to the point all the time, he gets tired of common places. He has two teenage children, yes. And point about his private life. What is your favorite color? (required question in reference to his book, a classic, I don't have a favorite color). "Ugh," he snorts. And period. Suffer when posing before the photographer, cut the times. He prefers to talk about materials, to question their function, their meaning or the sustainability of their production; of the future of humanity … "The artist has to stop looking at himself, he must look outside, tell the world we have, denounce it and help regenerate it," he says.
Proud, with a resounding voice that resonates in the rooms, she walks and shows her exhibition (which will be open until August 15), her new creature, curated by Stephanie Rosenthal and Clara Meister. A visitor asks him not to speak so loudly. "It's passion," he apologizes. No one could identify Jongerius with anything other than anonymity. In fact, she is confused by a vigilante who reproaches her for playing the pieces so much. "They are mine," he smiles.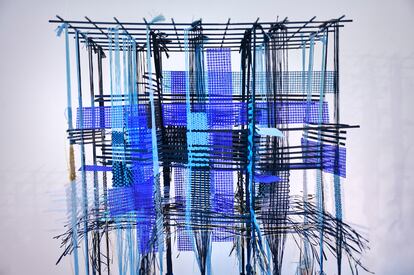 He has developed fifty works for this exhibition, some with a high experimental content, such as the beautiful three-dimensional pieces made on a multiaxial loom (Space Loom #2), which fold into delicate movements thanks to solar cells in a kind of choreography (Pliable Architecture). Or of great evocative and philosophical power, like those in the Cosmic Loom room, where multicolored wool clouds hang from the ceiling. "In many cultures, weaving and spinning symbolize destiny, origin and the end of life," he explains. His enormous desire to express in an artistic way what is latent in his work during three decades in the industrial sector is appreciated: the spiritual value of objects, that these and the raw material are a whole and a continuum with nature, and that this whole it condenses the socio-political context of each era, what we are. "In many cultures, tissues are living documents," he says.
A thread is not a thread. Not for her, not for so many weavers in the world, from the Mayan to the Bantu culture, for whom nothing can exist by itself. Knitting was always a U.S, a social and future tool. The fibers and colors used for Cosmic Loom They were selected together with female shamans of different origins, whose understanding of the astronomical and spiritual cycles was incorporated into the work. From that encounter, the artist conserves a kind of talisman that she wears on her neck along with other gold jewels.
The textile is for her something like the antipodes of the digital world and, at the same time, the thread that has brought us here. "The relationship between crafts and technology, the experimental, the change has always been there," he says. "And it is in the textile where it is best manifested." Not in vain is it one of the oldest techniques or languages ​​of humanity, prior to writing itself and full of functions and numerical patterns. And of interactions. "Before industrialization, weaving involved long processing times, many hands worked for a single product, and social relationships were intense. Artisan work is often credited with a healing power ". Hence its pieces of crystal like seeds that come "to heal" the damage inflicted on nature (Space Amulets, space amulets), his ceramic animals so angry (Angry Animals) with the natural disaster or the pictures of the series Woven Windows (woven windows), where Jongerius manages to paint with threads the feelings during the confinement by covid-19, when looking outside through the windows was the only gesture of hope possible.
Jongerius has exhibited his works since 2003 in design museums (such as the one in London in 2017, with whom he produced the wonderful exhibition Breathing Colors, colors that breathe), but, little by little, these began to be protagonists also in modern art, as evidenced by their participation in Lafayette Anticipations, in Paris, in 2019. Now he exhibits with long breath and with a vocation for touring ("I hope that this could go to the Reina Sofía, in Madrid ", he will comment later) in the Gropius Bau, a contemporary art center that was born in the German capital in the 19th century, in the middle of the industrial revolution, as a museum of decorative arts with its own school of trades and design. A past that the creator and her team have revisited, since they have turned it into their de facto studio for two years, symbolically abandoning the Jongeriuslab to prepare the project here.
And there is a before and after for Jongerius with this exhibition. "Now I have really felt like an artist. I feel free creating like this ", he confesses. Is it that before it was not? "Yes," he says, "but in another way; I always questioned my job and profession, I always got out of the way, I investigated, I was creative in the industrial sector, but now I have been totally an artist, I have moved towards the cultural. I have found in this sector a way of reporting in our relationship with objects. I already had it, I have been dealing with innovation and responsible production for 30 years, but I feel that there is another sensitivity here ".
What the designer really loves is not what has already been created, but what is yet to come. That is why the multiaxial loom (Space Loom #2) placed in one of the six spaces of the exhibition is a work and a central tool. Around him, wool scattered on the ground, colored balls, cut papers, various metallic gadgets … His day-to-day is now this sample, a work in progress where things always happen: clouds are spun, ropes are braided, ladders are lowered through windows, there is interaction with visitors, served by a mixed team from Jongeriuslab and Gropius Bau.
– Has anything been left pending or out in this sample?
—I am proud of all the works. They are the product of reflection and time.
"Are you planning next jobs yet?"
"I haven't gotten that far yet."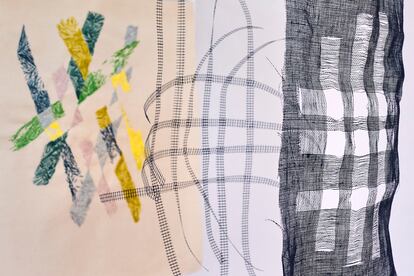 elpais.com
Eddie is an Australian news reporter with over 9 years in the industry and has published on Forbes and tech crunch.