Ana Gabriela Rojas
BBC Mundo special in Mexico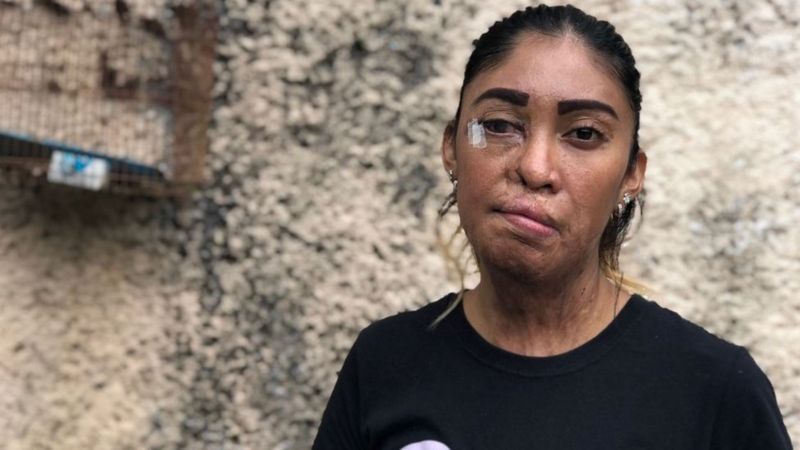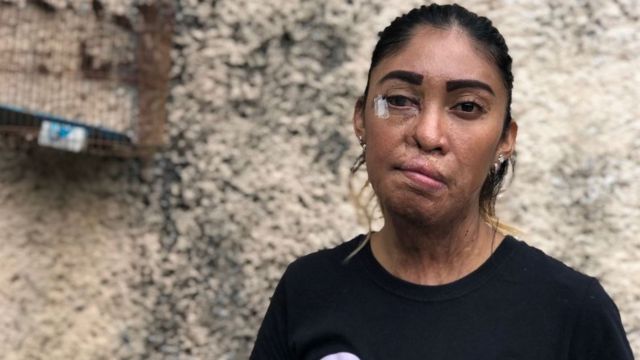 Esmeralda Millán was 23 years old in December 2018 when she was attacked with acid in Puebla, Mexico. Her ex-partner and father of her two children is accused and detained for attempted femicide.
There is no official information on how many women have suffered this type of violence in Mexico. But the groups that support the victims are aware of 26 attacks, of which six have occurred so far this year.
"Like all violence against women, these attacks increased with confinement," says Norma Celia Bautista Romero, director of Humanismo y Legidad, an NGO in favor of gender equality.
"This type of aggression has a very symbolic charge. It wants to harm the woman and everything she represents. It is wanted to be rejected, marked for life. Generate permanent physical and psychological suffering, "he explains.
In 90% of the cases the aggressors are men and they usually have some relationship with the women who are attacked. In many cases they are ex-partners. On some occasions, someone else was sent to carry out the attack.
Esmeralda Millán, almost three years after the attack, awaits the sentence of her ex-partner.
"Although the scars on my face have improved, the wounds of the soul will never heal", dice.
This is his story told in the first person.
I was not even 15 when I met him and at 17 I had my first child. The violence started since I was pregnant. He abused me in every possible way: he hit me, forced me to have sex, and made me feel trapped.
As soon as I could, I went back to live with my mother, but he came looking for me. He told me to come back. That it was going to change. That he had suffered the violence of his father and that he was not going to repeat it. I was very young and I believed him. She had a son by him. I had only studied high school and at that time I felt that I could not work.
I went back to his house. And he was violent again. She forcibly impregnated me with my second daughter.
I knew I had to separate, but at the same time I saw myself incapable. He made me believe that I was alone, that no one was going to support me, that I was completely dependent on him.
So I endured years. Until one day he hit me very hard and I tried to defend myself. My son, then 7 years old, got into the fight. He wanted to help me, I asked him not to hit me anymore.
At that moment I realized that I did not want that life for my children. I returned with them to my mother's house.
I told him that for the children we could keep in touch and reach agreements. But he kept insisting that she come back.
Once he tried to take me by force. He dragged me into a motorcycle taxi. Fortunately the driver and another man who were nearby helped me. They put me safe in a public place, where my uncle came to help me.
From there I was scared, I didn't want to go out with him anymore. I asked my family not to let him into the house where we lived. And he kept asking the four of us to go out together: him, me and the children. I no longer accepted.
One night he went to take me the children's pension. And he asked me what I was going to do the next day. I told her that I was going to go to a steam bath very early with my mom and then we were going to a party.
Ana Gabriela Rojas
The wounds of the soul will never heal "
Before he left he asked me again what time I was going out the next day and asked me to hug him. I told him no. He insisted a lot. He promised me that if I hugged him, he would never bother me anymore.
I was restless, so much so that when I entered the house I told my mother what had happened.
He threw acid in my face
The next day, Sunday, December 2, 2018, she and I went out at 5:30 in the morning. It was still dark and we saw 3 suspicious men in front of the house. We feel like they started walking behind us. Then another man joined. They cornered us.
When we were face to face one threw a liquid in my face. When he saw that there was still substance in the bottle, he grabbed my head and tried to throw it away. I wanted to defend myself and pushed him. He, too, splashed some of the substance on his face.
From that moment I knew that the attacker was my ex-partner, the father of my children.
I knew it from the way he walked, also because I am taller than him. I was dressed the same as when I passed my children. His face was covered as he did when he rode his bicycle on cold mornings.
I was with him for nine years, I recognize him perfectly.
Also because I had repeated it over and over again: "If you are not for me, you will not belong to anyone".
I didn't know what an acid attack was. I did not know what was happening. I felt like I was dying.
I had swallowed the liquid and my throat was closing up. I couldn't breathe. I heard my mother screaming, I had never heard her scream like that.
She also suffered some burns. But his desperation was to see me so bad.
Nobody helped us. Until my mom called my aunt, who came and took us to the hospital. It was so much pain that I fell unconscious.
The liquid that threw me I hurt my face, I got rid of my nose, my mouth. It damaged my right eye and so far I can't see on that side.
It also fell on my neck, arms and both hands. It damaged my esophagus so much that for two months I couldn't eat. I was in the hospital for three months.
When I saw myself in the mirror I thought my life was over.
I fell into a terrible depression. For a long time I wanted to have died.
The attack didn't just hurt me. My mother and my children have also suffered a lot. It has been very difficult for them to accept my new look. In his school he has suffered bullying.
In December it will be three years since the attack and I still do not want to show my face. I go out covered to the street because with the looks they kill me.
At first some people blamed me, told me that I had done something to deserve it. I only paid the price of wanting to leave an abuser.
16 operations
I have operated 16 times. My face has improved, but I will never be the same again. The wounds he left on my soul will never heal.
How could the father of my children hurt me so much? How can anyone be capable of so much resentment, so much evil, so much hatred?
He is so cowardly that to this day he continues to plead innocence. On the same day of the attack, he also arrived at the hospital for burns, caused by the acid remaining in the bottle, the liquid that he had not thrown at me.
His version is that he was also attacked at the same time by two guys who were riding a motorcycle.
But there in the hospital he was arrested. The legal process is open. He is accused of attempted femicide. My lawyer, Elisa Yareri Ruiz, from the Puebla Citizen Security and Justice Council, who has represented me for free for two months, says that he could be sentenced this year.
My attacker, Fidel N, could have a sentence of up to 40 years. I hope that he fulfills it, that it does not come out soon. I'm afraid that if that happens, he will come finish me off.
Besides, I would like the other three accomplices to be caught.
The process has been slow because he has repeatedly changed lawyers and because the coronavirus stopped the courts.
I'm not alone
For now, it has helped me a lot to know that I am not alone.
My mother, my aunt and my grandmother have always been there. I have also met other women who are in the same situation. Carmen Sánchez, who has a foundation for victims of acid attacks, has been with me a lot. It is curious, but it is among the same victims that we have helped each other.
I have not felt that the government has received enough help.
For this reason, the victims have also united to ask that these attacks be classified as a crime in itself.
The aggressors must be punished harshly and the victims must receive the attention they deserve. They are not simple injuries that heal when they heal. It is a very long process to heal on the outside and inside. We wish there are no more cases. Nobody deserves it.
That is why I would like to tell women who now suffer abuse not to believe in their aggressors, that violent men never change. Please get out of there immediately. That they are not alone.
Thanks to the support of the people around me I am on my feet. I have also been accompanied by my friends and a dermatologist, Isela Méndez, who since she met me said that she was not going to let me go. And he has fulfilled it, he has made me several cosmetic surgeries.
Now my hope is that I have a corneal transplant. This must be in the following months so as not to permanently lose the sight of my right eye. A doctor has helped me for free, but sometimes I have problems because of the cost of medicines.
Due to all the operations and recovery I have not been able to work. I would like to be able to do something to help my mother, who is the one who has supported me and my children.
But for now, it takes a while for me to have dreams again. It has broken my life. The scars on the outside, although very little by little, are improving. The wounds of the soul will never heal.
Remember that you can receive notifications from BBC Mundo. Downloada our app and activate them so you don't miss our best content.

www.bbc.com
Eddie is an Australian news reporter with over 9 years in the industry and has published on Forbes and tech crunch.